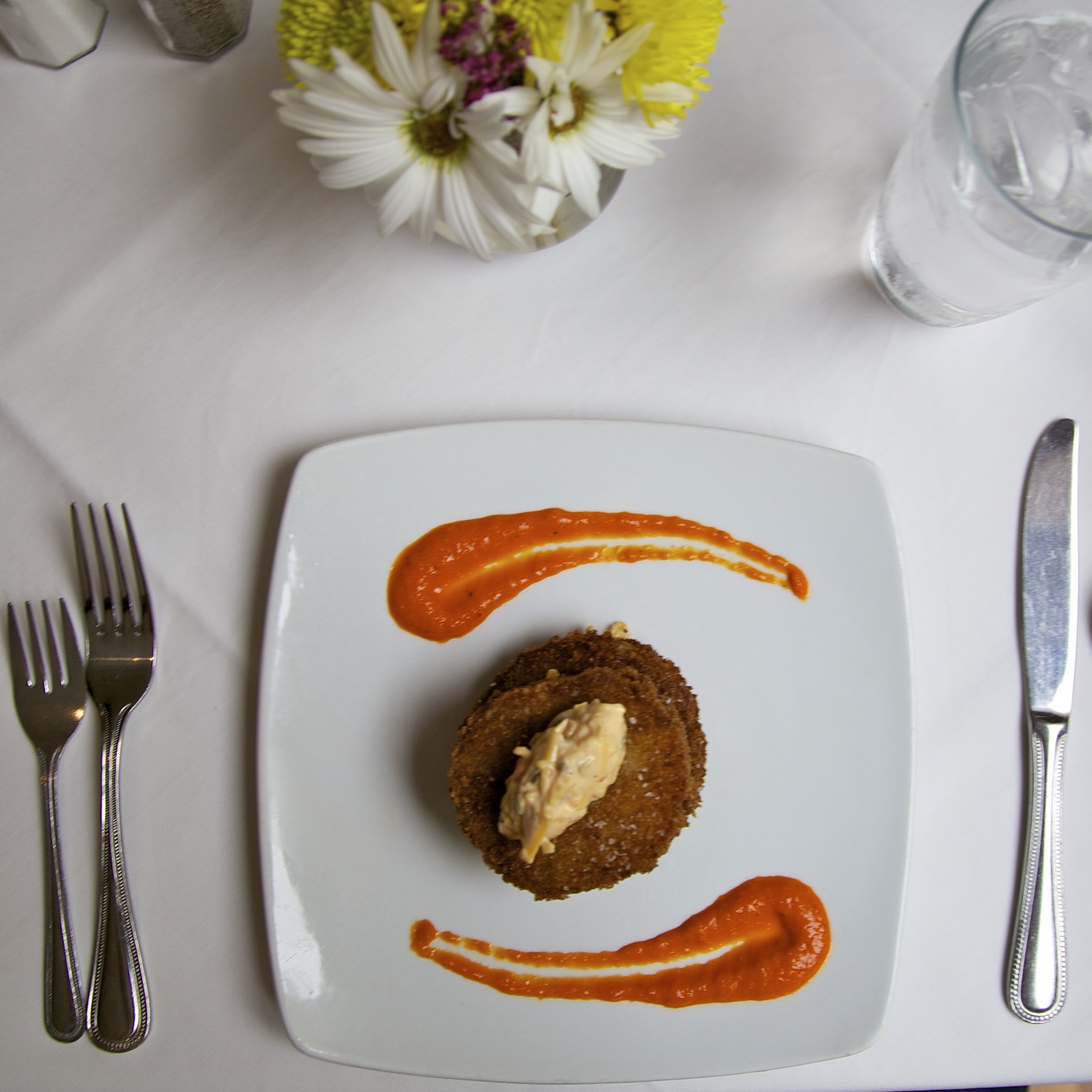 15 Jun

Charleston, South Carolina an adventure in culinary artistry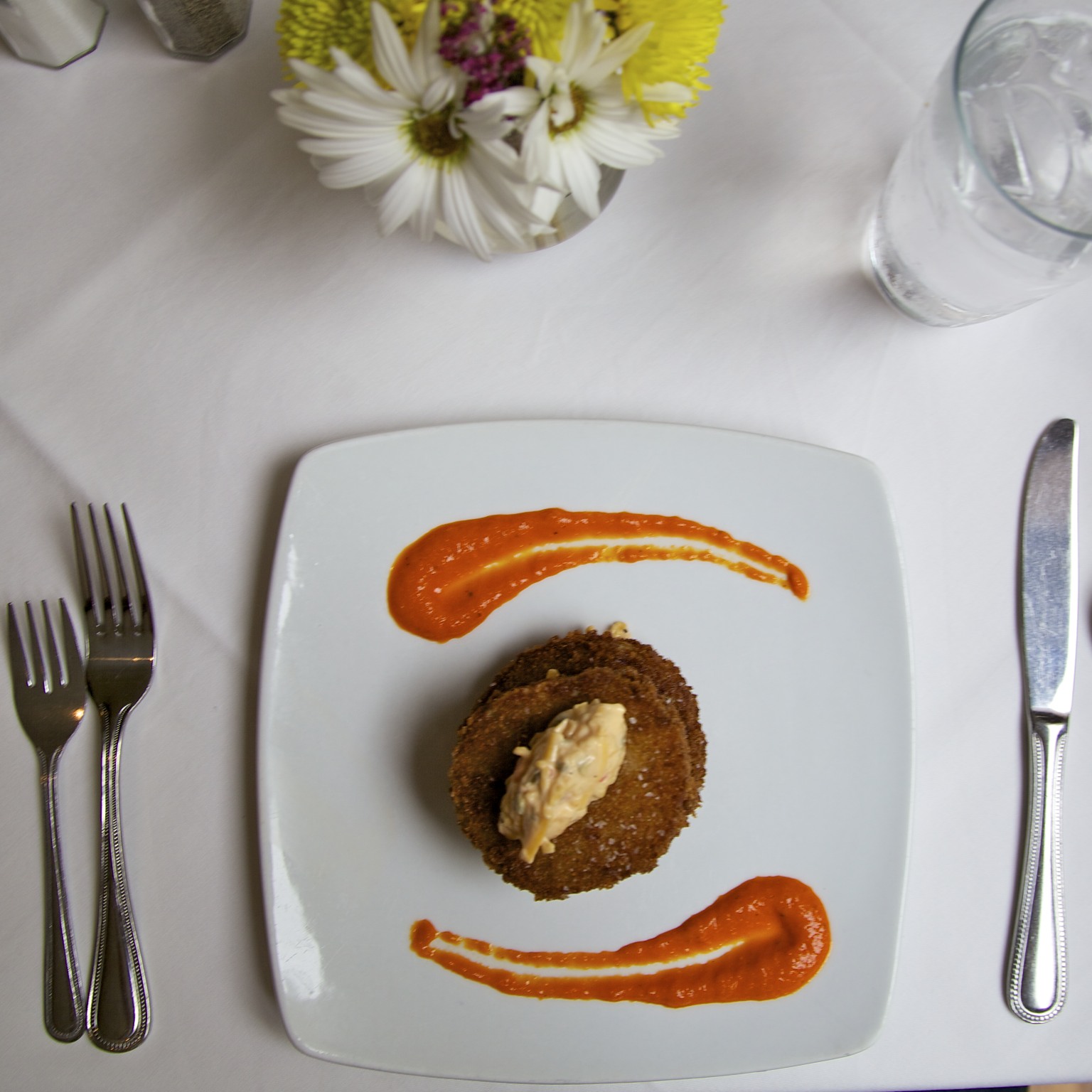 Carol and I share a passion for good food so making decisions on where to eat in a town famous for food was tough indeed. Fortunately the concierge of the Governor's Inn was kind enough to select places for us to eat prior to our arrival, minimizing the difficulty of making these decisions on our own. With the list of Must-Eat restaurants in hand, we set out to explore Lowcountry cuisine.
But just what, exactly, is Lowcountry cousine?
According to John Martin Taylor―author of Hoppin' John's Lowcountry Cooking and arguably the foremost authority on the region's cuisine―this area stretches along the South Carolina coast from the Savannah River in Georgia north to Pawley's Island. Inland it encompasses about 80 miles of low-elevation land.
Think saltwater marsh and Spanish moss hanging from live oaks and you're thinking Lowcountry.
The Lowcountry teems with aquatic life, and for centuries local cooks have turned to the water for culinary inspiration. Crabs, shrimp, fish, and oysters form the basis of any traditional menu, and seafood dishes are offered at every meal.
Rice, grits, and the produce of the coastal plain also play an instrumental role in Lowcountry cooking. Rice was introduced by happenstance in the late 17th century and immediately began to thrive in the lush climate. Although rice cultivation ended after the Civil War, it has reemerged in the past two decades. Whether served as a simple side or cooked with tomatoes and other vegetables to make pilau (pronounced PER-low), rice is integral to the region's meals.
The next time you're in Charleston or any of the small towns and islands along the coast of South Carolina, be sure to try one of the following dishes and enjoy a taste of the Lowcountry.
  Frogmore Stew 
Despite its title, this dish does not contain frog―it gets its name from the tiny coastal South Carolina town of Frogmore. Also known as Lowcountry boil, this stew is a one-pot dish of shrimp, corn-on-the-cob, and spicy sausage all boiled together and then served up on a plate.
  She-crab Soup 
Considered by many to be Charleston's quintessential dish, the soup is so named because eggs from the female crab give it a unique taste. This creamy delicacy is almost always flavored with a generous helping of sherry.
  Hoppin' John 
Rice cooked with black-eyed peas and a few other basic ingredients make up this essential regional dish. Although it's consumed without fail on New Year's Day in order to bring luck, it can be found on any true Lowcountry menu year-round.
  Shrimp and Grits 
Whether you're in the mood for a hearty breakfast or a simple one-course dinner, turn to a plate of shrimp and grits. Natives enjoy their grits creamy, topped with shrimp, and smothered in a simple, rich gravy. You will, too.
Here's the rundown on some of our favorite places we ate at in Charleston.
Hominy Grill was where we ate our first meal upon our arrival in Charleston. Lunch was delicious and I went straight for the She Crab soup. It was the best of any that I had on this trip. It had a added "kick" if you will, with just a little more heat than the others making it my favorite. We also had Okra & shrimp beignets with salsa & cilantro-lime sour cream. The Shrimp and Grits here were delicious as well, the mushrooms are sautéed with garlic and bacon drippings then mixed with green onions and crispy bacon, and all are served on top of buttery cheese grits.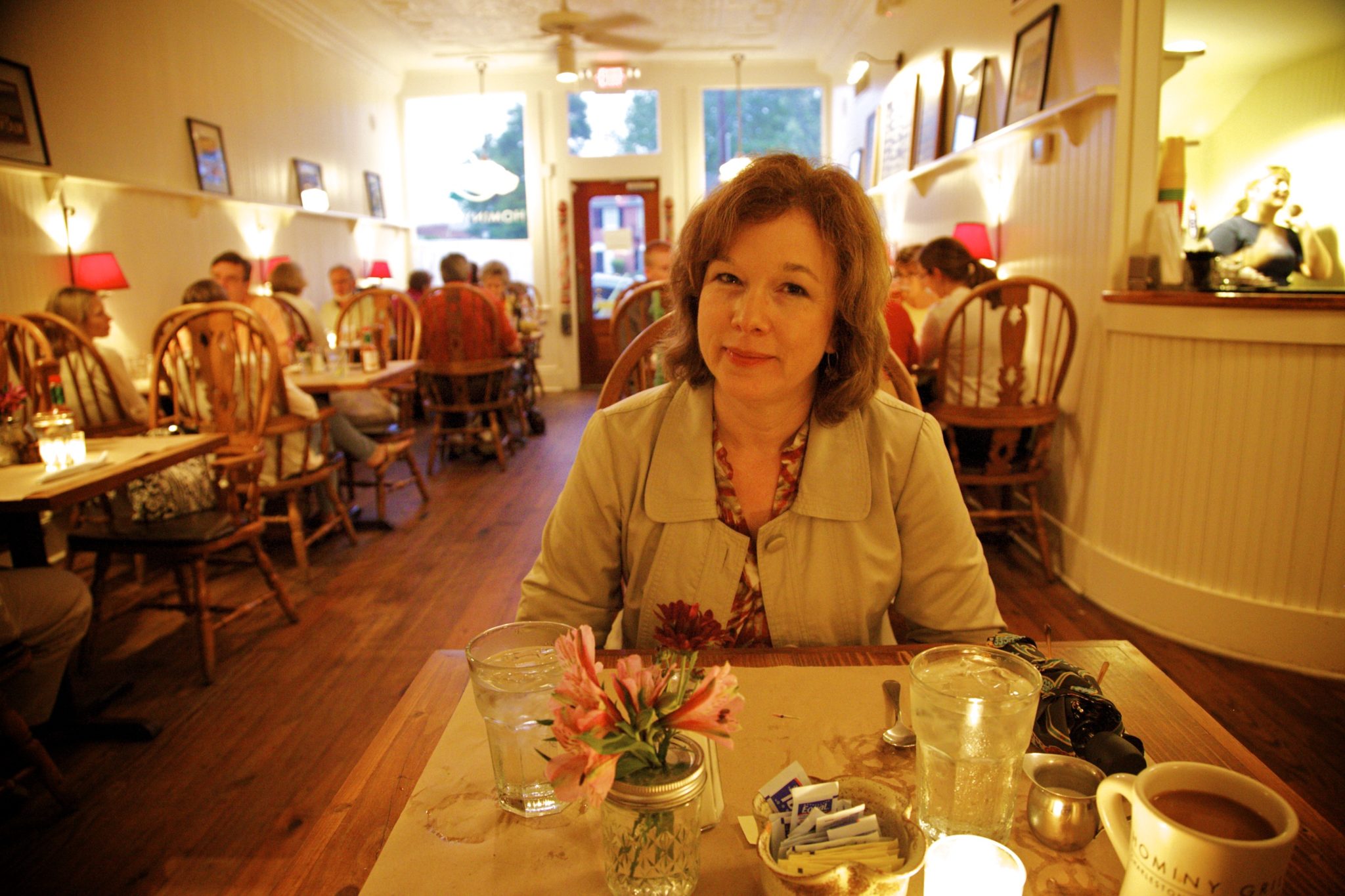 Hank's, overlooking the historic market, is modeled after the great Charleston fish houses of the 1940s and is located in a turn-of-the-century warehouse now designated as a national historic landmark. Having fallen in love with the She Crab soup the day before at Hominy, we started off our dinner here with that as well. We then enjoyed one of their generous sized seafood platters with fried grouper, shrimp, sweet potatoes and cole slaw. It was all delicious!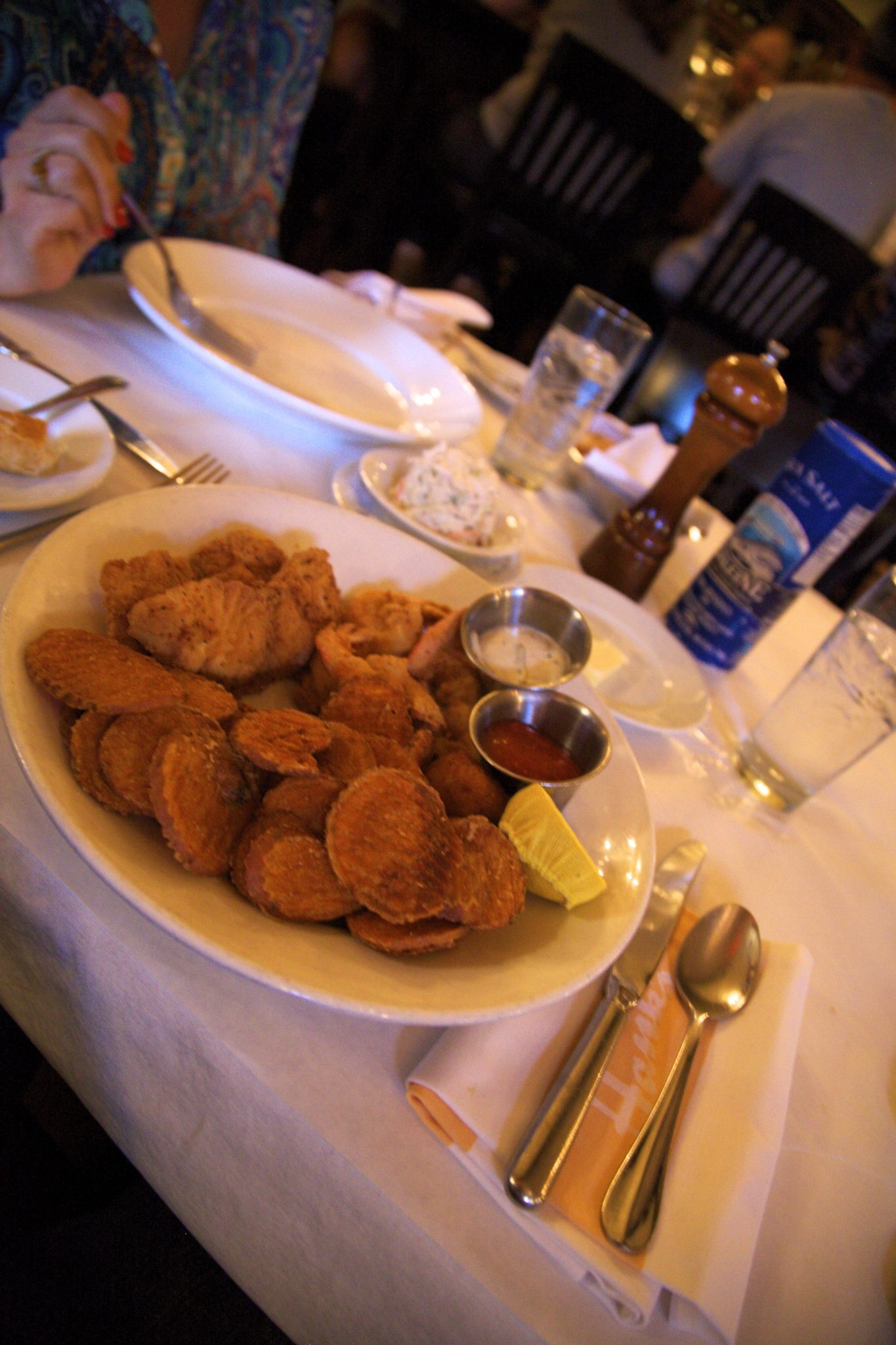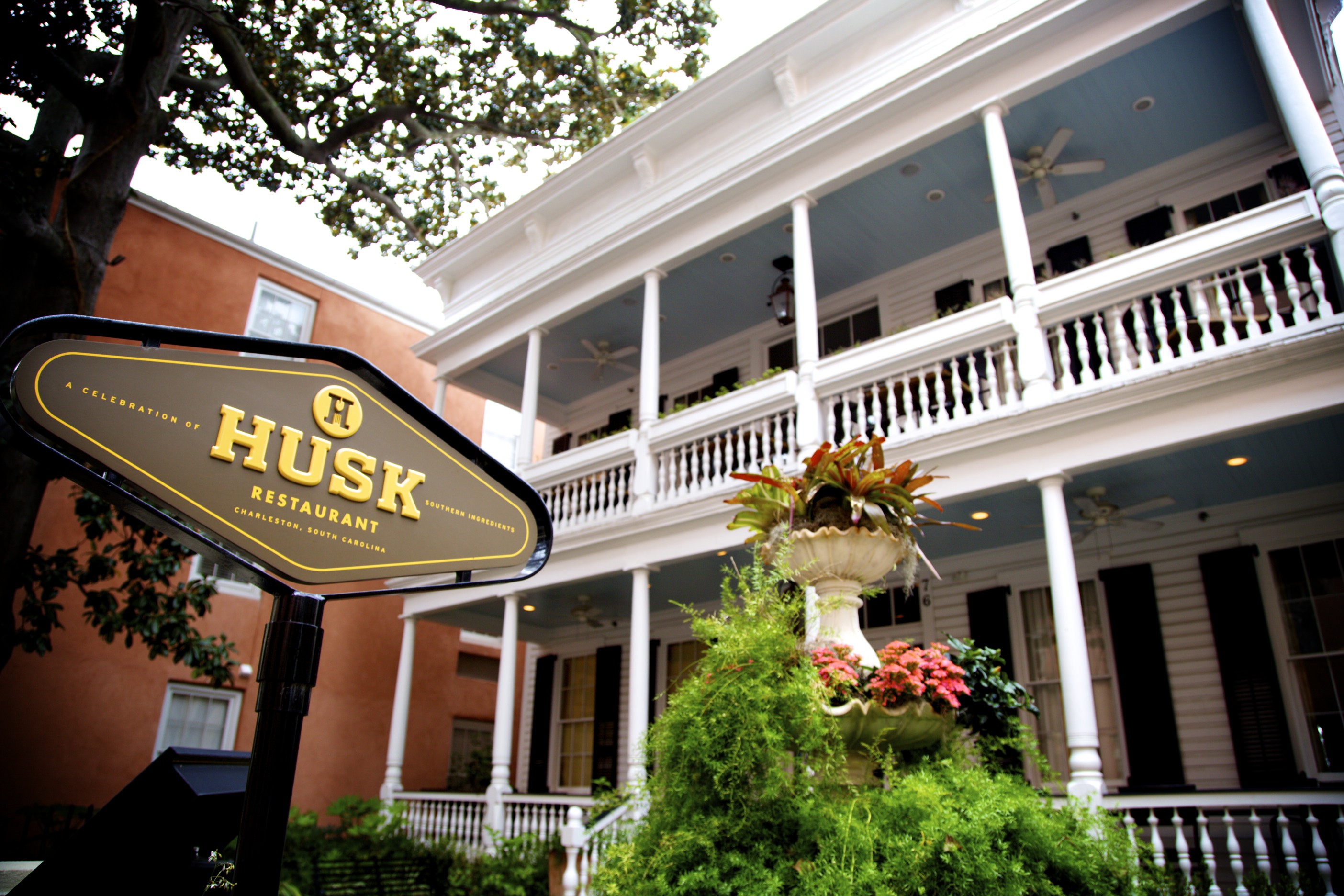 Picking a winner among Charleston's restaurant's is not a easy task. Everywhere we ate was unique and delicious. Husk however made this daunting task much easier! I guess we are not alone as Bon Apetite magazine awarded Husk with "Best New Restaurant in 2011". I can see why as the atmosphere, the service, and the food were all exceptional. James Beard Award-winning Chef Sean Brock says about his food at Husk: "If it doesn't come from the South, it's not coming through the door".  His commitment to obtaining fresh local ingredients from nearby farms was evident in the food we experienced here. From the Fried Chicken BLT with spicy mayo, Wes' Tomato and Broadbent Bacon to the Cornmeal dusted NC Catfish with crowder peas, fried cabbage and smoked tomato, each bite was harmonious blend of flavors. For desert we shared the Blueberry Crisp made with fresh sweet blueberries and served with tart lemon ice cream. It was the perfect compliment to our meal along with a cup of  French press coffee.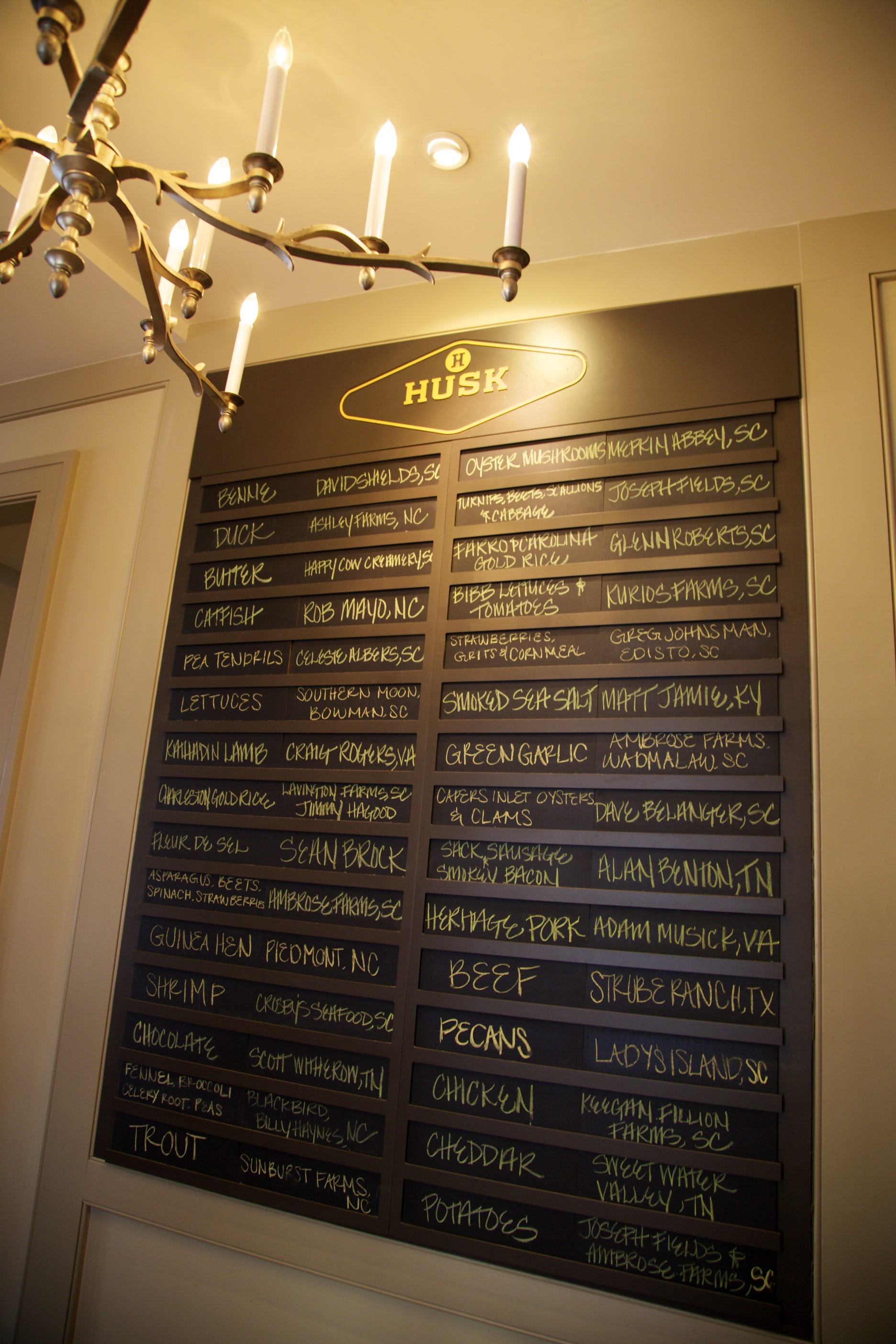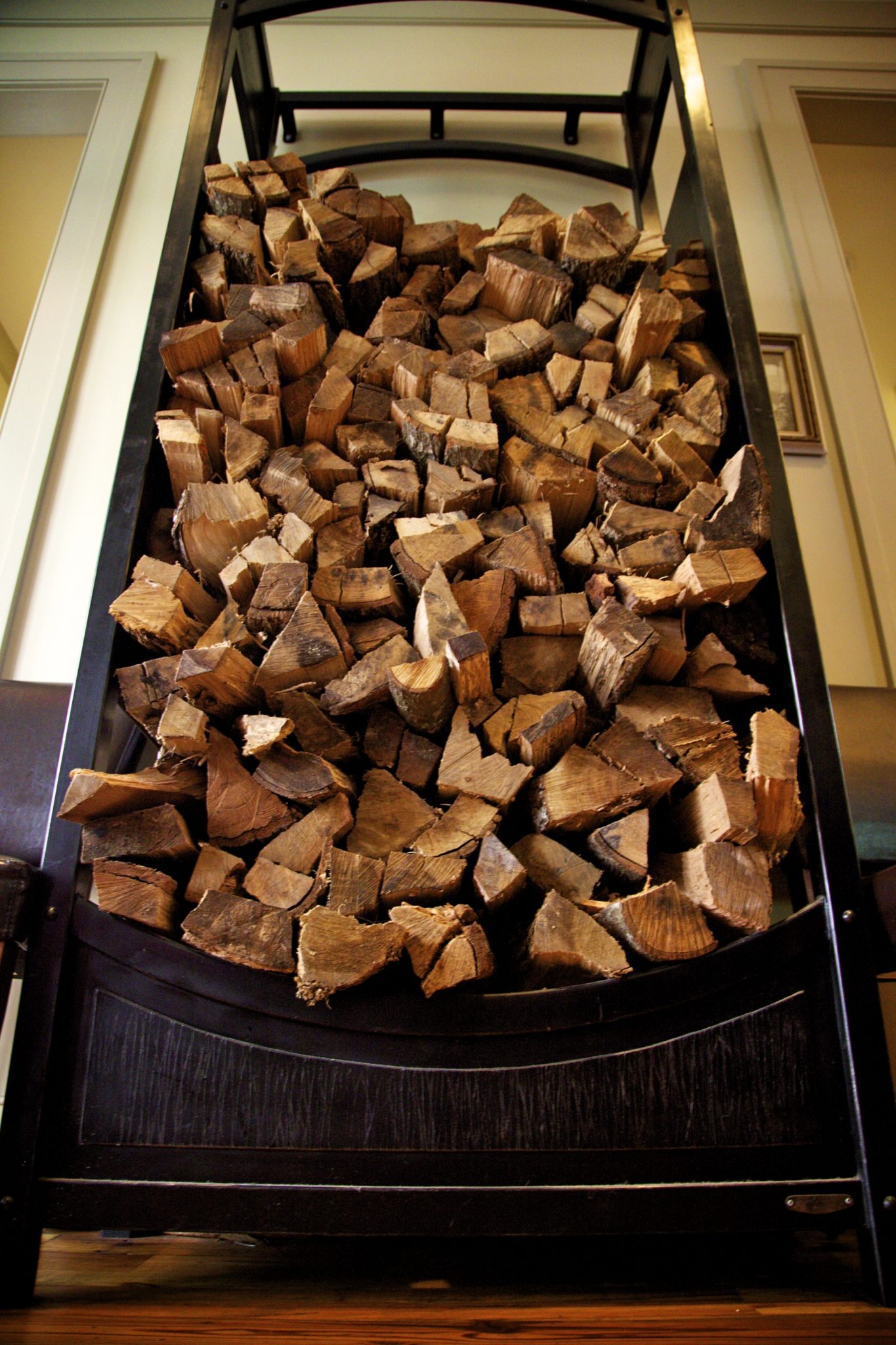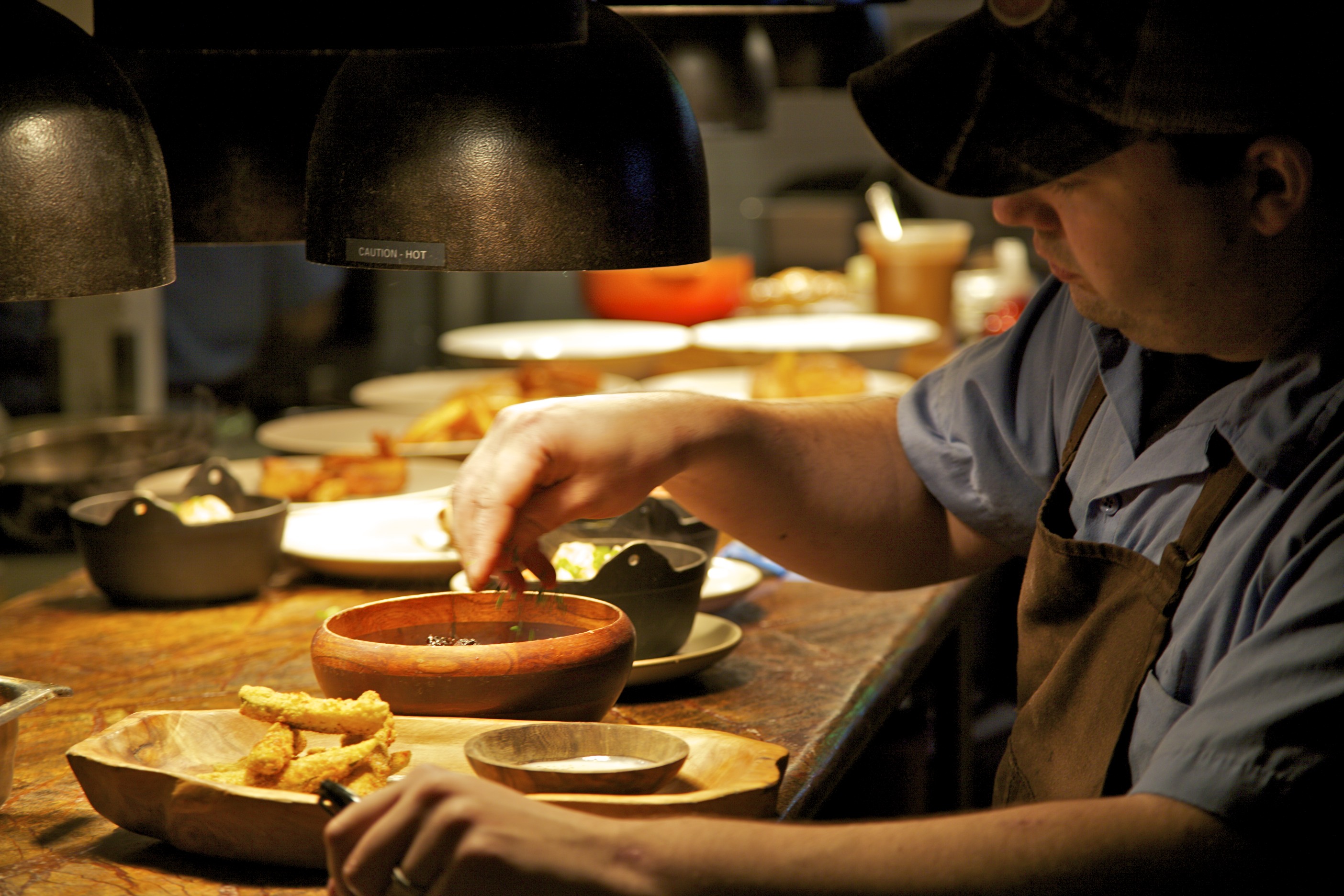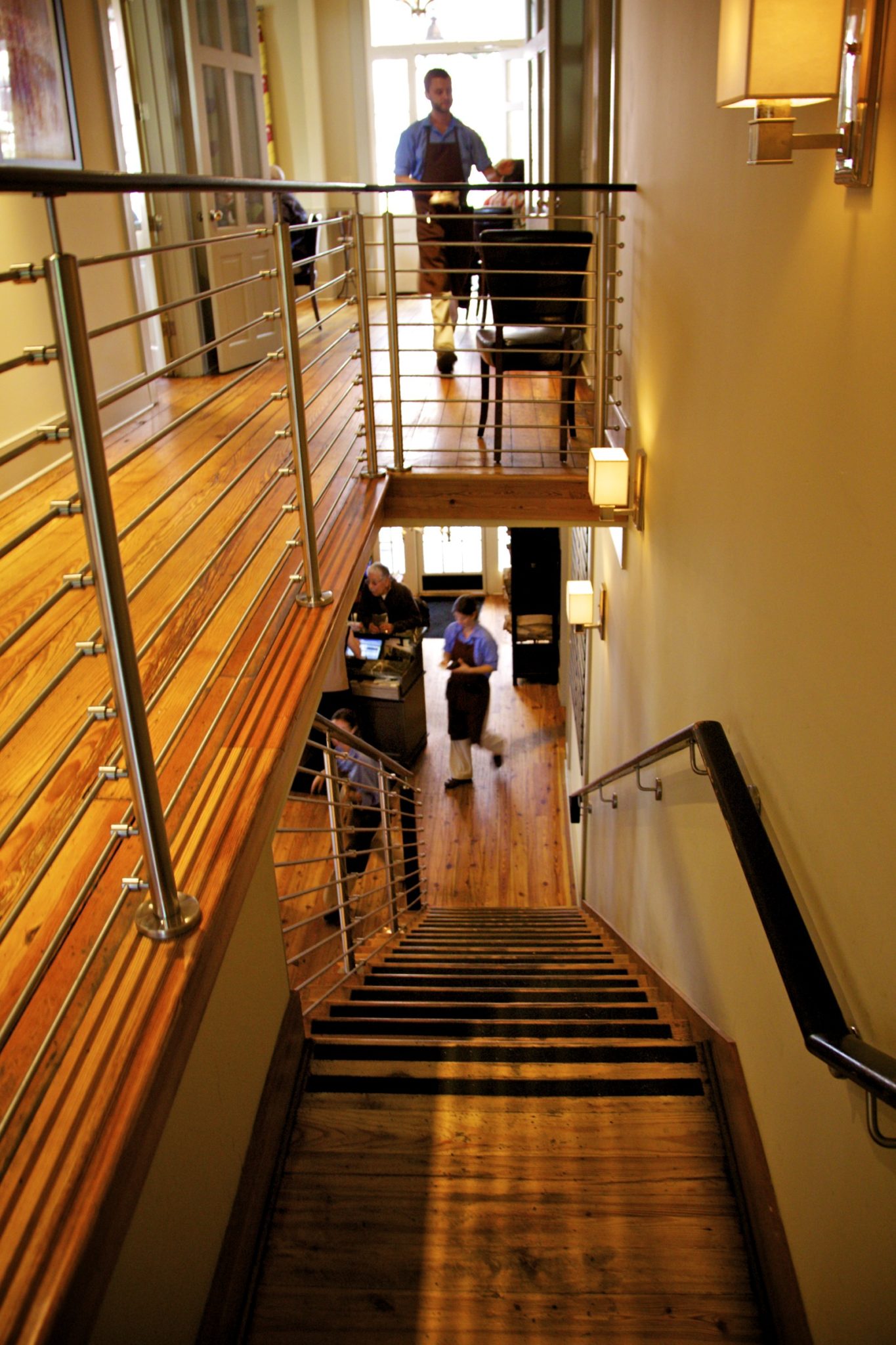 On a return visit we had equally delicious food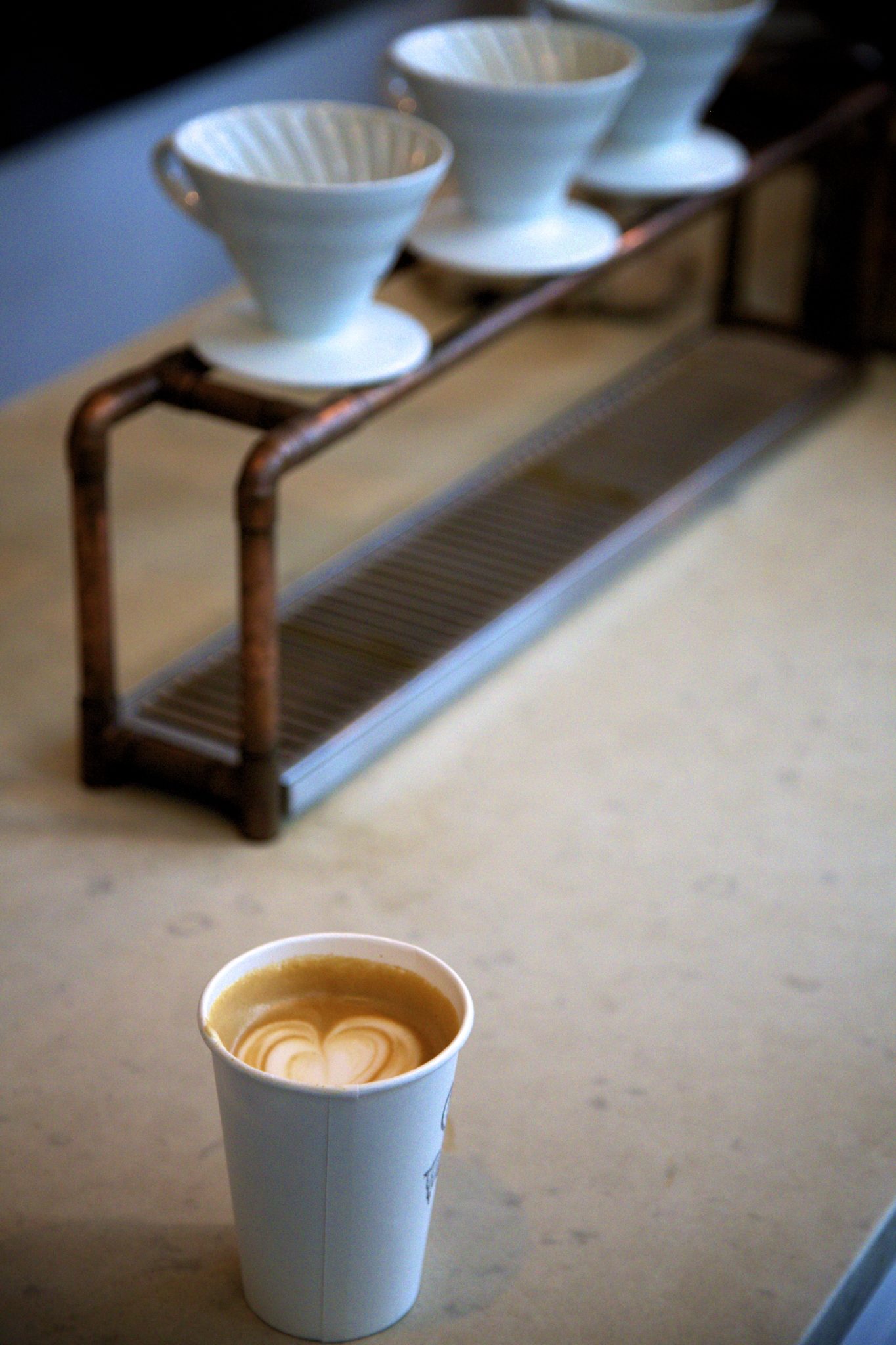 An essential part of enjoying a city for me is finding that perfect latte fix every day. There was no contest in Charleston, as Hope and Union Coffee won me over immediately with their simple design and beautiful latte art.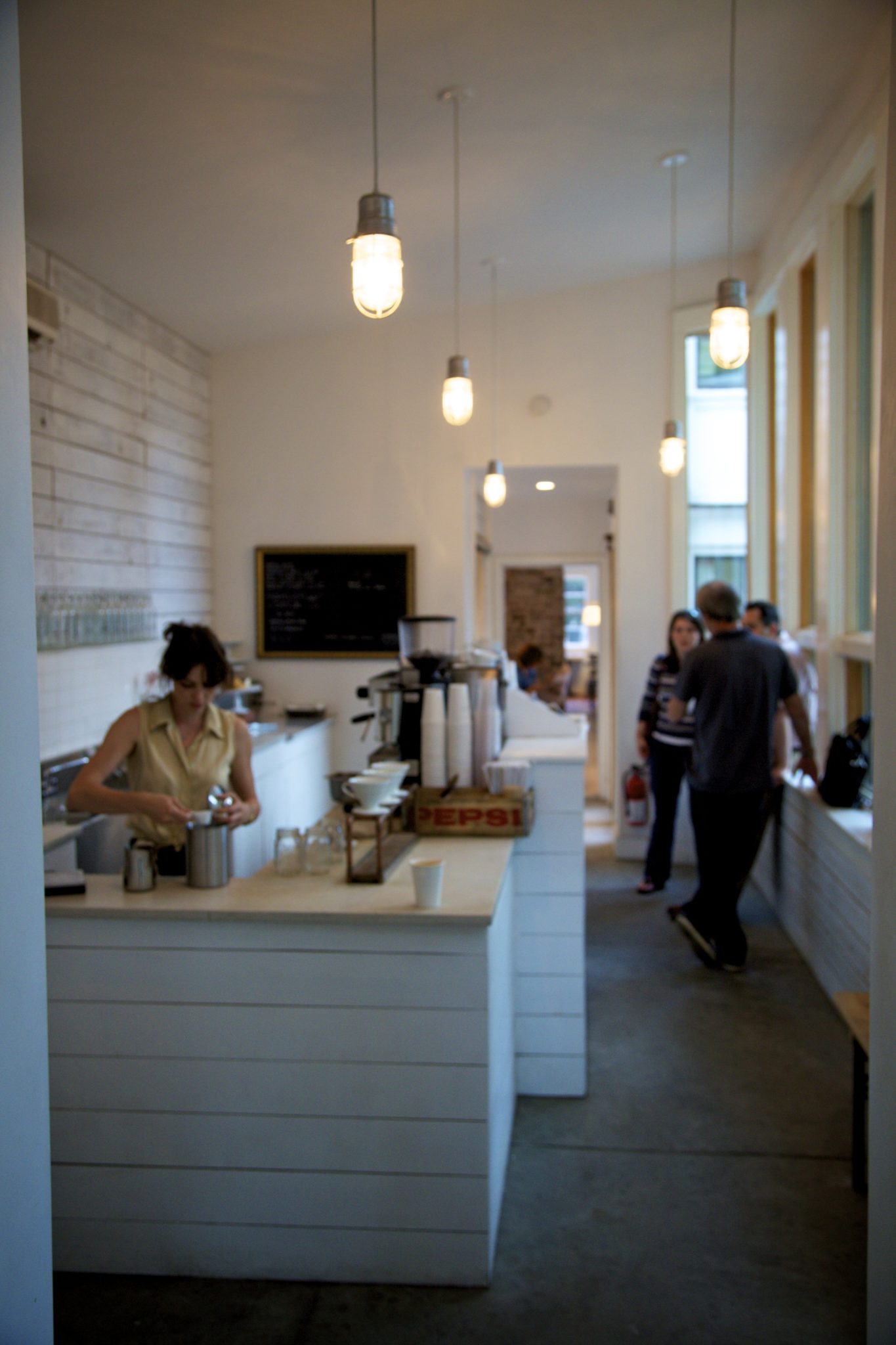 With so much delicious Lowcountry food to enjoy in Charleston, we were very fortunate to be directed to the absolute best places in town. After eating such great seafood in South Carolina, it seemed a shame that Southern food so often gets a bad name for being heavy, greasy or fried. What we found in Charleston was great local flavor and world class cuisine. It was wonderful to share all that local flavor and cuisine with someone like Carol who enjoys great food as much as I do.