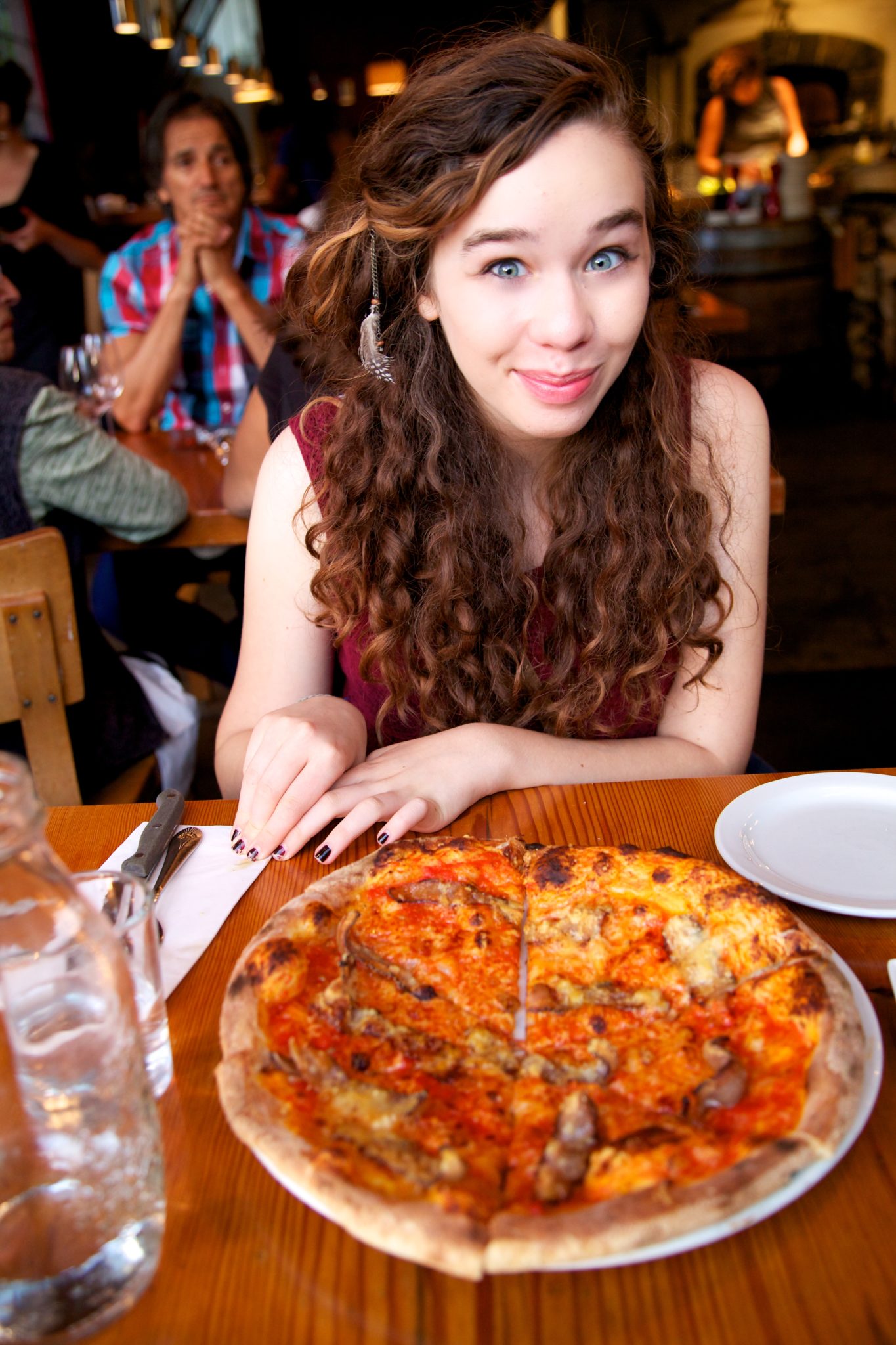 01 Sep

The Best Food in Portland, from PBJ's to Peruvian cuisine at Andina. The Oregon/California Coastal Adventure continues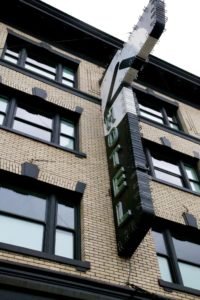 A visit to Portland Oregon is not complete without a stay at The Ace Hotel. Located in downtown, it is just steps from the largest bookstore in the world, Powell's City of Books, as well as The Pearle district with its many restaurant and shops. Portland has been voted "One of the best walking towns in America"; thats a good thing as we needed a way to work off the food we planned to eat over the next couple of days. After we leave Portland, our next several days will be spent camping, hiking and exploring the coast, so we can afford to splurge here a bit on the food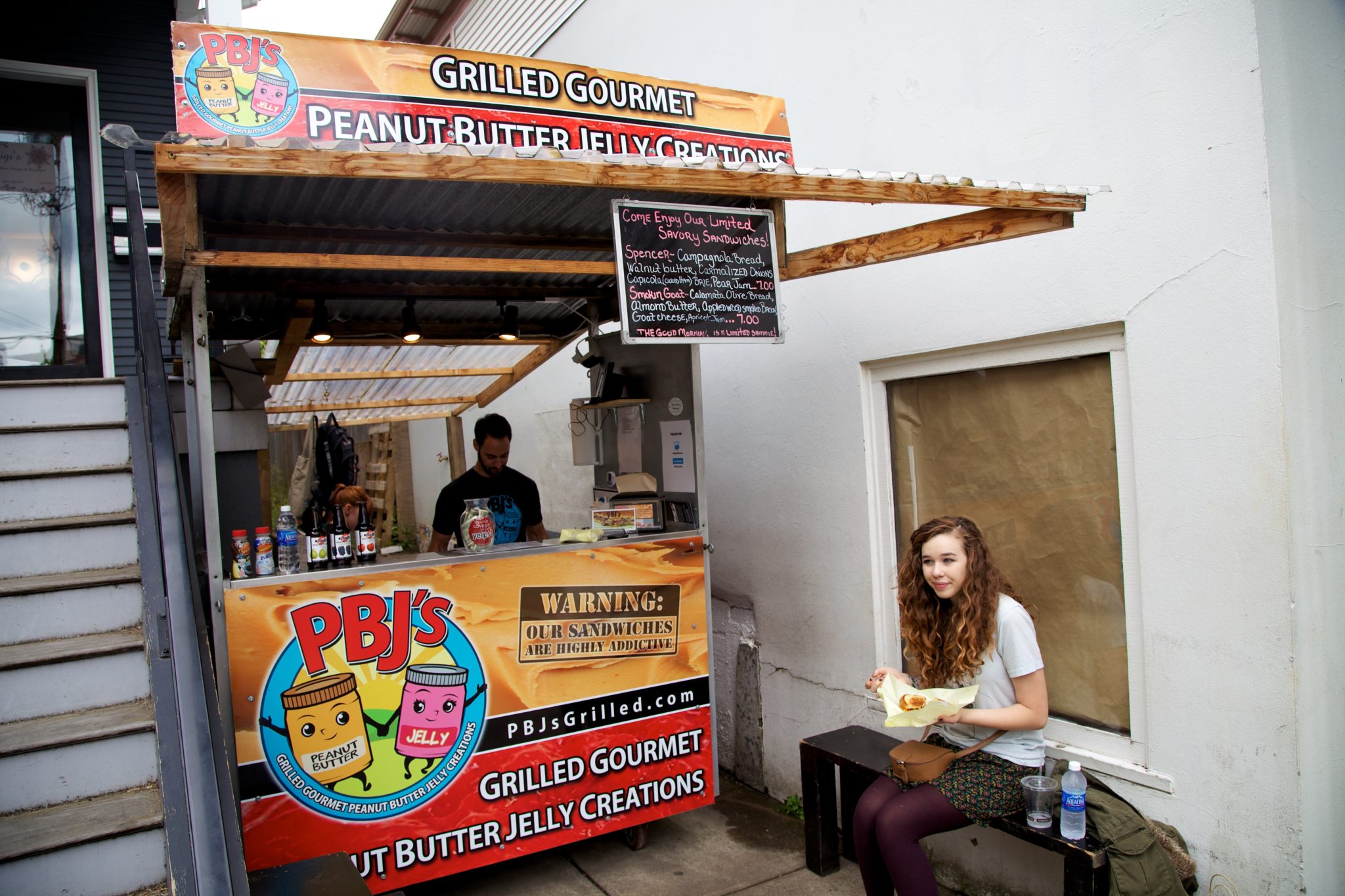 PBJ's grilled is a great place to start when talking about the unique foods of Portland. It just doesn't get more unique OR delicious than what these guys do with a PBJ! While one may think of the peanut butter and jelly as a trite childhood staple, Shane of PBJ's grilled has created something revolutionary. Making all their nut butters in house, and sourcing only the best local ingredients, their grilled nut butter concoctions are a treat for the food connoisseur. When Carissa and I first experienced this place last year I must say I was a bit wary from what I saw on the menu. Blue Cheese? Hazelnut butter? Sriracha? Fresh basil? Ok, ok, these are not all on the same sandwich but still, this is definitely not your mom's PBJ. I now regard Shane, one of the owners, as a mad scientist! His talent and commitment at paring tastes is amazing. A lot of thought goes into these combinations and the end product reflects that. All you have to do is try one to be a believer. On our first visit of the trip (yes we returned) we had "The Oregonian" which I recalled fondly from last year and for the "something new" we chose "The Thai". The Oregonian is made with grilled Challah bread, marion berry jam, Rogue creamery blue cheese, Oregon hazelnut butter. Incredible. The Thai is made with grilled Challah bread, orange marmalade, sriracha, fresh basil, curry, PBJ's peanut butter. I was reluctant to try the Thai but now it's one of my favorites. On our return we had the "Smokin Goat": a combination of grilled Calamatta olive bread, almond butter, Applewood smoked bacon, Goat cheese and Apricot jam. The flavors were perfection together. We followed this one up with "The Joy": grilled Challah bread, PBJ's Dagoba chocolate gnache, PBJ's coconut filling, PBJ's almond butter. This one makes for a great dessert. Now you see why walking and biking is a must. 🙂
The Portland Farmers Market is one of the best in the country. It's truly a celebration of food, where the customer can buy from the local farmers and see and taste the difference in food that is  local and organic. You just cannot find fresher or more delicious fruits and vegetables than what's available here. Freshly prepared foods are available here as well.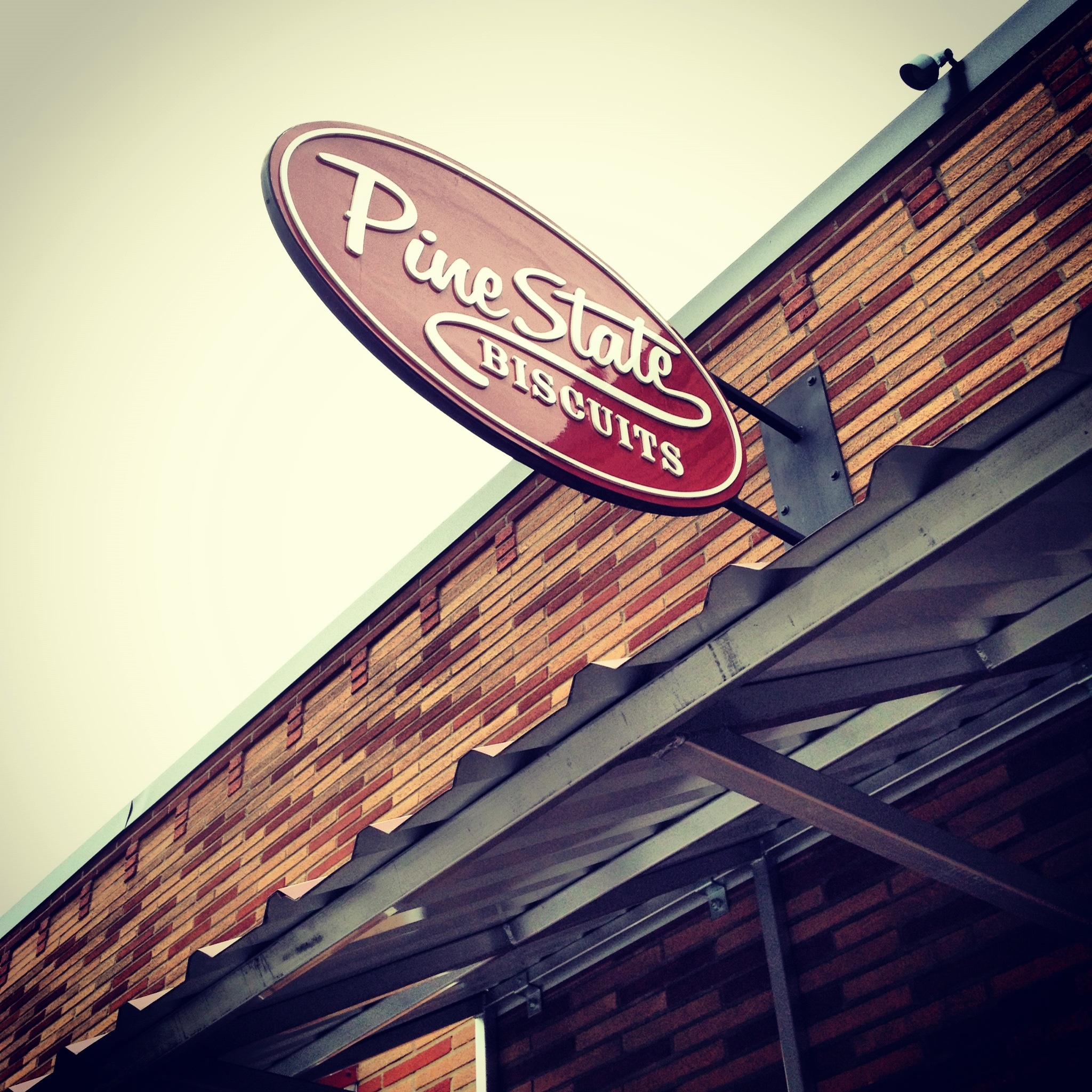 Having discovered Pine State Biscuits last year at the Portland Farmers Market we were already big fans and were delighted to find there restaurant in the Alberta Arts District. We enthusiastically chose "The Chatfield" , a delicious biscuit  filled with fried chicken, bacon and cheese topped with homemade apple butter… SO GOOD! The lemon cornmeal pancakes were equally amazing. A local Food critic has this to say about Pine State:
"Handbuilt in Portland, Oregon
Take this mix of old-style Southern goodness and modern restaurant professionalism, throw in some Portland foodie sensibility, and you have Pine State Biscuits. Using only the freshest local ingredients, often straight from the farm, they built a following at the Portland Farmers Market with their golden Creamtop Buttermilk Biscuits served with sausage or mushroom gravy, thick-cut bacon, fried chicken, eggs, grits and preserves. — Paul Gerald."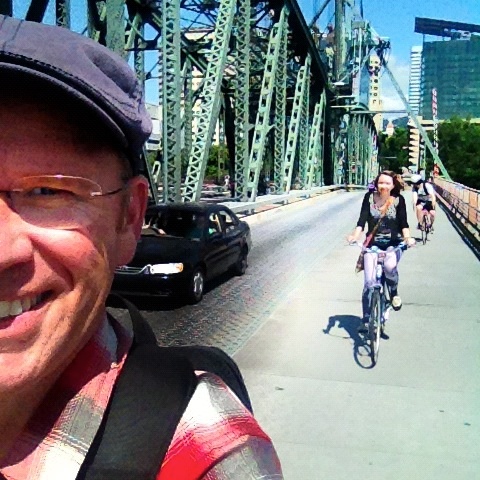 Crossing the Willamette river that flows beside downtown Portland by way of bike on the Hawthorn bridge only served to whet our appetites for the meal that awaited us on the other side. Kens Artisan Pizza is tucked into the  corner of 28th and Pine in a suburban neighborhood of Portland. This is a great neighborhood pizzeria. It was obvious that most of the patrons either walked or rode their bikes to the restaurant and with several large parties, it had a decidedly 'family' feeling. We started with the caesar salad which was delicious and simple – a bundle of unchopped romaine leaves, lightly dressed with parmesan shavings and homemade croutons. Our Bacon pizza was smokey with a crispy thin crust, a thin layer of tomato sauce, a light sprinkling of Pecorino cheese – it was fantastic. Great service and delicious food made it a memorable evening. Definitely worth crossing the river, whatever mode of transportation you choose.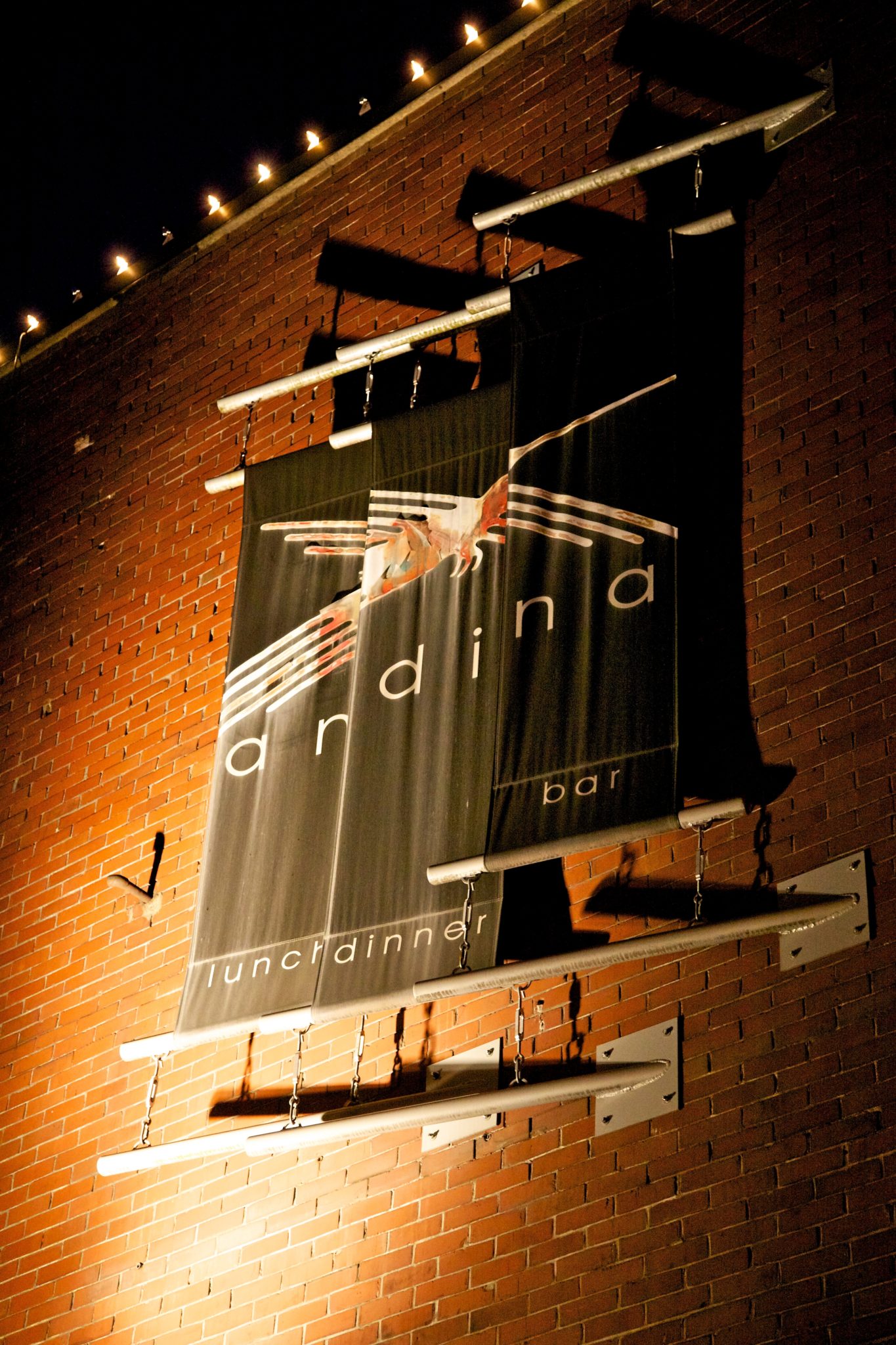 The shortest distance to Peru is found in Downtown Portland, in The Pearl District at Andina. Andina serves up the finest Peruvian home cooking this side of Peru. The Andina website explains there philosophy best:
"At andina, we are proud to feature a native Peruvian cooking staff representing both the traditional culinary styles and their latest incarnation in the 'Novoandina' cuisine. The Peruvian equivalent of our own Northwest Regional cuisine, Novoandina aspires to revive native, pre-colonial ingredients and techniques and incorporate them into a modern presentation beholden to the highest international standards. Whereas traditional Peruvian cooking has largely been an oral tradition, albeit an extremely elaborate one, the Novoandina school embraces the rigors of formal culinary training and standardization in order to preserve but also extend and elaborate upon the wealth of Peruvian food history. "
After much deliberation we chose the following items from the menu and we enjoyed ever bite:
CHICHARRONES DE LANGOSTINOS- crispy golden prawns studded with quinoa, served with salsa agridulce
EMPANADAS DE CARNE- flaky pastry filled with slow-cooked beef, raisins, and Botija olives
CARAPULCRA CON PUERCO- Cascade Natural pork loin stuffed with Fontal cheese, pan-roasted to order atop wild boar-potato carapulcra,seasoned with ají panca, peanuts and Moonstruck Fortunato No. 4 Peruvian chocolate, served with a red wine-poached pear 24.
Tomorrow we head to the coast and tour several lighthouses, including the tallest one on the Oregon coast. Stay tuned.
For more photo's of our Oregon/California Coastal Adventure click here.
Here are some of the place's we enjoyed the most!
Andina's (world class Peruvian food)
Pine State Biscuits On Alberta (also at the Farmers Market)
Coava Coffee (you gotta love any place that sells bamboo and coffee)
Ace Hotel (don't miss the lobby with the photo booth and the Stumptown Coffee)