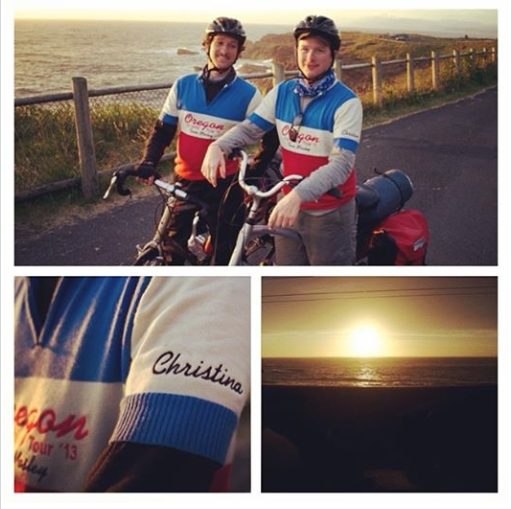 07 Aug

Oregon Coast Bike Tour, July 2014

Once the two large boxes containing our bikes were shipped to Portland, it finally begin to dawn on me that this trip was really about to happen. We trained all that we could, carefully selected our gear, and now it was time to see if we could bike 400 miles from the northwest tip of Oregon to the southwest tip. My sons, Marshall and Matthew, and I boarded the plane Friday morning, July the 4th and exited in Portland, Oregon with a lot of stuff! Two tents, air mattresses, sleeping bags and other gear similar to what a backpacker would use. We used compression bags to make our gear as small as possible since it had to fit into our bike panniers.. After a delicious Lebanese meal at Tarboush and a dazzling display of fireworks that lit up the Willamette River that runs through Portland, we retired to our little room at Portland's iconic Ace Hotel. My brain was starting to malfunction as I set on the edge of my bed staring at a web of chargers, cables and bags that covered the floor. At that moment I saw no way that all our gear would ever make it from our travel bags and into our panniers that lined the sides of our bikes. At least not in a fashion where anything would ever be found again! After a good night's sleep and a fresh start at the farmer's market for breakfast and goodies, all came together nicely. Our bikes and equipment safely stowed, well, let's just say stowed, on the Amtrak bus from Portland to Astoria where our bike tour would begin the next day. The boys and I chuckled as our bus driver would call out potential places to stop, asking twice at some stops that were restaurants that seemed to be his favorites. The hour and a half went by quickly as I read the instructions for my Go Pro camera and a few other new devices to be tested on their inaugural trip.

July 6th Day 1, Astoria Oregon to Nehalem Bay State Park 45 miles

After a great night's sleep in our Airbnb accommodations in Astoria, Oregon, we started our big adventure down the coast. Quaint Astoria held too much charm to let us get away easily so first, we enjoyed a delicious breakfast at Blue Scorcher, which came highly recommended by my friend Chris at Joe Bikes in Portland over a year ago. My favorite was the three egg scramble with pesto and goat cheese, toast and jam! From there it was a steep climb up to pay a visit to Astoria Columns, where we took in a stunning view of Washington to the north. After a late start, we made it to Canon Beach for dinner. My magical food finding nose sniffed out an incredible meal at Sweet Basil's cafe at the town of Canon Beach. We dined on King salmon, crab cakes, Jambalaya and Chocolate Chocolate bread pudding prepared by John Sowa, a Cajun/Creole trained chef from Louisiana. Getting upright on our bikes after this ample meal was no easy task, but we managed to eke out another 15 miles by dark and collapse into our tents at Nehalim Bay State Park.

July 7th Day 2, Nehalem Bay State Park to Cape Lookout State Park 50 miles

Nehalem Bay State Park was beautiful and offered us a short walk to it's white sandy beach, lined with rolling hills of green wavy grass. It was like stepping into a painting with the added dimension of a bracing ocean breeze pushing the fog. Our breakfast of granola from Blue Scorcher and raspberries from a local market sustained us on our morning walk by the ocean. Day two offered us some fresh oysters at Nehalem Bay, we passed up the cheese factory tour at Tillamook in lieu of hoping for an earlier camp arrival that night. Our timing on day two was perfect for a delicious late afternoon lunch in Bay City at Fresh cafe and real food market where we devoured a peanut butter smoothie and another smoothie named "The purple haze" that was huge and delicious, a big bowl of rice, black beans and a  bunch of veggies and a veggie sandwich. The upside of biking is that you can consume mass quantities of food!

Just outside of Tillamook we paused to admire a bald eagle while biking the bridge over the Tillamook river. We observed in awe as this graceful creature passed over us, before it banked sharply to make another low pass that allowed us a closeup view of its features.

We peddled on towards the Three Capes Scenic route with construction forcing us to redirect a bit and make the two mile, leg numbing bike climb  from the backside up to Cape Mears. I was determined to see its stately lighthouse that has illuminated the way for ships since 1890 with its Fresnel lens from Paris. The exhaustion we experienced on the way up was soon balanced by an adrenaline pumping downhill run as we raced our bikes back down the steep two mile descent. The 50 lbs of cargo that pulled us back on our way up, now propelled us up over 40 mph on a memorable thrill ride back down into the tiny town of Oceanside where vacation homes cling to the hills that rise from the beach. We enjoyed dinner overlooking the ocean at Roseanna's In Oceanside. It was one of our most memorable meals:  Prime Rib, Paella Stew (salmon, oysters and lots of good stuff) and Ling Cod wrapped in bacon with pesto cream sauce…. "we are living off the land," I would say jokingly to the boys.

Once again we winced as we mounted our bikes after another 50 mile day and a large meal and wobbled into our campsite at Cape Lookout State park after dark. so much for a daytime arrival!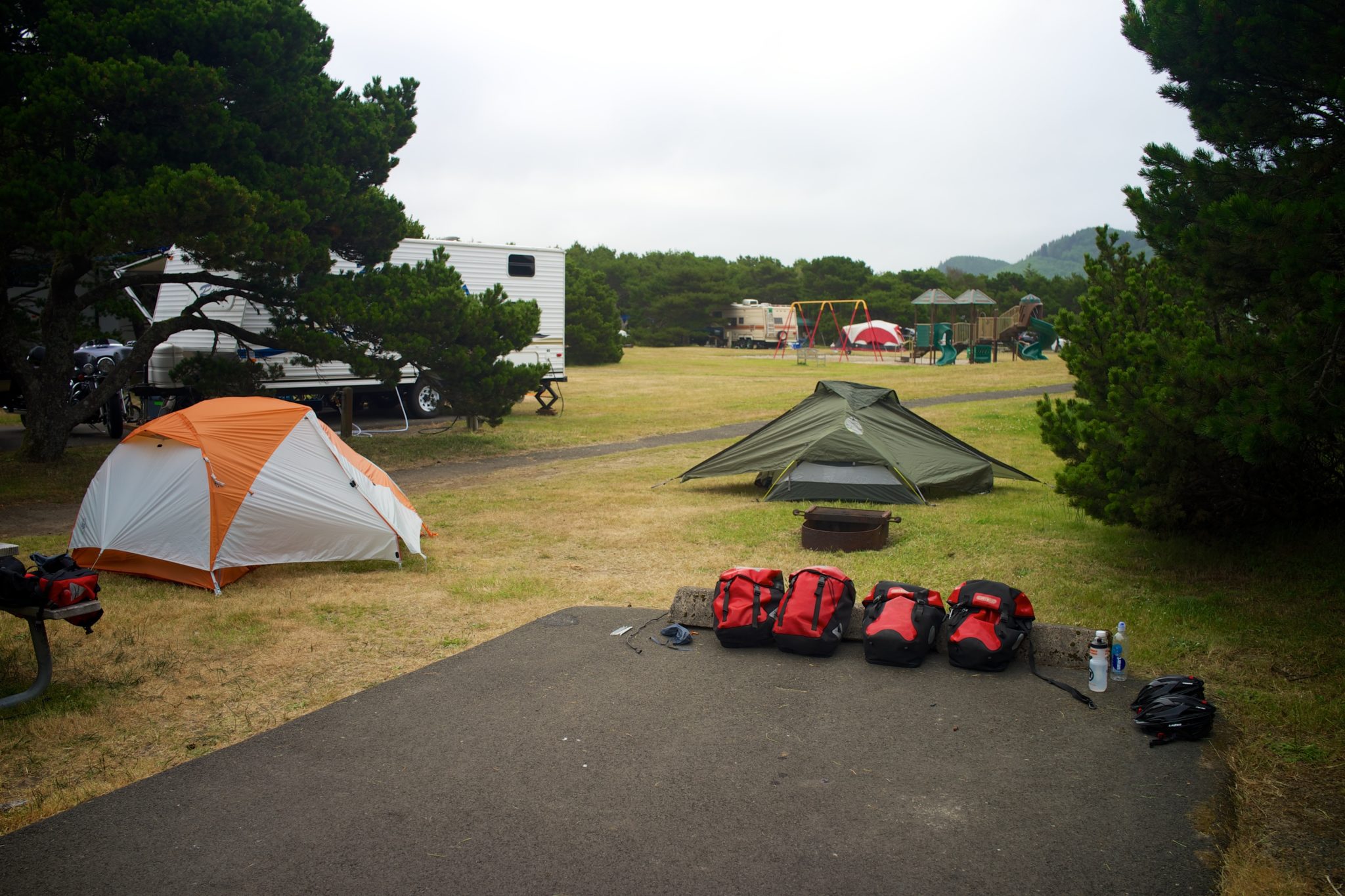 July 8th Day 3 Cape Lookout State Park to Beverly Beach State Park 62 miles
Two days and 100 miles behind us, five nights and 300 miles to go! We loved campsite A35 at  Cape Lookout State Park. The only thing between our tent and the ocean was a small dune making it less that 50 yards away. Marshall has perfected morning Latte's with his Aeropress and freshly roasted beans we picked up from Ristretto Roasters in Portland. Watching individual waves roll into shore from afar was very relaxing and a great accompaniment to our morning coffee.
Our first of three major climbs for the day was the ascent to Cape Lookout. It was brutal and gave us a muscle burn that reminded us of our weakness and the need to start early and pace ourselves carefully. During this first climb there was a light mist and thick fog that dampened our quick drying wool clothing. Crawling up these heavily wooded hills with 50 pounds of gear added to our own weight gave us no choice but to proceed slowly. The upside was the time to think and to process, something that is infrequent during the pace of everyday life. This sanctuary like setting of tall pines and redwoods were the ultimate escape from the concrete covered surfaces back home. Despite the extreme tiredness and exhaustion that sets in by the end of the day, we fell in love with bicycle touring. This was way better than being stuck in a car, isolated from this wonderful moisture laden air and the ever present chirping of birds emanating from the forest mixed with a symphony of sounds from the sea. Bicycling down the Oregon Coast gives one a front row seat to it all.
The little town of Cape Kiwanda offered Stimulus (nice name for a coffee shop) where we enjoyed a Latte along with a nice view of the ocean.
On either side of my rear rack are Panniers that carry a sleeping bag, a Thermorest mattress, a highly packable chamois towel, minimal clothes and even my macbook air, travel essentials if you will. On the top of my rack I worked in an insulated "trunk" bag that was perfect for stowing food purchased at little markets found at the last town before camp so as to keep weight during the day to a minimum. Today's "catch of the day" was freshly caught coho salmon from a little market beside the river from which they were caught. That along with the fortunate find of some Martineli's Sparkling cider made our dinner a real treat.
Our third BIG climb for the day came towards the end at the third cape and was aptly named "Cape Foulweather". This cape is notable as the first promontory on the northwest coast of New Albion (as the area was then known) to be sighted and named by Captain James Cook, while on his third voyage around the world. His March 7, 1778 journal entry reads: " The land appeared to be of moderate height, diversified with hill and Valley and almost everywhere covered with wood. There was nothing remarkable about it except one hill…At the northern extreme the land formed a point which I called Cape Foulweather from the very bad weather we soon after met with".
For the boys and I, the sun was beginning to set and the wind was crazy but the view at the top was worth it as well as the boys antics and carrying on with their version of the scene from "It's a Wonderful Life" where  George Bailey cries out "Clarence, I just want my life back"…. fun stuff and good memories. We slept very well that night as day three came to a close.
July 9th Day 4 Beverly Beach State park to Jessie Honeyman State Park 63 miles
The town of Newport was only a few miles from where we camped so it was our first stop. We enjoyed a a stump town coffee at the Nye Beach area of Newport and made use of their wifi and electric outlets to recharge our batteries (camera, headlight, phone, computer etc etc) since our last campsite was a "hiker/biker" site with no such luxuries. As we made our way through Newport, we crossed one of the most striking bridges on HWY 101. Hailed as the most widely recognizable bridge designed by Conde McCullough, the Yaquina Bay Bridge is a magnificentarch bridge that spans Yaquina Bay south of Newport, Oregon. It superseded the last ferry crossing on the highway.
Our next stop was the recently restored Haceta Head Lighthouse, where we enjoyed a pleasant tour.
We ended the day with some great pizza in Florence followed up with an A&W Root Beer that Matthew said was the highlight of the day! Thank goodness some things never change! 🙂
July 10th Day 5 Jessie Honeyman State Park to Sunset Bay State Park 57 miles
By day five, we had over 200 miles behind us and a little less than 200 to go when I noticed that either one of two things was happening:we had either acclimated to our our sleeping equipment or we were so exhausted that we didn't care. Either way, after nine hours of sleep that felt more like a coma, we were ready for another day of biking!
One of the highlights of the day was lunch in Reedsport at Reedsport Natural Foods. We enjoyed a wonderful salad and smoothie and the boys had grass fed beef burgers. I enjoyed connecting with the owner and exchanging stories, nice time.
We rolled into sunset bay state park and marshall hopped off his bike and waded out into the ocean. After dinner we took a walk along the cliffs overlooking the ocean at dusk, which was so beautiful.
We had Marshall to thank for our delicious meal cooked at our campsite tonight. Earlier in the day as we passed through Coos Bay we stopped at a little Natural Food Store co-op and Marshall selected  some wonderful items: Reads ginger soda, local farm raised sausage, organic penne pasta, Bluemoon pasta sauce, Bell peppers and garlic. All of which Marshall turned into an incredible dinner (with Matthew's help) at the campsite. I was very impressed!
Before bed we took a walk along the cliffs overlooking the ocean at dusk So beautiful!
July 11th Day 6 Sunset Bay State Park to Cape Blanco State Park 60 miles
The beauty at Sunset Bay State Park made it hard to move out, but with 60 miles to go we peddled our way south. We found ourselves on some rather isolated stretches with no traffic that allowed me to play around with putting my Go Pro on an extension road and taking photos of the three of us while riding. I liked the effect that it created.
We lucked out for lunch and found Mothers Natural Foods in Bandon, Oregon. We were undoubtedly their most enthusiastic customers for the day as we were starving from the carb-burning bike ride. I had a Kale salad, enchiladas, and an awesome cookie. I bough some chocolate cake with raspberries for later. Before leaving Bandon, we stopped at a farmers market and picked up some locally raised lamb for Chef Marshall to cook up for dinner.
I was excited about arriving at Cape Blanco State Park, which would be our destination for the night. Situated on the western most point of the Oregon Coast, it is very remote and offers a lovely place for quiet reflection. The only sound to be heard is the howling wind and when it subsides, a reverent hush falls over this area as thick as the coastal air. Our evening arrival allowed us to stop and admire the beams of light from Cape Blanco lighthouse as they sliced their way through the fog, creating rainbow-like prisms that danced upwards out of sight. It was a beautiful experience and one that I will always remember.
Marshall outdid himself tonight cooking up the lamb in a curry sauce with eggplant over oodon noodles. The campfire the boys made was the perfect way to end the day!
July 12th Day 7 Cape Blanco State Park to Harris Beach State Park 70 miles
Ever since visiting Cape Blanco with Carissa two years ago on a day that the lighthouse was closed, I have wanted to return. Built in 1870, I  admired the strength of its structure and imagined what life was like for the families that worked at the lighthouse and raised their families in such a beautiful yet harsh environment.
Back on our bicycles and with 70 miles to go, we had our work cut out for us on our last and longest day of the tour. Working our way through Port Orford we enjoyed some great fish and chips at Griff's On The Dock. After lunch we biked around the the wild and scenic Humbug Mountain. We kept up our energy level in the afternoon with some delicious peanut butter and raspberry jelly sandwiches, eaten as we admired the gorgeous view of the ocean framed by the blossoms of pink flowers that lined the cliffs.
We carb-loaded with pizza in Gold Beach and chuckled at how the owner was insistent that their pizza was the "best pizza on the west coast," a "fact" he reminded us of several times. To his credit, it was very good. We road on into the dark with our lights cutting through the fog as we made our way to Harris Beach State park. When we reached our destination, we celebrated with warmed up pizza, root bear and chocolate. We were famished but very happy to complete our journey as we collapsed into our tents to go to sleep.
July 13th return to Portland
I set my alarm for 7am and biked into Brookings, Oregon to catch a shuttle bus to Crescent City, California 28 miles away. The mini van that I had reserved was fortunately there and waiting. I drove back to meet the boys and loaded up our bikes for our return to Portland, where we enjoyed another night at the Ace Hotel. In my half asleep state on the shuttle bus that morning I wrote out the following recap of our trip and will end  with what I wrote then.
After starting our 7 day bicycle tour last Sunday at the Northwest tip of the Oregon coast, our journey came to an end last night almost 400 miles later at Harris Beach State park in Brookings, Oregon, just shy of the California State line. Our last day was the longest at 70 miles and 4000′ of climbing. Exhausted does not fully convey how we felt as we celebrated with some leftover pizza and chocolate upon our 10pm campsite arrival.
Having peddled our way essentially from Washington to California the boys and I completed our mission and made some incredible memories along the way. We met so many interesting people, the store owner in Reedsport, OR, fellow bikers from all over the world, the nice couple from Sweden, George from Mexico, the girl whose flat we aired up in Nye Beach. Many asked about the name we displayed proudly on our sleeves, leading to stories of Christina who is etched deeply into our hearts. It was an honor to hear their stories of loss and to encourage each other in the process.
"Yet those who wait for the LORD will gain new strength; they will mount up with wings like eagles, they will run and not get tired, they will walk and not become weary". Isaiah 40:31
If you have 12 minutes to listen to some relaxing music and watch some beautiful Oregon coast scenery, click on this link for the video Carissa made of our trip! (Dont forget to select 1080P for the best quality)
For my photo gallery of Oregon Coast Bike Tour, click on this link http://ronniemosley.smugmug.com/Travel/Oregon-Coast-Bicycle-Tour-2014/