15 Dec

Monday Morning Reflections on Guatemala, Finding Hope, Strength and Courage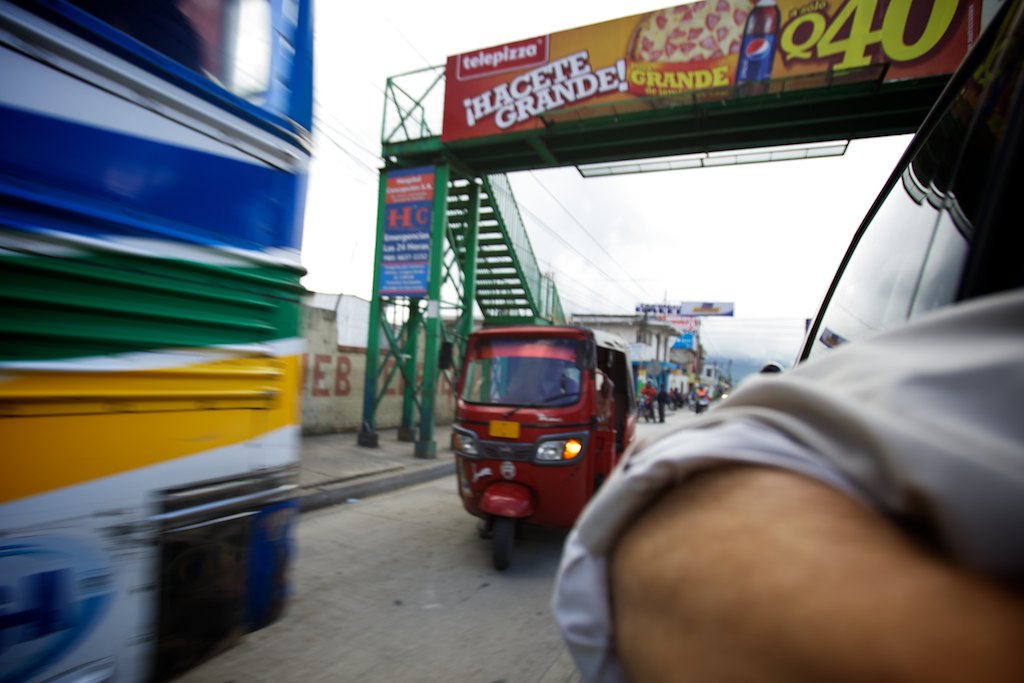 Sifting through photographs during today's Monday morning armchair travels, I found myself reliving memories from my trip back in September with Orphan Sunday to Guatemala. Memories that are like little footnotes for a future direction. Guatemala will always hold a very special place in my heart, it was the first trip this year that gave a glimpse of a new life, a new direction that God has planned for not only myself  but for my family. It was a trip that involved not only experiencing new places that I had never seen before, but meeting hew friends that have already made a lasting impact on my life.
Flying by helicopter over the mountaintops of Guatemala's lush tropical greenery, looking down at active volcanos and ancient lava beds en route to the remote village of Retalhuleu to tell the story of little Maria Jose, I felt God speaking to me in a powerful and unforgettable way. His message was clear and unmistakable and was a very personal reverberation of Jeremiah 29:11-13. There is a story here of triumph over tragedy, of good prevailing over evil. A reminder that in this world in which we live, there is tremendous pain and suffering, but beauty still exists, in many cases as a result of the pain.
The people that I met in Guatemala have made a profound impact on my life, from Jodi, who's passion for orphans through her work with Orphan Sunday is incredibly inspiring and contagious. The Twietmeyer family whose passion for helping special needs orphans, like those who are HIV positive or autistic inspired me to accept there invitation to be on the board of Project Hopeful. Then there was little Maria Jose who lives in a hut in the jungle with her dad and brother after the tragic loss of her mom; she walks 20 minutes through the forest each day to a school, who's story we came here to tell. This school has introduced her and her family to Jesus and a new life. Then there was strong and courageous little Jennifer who was the victim of unspeakable abuse from those who's job was to protect her,  now she lives in a home aptly named "My Little Treasure" where she is safe and surrounded by those who are reflections of God's grace, love and mercy. Jose and his sister Hanna who were born with a crippling bone disease and are confined to pushing themselves around on little carts while displaying the most unforgettable smiles. 
At the end of my trip I had a couple of nights in the ancient and historic city of Antigua, in a hacienda that God graciously provided;  a much appreciated sanctuary of peace. This 18th century Hacienda felt more like a living museum than a home, with sections of the floors covered in glass, affording views of archeologist digs that lie below. Active volcano Fuego could be seen from my bedroom window with its plumes of smoke emitting every few minutes like clockwork.  It was the perfect base for my long planned tour of nearby Finca Filadelfia, a coffee bean plantation from the 1800's. With my daughter Christina's passion for coffee this was a very special part of my journey that allowed me to feel like I was with her on yet another of our adventures.
This year has been a year of reflection, transformation, new stories and lasting memories, and I am grateful. Taking chances, opening our hearts to new people and places, choosing a path of gratefulness instead of bitterness keeps love alive. Accepting the warm and reassuring embrace of a little girls hand on a remote island in the Philippines as she accepts your friendship and returns it with a meal that is a reflection of all that she has to give, can change your life. Giving is an incredible thing, we somehow always get back more than we give away.
Stories are important, hearing the stories of others puts our own lives into perspective. Stories tell us who someone is and they tell others who we are. In the process of sharing stories we find out that we are not alone in our pain, in our grief and in our loneliness. Stories encourage, they inspire and in the end, they can give us hope. 
 "A Desire becomes a Hope when we discover a reason for its expectation, and there is no better reason to expect something than a promise given in the Word of God."
Rex Rouis
"Beautiful" video
https://vimeo.com/106394752
2014 Orphan Sunday Guatemala video
https://vimeo.com/110623914
More Guatemala photographs
http://ronniemosley.smugmug.com/Humanitarian/Guatemala-2014/Overview/