28 Jul

Summiting the tallest free standing mountain in the world – Mt Kilimanjaro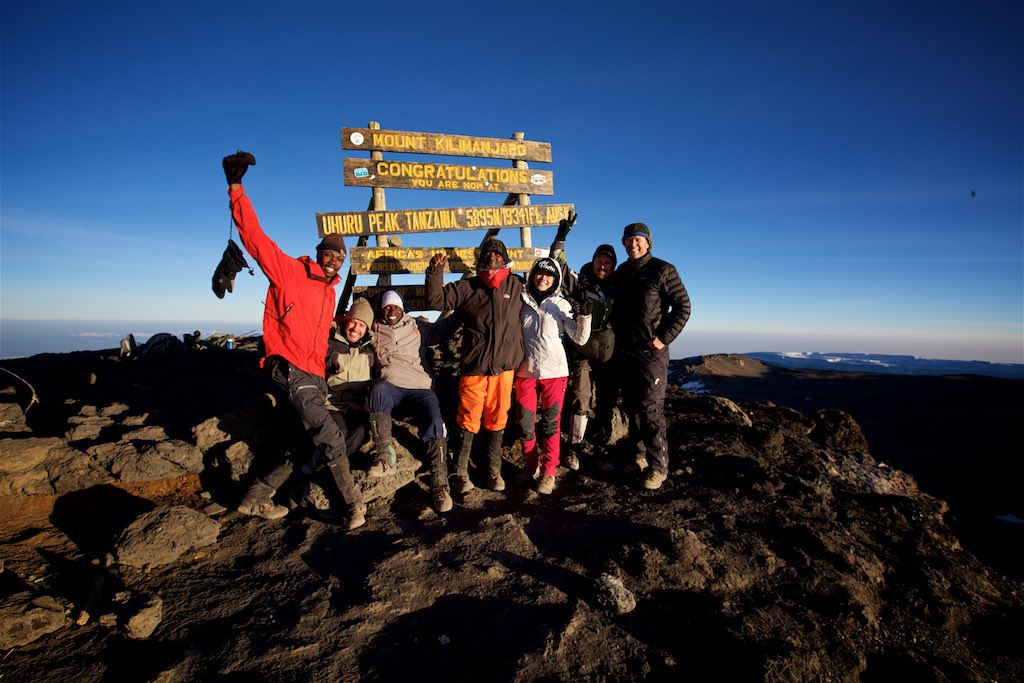 Jamba! (hello), from Africa
Seven days, 54 miles and countless prayers later, we completed our mission of summiting Mt Kilimanjaro, the tallest freestanding mountain in the world. The purpose was to increase awareness and raise funds for the Badjao Bridge ministry in the Philippines. We are grateful for all who gave to this cause, helping us raise over $10,0000 so far. If you pledged an amount based on our success in summiting now is the time to pay up!
There really is no way to describe what we experienced over the last seven days but when I return to the US I plan to blog this journey, one blog for each day, outlying the scope of this climb and the stories that made it so special. I look forward to sharing more about our guide, Wilfred, one of the first Africans to summit Mount Everest. We owe our success to this gentle giant of a man, his assistant guide and crew of seventeen who took incredibly good care of us,  we are grateful.
For now I am posting just a sampling of photos of our experience along with a few things i learned –
Humans were not made to function at over 19,000' elevation.
At 19,341 ft, looking out over the clouds, God's creation is stunningly beautiful.
Watching the milky way, framed by a backdrop of a million twinkling stars and a pitch   black galaxy is an unforgettable way to bond with new friends.
Life is intensely beautiful when stripped down to its most basic elements.
As extremely difficult as it is to climb Kili, it is more of a mental journey than physical, it tests every fiber of your body and most of all your gut and determination.
Our group is so grateful for the 18 gentle giants from four African tribes (our porters)
that got us safely to the top of Mount Kilimanjaro and down, they are some of the
most amazing men I have ever met in my life.
After hiking/climbing 54 miles in seven days I am EXTREMELY tired.
I want to thank three very special friends for including me in this group, they have far superior climbing abilities than mine but were so very gracious to include me in the climb of my life, Thank you Katherine Lam, Matt Johanson and Dan Johanson.
Ephesians 4:13
To learn more about the cause that we climbed for – http://www.badjaobridge.org