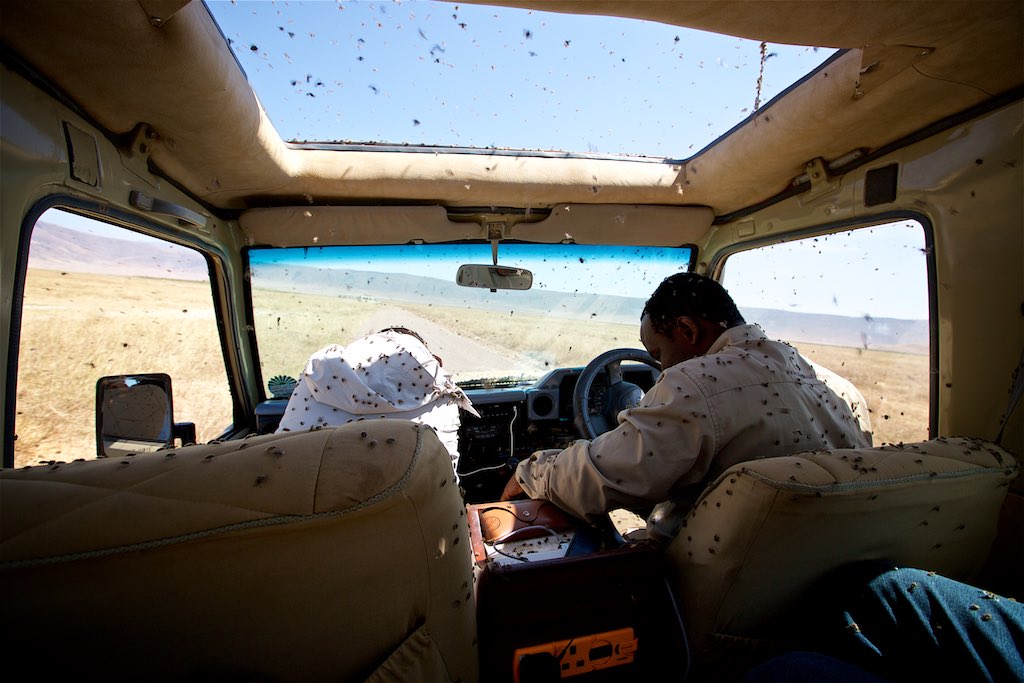 29 Jul

It's the little things….at Ngorongoro Conservation Area in Africa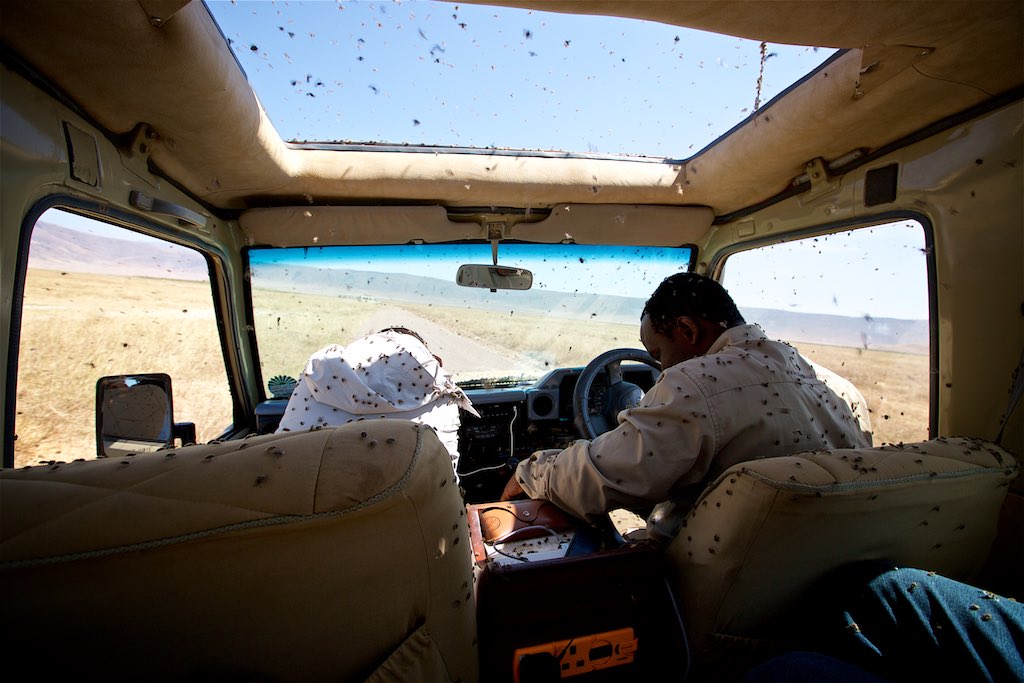 Wednesday July 27th –
While enjoying a Safari at Africa's Ngorongoro today, we were viciously attacked by a swarm of flying insects that resembled a story of plagues from the Old Testament.
With the roof raised on our Range Rover we were wearing out the shutters of our cameras as we drove through the world's largest unflooded and unbroken caldera. Searching for the Big Five and attempting to photograph them was a thrilling adventure.
Suddenly out of nowhere a roaring buzz occurred overhead along with the panic stricken voice of our driver. "Lower the roof! Lower the roof!" he commanded us. The roof was very heavy and hard to operate, especially with the driver yelling something about killer bees. "And don't let them sting you!" he yelled. As Kat scrambled out the front door, I struggled with the latch on the rear door, all the while taking photos of this surreal event. Dan dove into the front seat and out the same door as Kat. I finally tumbled out my door followed by Dan's brother, Matt. Heeding the actions of the terrified, screaming driver who had already exited the vehicle, I pulled my shirt up over my head to protect myself from these swarming devils pelting against my clothing.
Finally, we determined that they were not bees but their swarming did not decrease. Due to the risk of being attacked by lions, we had no choice but to get back in the vehicle since it is highly illegal (not to mention dangerous!) to be outside here. So with a vehicle full of flying and crawling insects and a black cloud of swarming insects still in pursuit, we raced to the next rest stop, where we wiped and swatted at these possessed creatures to rid them from our vehicle. Exhausted we made our way out of the Ngorongoro conservation preserve.
The next day we laughed hysterically as we retold the story and watched the video Dan managed to shoot of this surreal event. We were able to find humor in the fact that after an exhilarating defeat of 19,341' Mount Kilimanjaro, we were whipped by a swarm of flying insects… it's always the little things.