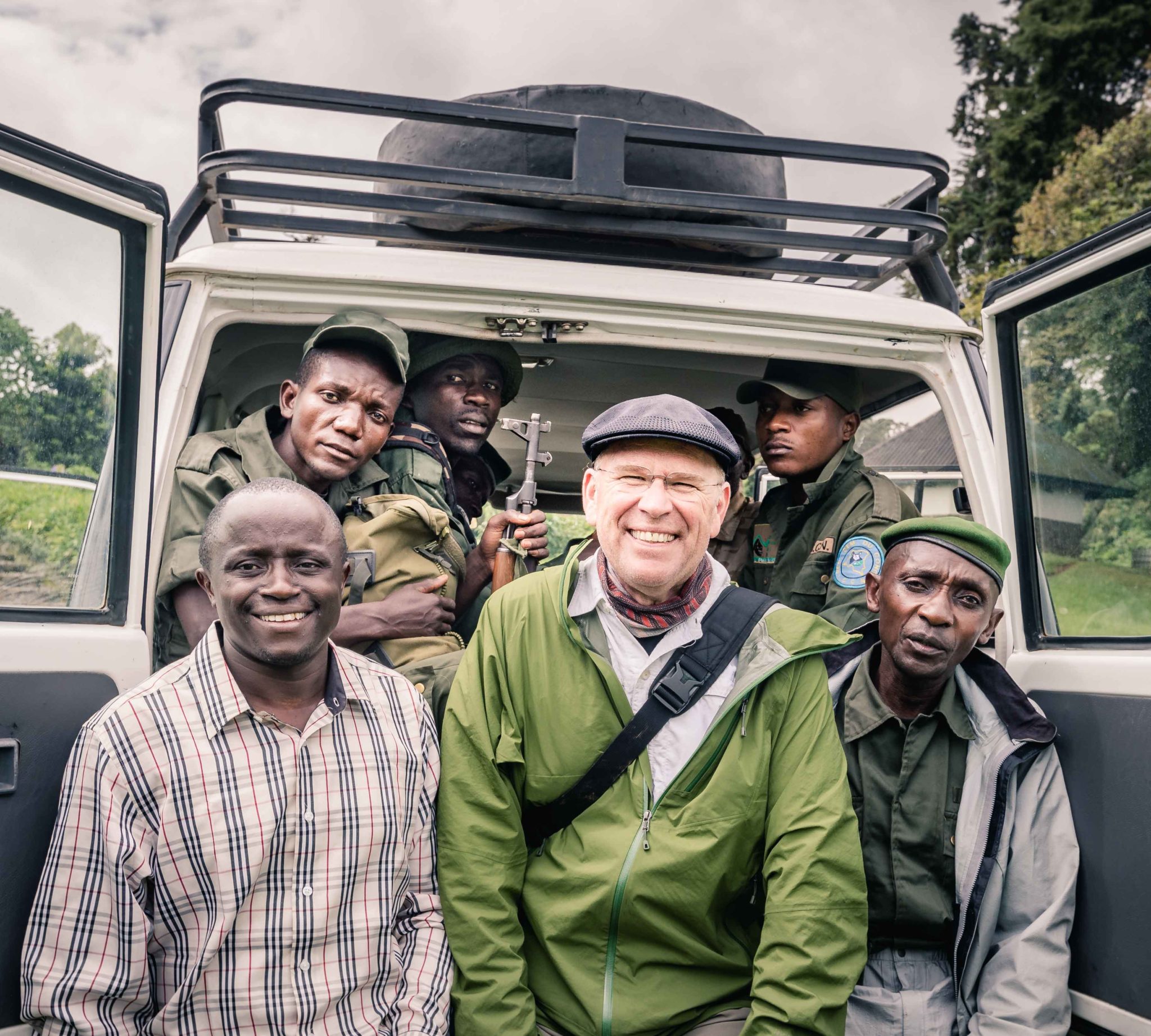 18 Feb

Gorilla Trekking in the Jungle of DR Congo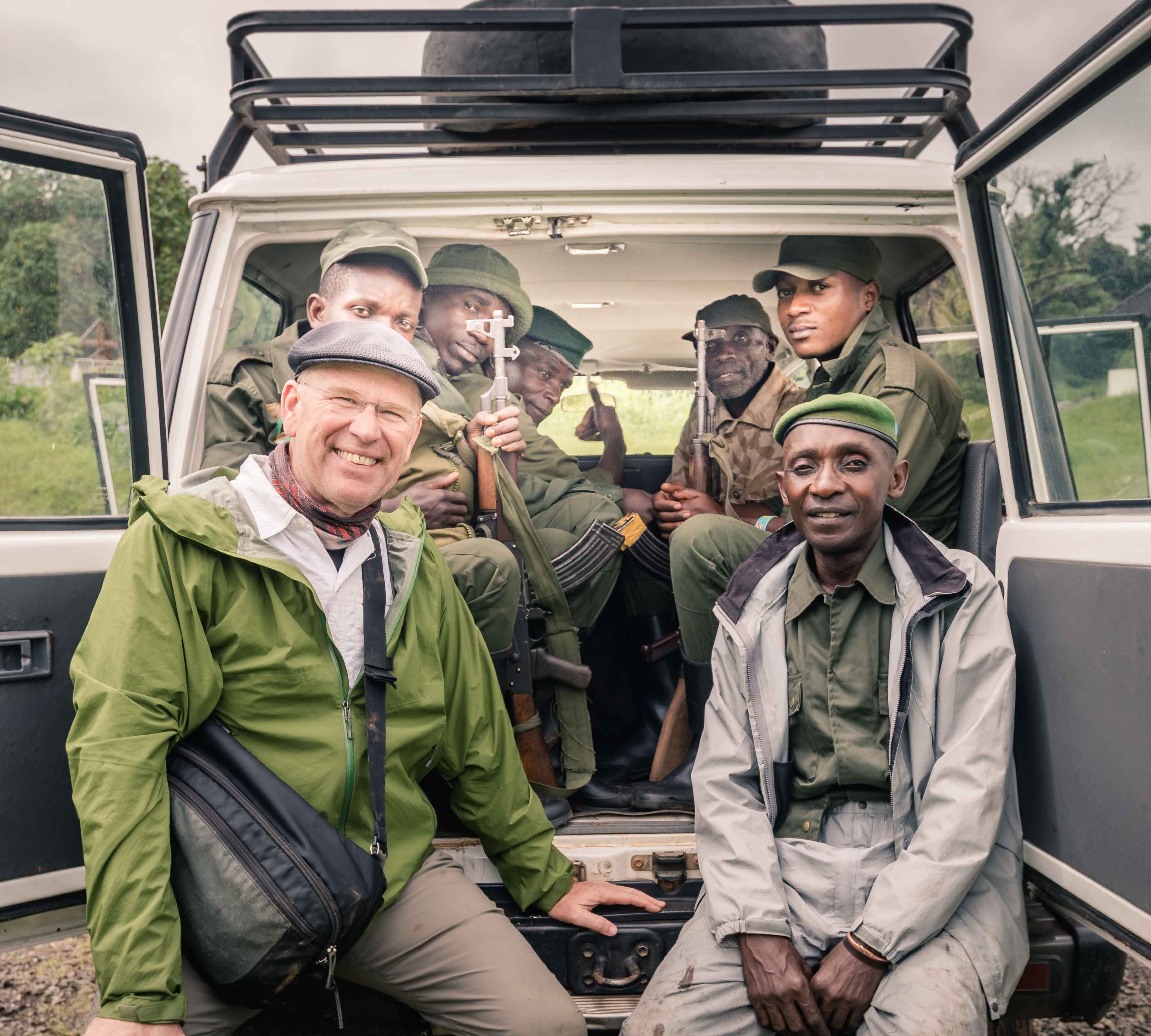 After a journey that had begun almost 24 hours prior, I found myself standing eye to eye with a massive silverback gorilla in the Congo jungle. My adrenalin was pumping at a rate I had never before experienced.
We had been briefed at the Kahuzi-Biega National Park headquarters on what to do in this situation but now this was real. With my heart pounding, my instincts said to run, not stand my ground. This largest of all primates is twice my weight and over five times my strength. The gorilla trackers at my side whispered a reminder between their guttural imitative grunts aimed back at the agitated gorilla. Dont move, DON'T MOVE was their whisper. So stand I did, my gaze at the ground as instructed. The encounter ended with the Gorilla beating his chest to demonstrate his superiority here in the DRC (Democratic Republic of Congo) jungle where he calls home.
My journey had begun the night before with my new friend Gilbert Kabango as we boarded a boat that took us from the north end of Lake Kivu to the south as we slept overnight. This adventure would have never been possible without Gilberts knowledge of the area, I owe him a heart felt thanks… now that know I've survived.
The twelve hour boat ride was an adventure in itself, gliding over one of the deepest lakes in the world. During the night we were surrounded by mountains that are home to around 300 of the remaining 700 silverback gorillas left on planet earth. Over the years, the wars in these mountains have severely diminished the worlds remaining gorilla population. The park rangers are the unsung hero's that are responsible for the recent growth in gorilla numbers.
Back in 2007, outnumbered and outgunned, over 110 park rangers lost their lives during rebel fighting. Their unwavering commitment to the mountain gorillas' survival is the stuff of true courage.
From National Geographic's July 2007 issue I quote –
"There was no shortage of suspects. The gorillas share the park with tens of thousands of heavily armed soldiers engaged in a three-way guerrilla war between two rival militias and the Congolese army. The park is also home to poachers and hordes of illegal charcoal producers, and it is bordered by subsistence farmers and vast refugee camps overflowing with families fleeing the bloodshed. Caught in this vortex of human misery, it would be a miracle if the animals remained unscathed. But who would kill gorillas in cold blood, and why?
Muir explains the challenge: Nkunda's forces won't leave the National Park until the Hutu guerrillas leave, and the Congolese army won't leave until they're both out. It's a stalemate no one really wants to end. Not when there's so much money to be made off charcoal. (Nkunda claims he has banned all tree felling in his regions of control. While that may be true for the Mikeno sector, he has reportedly taken over charcoal operations near Kirolirwe.) And if the charcoal production isn't stopped, the forest will be gone: no habitat, no gorillas. Muir understands that the removal of all military from the area—perhaps 15,000 Congolese soldiers, 4,000 Hutu (FDLR) guerrillas, and 4,000 Nkunda (CNDP) troops—is the ultimate answer, but given politics in Congo, the park itself could be gone by then."
That was eleven years ago and thankfully for the gorillas and the people of the DRC, situations here have improved.
After our 6am morning arrival to Bukavu at the south end of Lake Kivu, we disembarked from the boat and were driven through deeply rutted and muddy roads to the entrance of Kahuzi-Biega National Park. After a thirty minute briefing by 22 year veteran park ranger, Juvenal, our guide Lambert took us into the mountains along with five soldiers carrying automatic rifles. We learned in our briefing that the guns were not for protection from the gorillas but rather from guerrilla fighters that are still present in these mountains.
No words can adequately describe the experience of our first Gorilla encounter. After an hour or so of hiking, Lambert, our guide, pointed out some fresh gorilla dung, we stopped and he informed us that we were very close.
Donning our surgical masks (I wore a more comfortable "tube scarf" that I carry), the guide made one last chop with his machete. Not more than ten feet away was a majestic gorilla stripping leaves from a limb for food. Experiencing this largest of all primates in the wild instead of in a magazine or behind bars was an experience that I will never forget.
I hope that this video I prepared, along with my photographs, convey some of the awe I experienced in the Congo Jungle.