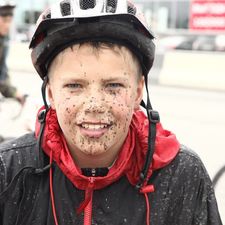 01 Jun

Cycling through France for a cause

I am so excited to photograph The World Without Orphans Bike Tour as thy make their way from Paris to the Atlantic Ocean.

In just two months from today I will ride with this team as they make their way through Chartres, Le Mans, Angers and Nantes, ending at the west coast of France in the town of Saint-Nazaire.

"This bike campaign is organized by partners in the World Without Orphans movement and is being led by Gennadiy Mokhnenko, pastor and director of Republic Pilgrim, which is the largest rehabilitation program for street youth in Ukraine. Gennadiy and his wife Lena are parents to 32 previously abandoned children. "My adopted children used to live on the streets. Some of them were as young as 4, and we knew if we didn't take them, most would end up dead or in prison," Mokhnenko said. Gennadiy understands that his own family is not the typical example for adopting children, but he believes strongly that everyone can do something. (A beautiful video of Gennadiy Mokhnevnko's story of adopting these thirty two children can be seen here.

The World Without Orphans around-the-world bike tour seeks to advocate for orphans in need of families, encourage national adoption in the countries where they ride, and encourage the development of solutions to end orphanhood worldwide."

The World Without Orphans Bike Tour began in 2011 when a group of Ukrainian orphans from Mariupol started riding eastward to raise awareness about orphans. Their quest continued on for 4 summers, and led them to far-east Russia, covering a total of 15,000 kilometers. Tens of thousands attended gatherings that were set up as part of the tour, while hundreds of thousands heard the message about adoption through local media campaigns. As the team continued on in their ride east they regularly heard news of families who had stepped forward to foster and adopt children as a direct result of the campaign." – From the World Without Orphans website.

This year these courageous young bikers will start in Bochum, Germany on July 16th and make their way through Germany and France before this years tour ends at the west coast of France. While on the tour, the group will speak at public events, hold press conferences, and meet with foster and adoptive parents throughout Europe.

After France I will journey to Ukraine to photograph and tell stories in Kiev, visiting some very special ministries before making my way to Mariupol. Bordering Russia, Mariupol is in the war zone where shelling is frequent. I will re-join the Republic Pilgrim there to visit their children's rehab center, adoptive families, rehab centers for adults, a hospice, and a ministry to refugees and single mothers.

Republic Pilgrim is the largest rehabilitation center in Ukraine for former street kids. Since 2000, over 3,000 teens have gone through the program. 60% of the youth have been able to return to their biological families and many of the kids have been placed in adoptive and foster families.

Invite you to read more about Republic Pilgrim and learn how you can be a part of their cause

I look forward to sharing much more about this amazing group from Ukrain in the days ahead.

– Photos are from The World Without Orphans Website.