21 Oct

Day 03 Sleeping Under the Stars at a Monastery in France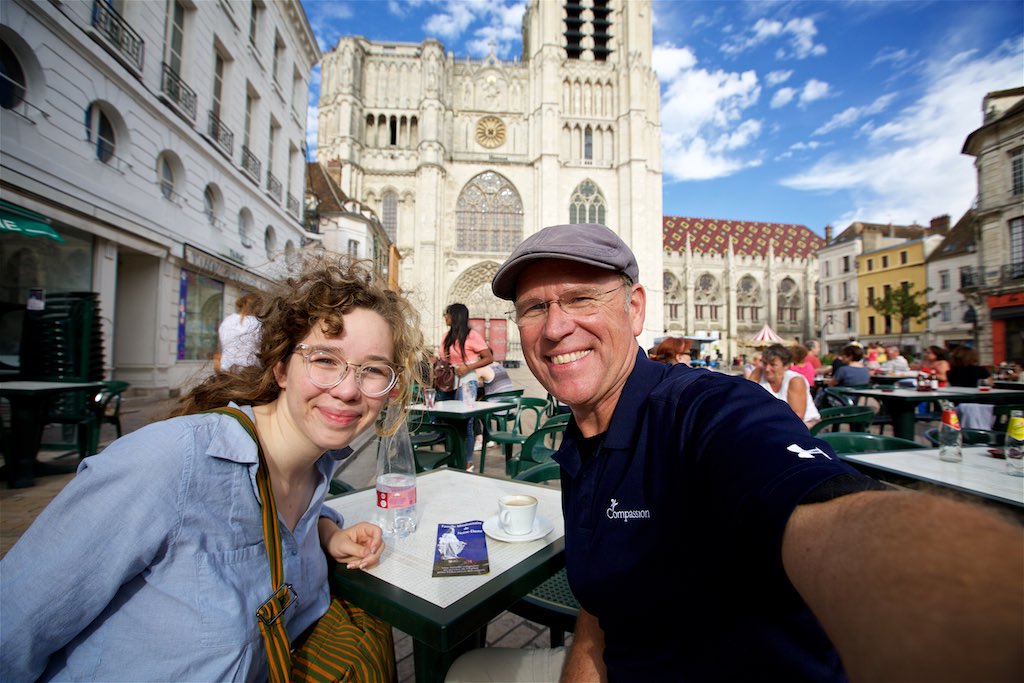 August 3rd, 2017 – Day 03 of a 26 day, 11 flight and 4 country adventure, Capturing Grace in France, Ukraine, Russia and Spain.
We loved our two days in Paris, the food, sights and sounds were as memorable as ever. We now transition to sleeping in fields under the stars as we make our way by bicycle from Paris to the Atlantic coast.
Today, Michael, Carissa and myself met up with Gennadiy Mokhnenko and his biking team from Ukraine.
Having read all that I could about this man with a passion for a world without orphans, today has been highly anticipated. I recommend viewing the documentary movie, Almost Holy, that tells the story of Gennadiy and the thirty two boys he has adopted. These boys that were rescued off the streets of Mariupol, Ukraine were homeless, most addicted to drugs. They now form the nucleus of the cycling team whose journey through Europe I am here to document.
Having made there way through Germany and over the Swiss alps, we now meet 160km southeast of Paris in the quaint little town of Sens, France. With the team running a day or so behind schedule, one of the SAG vans came ahead to Paris to pick us up to meet the team as they arrived.
After photographing their arrival into Sens, we set up our camp for the night at Monastery Sainte-Marie de la Garde in Saint-Pierre-de-Clairac, just outside of this picturesque little town.
Watching these boys from Ukraine living a life so different than what the streets of Ukraine offered is a miracle I will not soon forget.
By believing against all odds and loving against all odds, that is how we are to let Jesus show in the world and to transform the world.
– FREDERICK BUECHNER
DETAILS ABOUT THIS TRIP-
I am so excited to photograph The World Without Orphans Bike Tour as thy make their way from Paris to the Atlantic Ocean. In just two days from today I will ride with this team as they make their way through Chartres, Le Mans, Angers and Nantes, ending at the west coast of France in the town of Saint-Nazaire.
"This bike campaign is organized by partners in the World Without Orphans movement and is being led by Gennadiy Mokhnenko, pastor and director of Republic Pilgrim, which is the largest rehabilitation program for street youth in Ukraine. Gennadiy and his wife Lena are parents to 32 previously abandoned children.
"My adopted children used to live on the streets. Some of them were as young as 4, and we knew if we didn't take them, most would end up dead or in prison," Mokhnenko said.
Gennadiy understands that his own family is not the typical example for adopting children, but he believes strongly that everyone can do something. See the beautiful
video
about Gennadiy Mokhnevnko's story of adopting these thirty two children. I highly recommend watching
Almost Holy
as well, a full length movie about Gennadiy and his life's work in Ukraine.
The World Without Orphans around-the-world bike tour seeks to advocate for orphans in need of families, encourage national adoption in the countries where they ride, and encourage the development of solutions to end orphanhood worldwide.
The World Without Orphans Bike Tour began in 2011 when a group of Ukrainian orphans from Mariupol started riding eastward to raise awareness about orphans. Their quest continued on for 4 summers, and led them to far-east Russia, covering a total of 15,000 kilometers. Tens of thousands attended gatherings that were set up as part of the tour, while hundreds of thousands heard the message about adoption through local media campaigns. As the team continued on in their ride east they regularly heard news of families who had stepped forward to foster and adopt children as a direct result of the campaign." – From the
World Without Orphans website
This year these courageous young bikers started in Bochum, Germany on July 16th and have made their way through Germany and Switzerland before this years tour ends at the west coast of France. While on the tour, the group will speak at public events, hold press conferences, and meet with foster and adoptive parents throughout Europe.
[In August my daughter Carissa and I set off on a 26 day, 11 flight and 4 country adventure, Capturing Grace with our camera's as we journeyed through France, Ukraine, Russia and Spain. I am now back at home in the US, posting about the experience of those twenty six days from my journal]