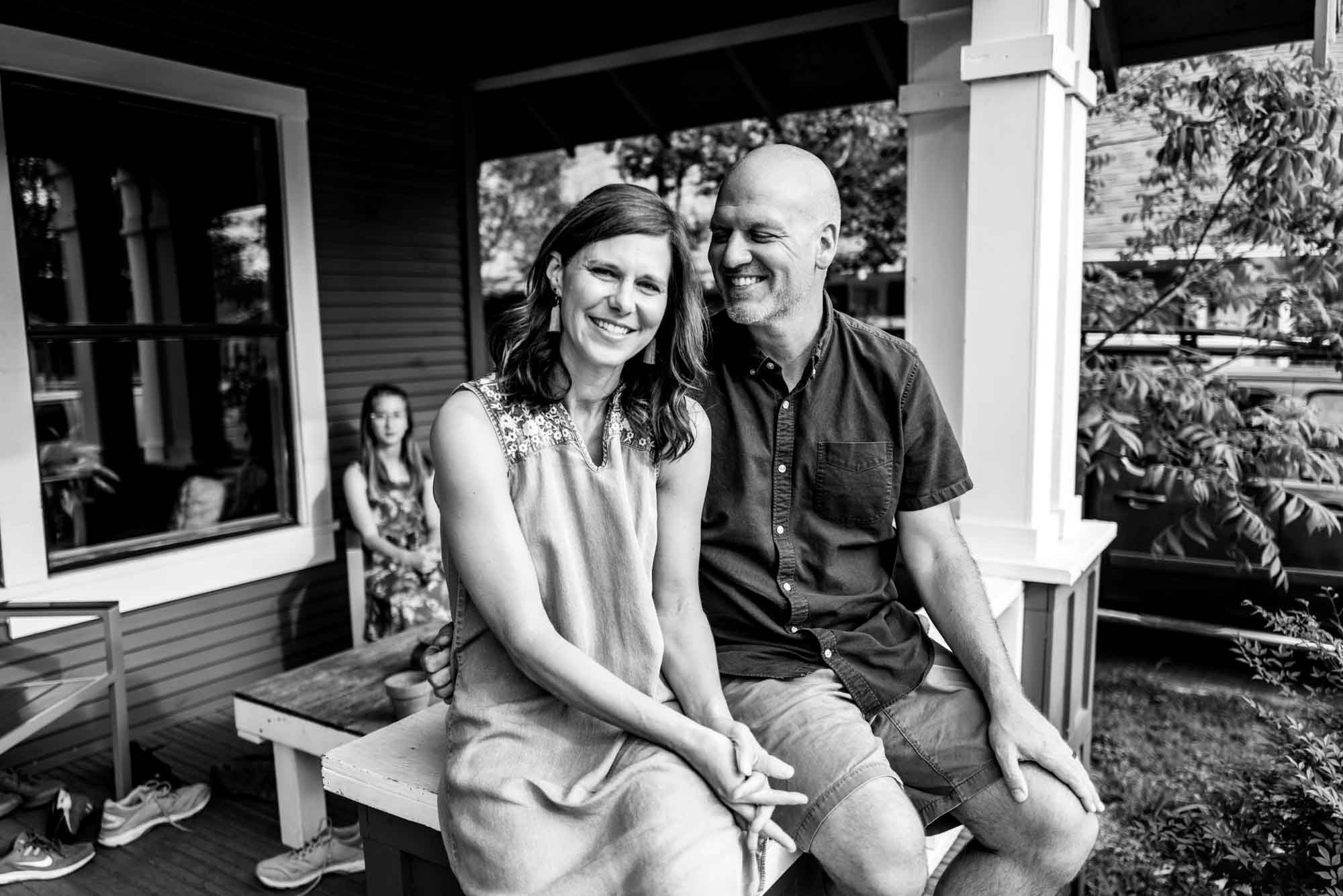 12 Apr

Life in The Fairmount – Our Porchtrait Project – Meet the Gray's over in the 1900 block of Fairmount Avenue.
Life in The Fairmount – Our Porchtrait Project
Meet the Gray's over in the 1900 block of Fairmount Avenue.
This is Nick and Traci and there twins, 11 year old Zara and Austin.
Nick is an enthusiastic encourager, energetic father, devoted husband and a very dear friend. He does everything with a wonderful contagious smile. Traci is very kind to put up with Nick and his crazy antics. When you meet school teacher Traci and experience her beautiful smile and gracious hospitality you know that Nick married up… way up! ❤️
I came to know Nick when he coached my now 24 year old Carissa in sports at Covenant Classical School, over 10 years ago. Since then, mine and Nick's friendship was sealed over coffee at Avoca while planning one of my most memorable humanitarian photography trips, in the Himalaya's of Nepal.
Some of my life's most memorable moments and images resulted from that trip. Viewing Mount Everest from a twin engine plane, Nick's big grin just over my shoulder. Collapsing beside Nick in a little barn after surviving a high mountain monsoon together, pulling leeches from my leg as I dried out. With blood dripping down my forehead from a miscalculated entrance into said barn, I made this priceless comment "life just doesn't get any better than this"…. and I meant it.

Yep, we can survive most anything with friends and neighbors like Nick and Tracy and the twins around us.
When I asked Nick the usual Fairmount Porchtrait Project questions here is what he said –
What's been the most difficult thing for you about shelter in place/social distancing?
"Not being able to be with friends"
What do you miss the most?
"Coffee shops"
What do you look forward to the most?
"Getting huge"
How long have you lived in the Fairmount?
"2 years"
Share your favorite thing about living in the Fairmount?
"The people and their porches. It's a great place for our family. "
What kind of work do you do?
"Teacher and ……"
Favorite thing to do on our porch?
"Have friends and neighbors over"
My favorite routine in the hood is to jog down Nick's street.
On one of my recent slow motion morning jogs I was greeted by 11 year old Austin on his scooter, he told me with excitement "we have something special for you". A few huffs and puffs later I heard Eye of the Tiger being blared my way from the Gray's porch while Nick did fist pumps into the air, "Go Ronnie, Go Ronnie".
My wife Carol and I are so grateful for the Gray's!
Shot on a Leica Q2
About the Photographer – I'm Ronnie Mosley, my wife Carol and I have lived in the Fairmount almost three years in the 1500 block of College Ave. My wife is the best neighbor anyone could hope for, I love people through the lens of my camera and Carol loves people with acts of kindness.
I have photographed in over 40 countries during the last five years, telling the stories of people who are making a difference in the lives of orphans, vulnerable children and people in poverty.
To lean more about my work of Capturing Grace click here.
Message me if you'd like to be included in the Fairmount Porchrait Project!
Our social media hashtags are #MrRonniesNeigborhood #lifeinthefairmount #FairmountPorchraits #LeicaQ2 #Leica #summilux