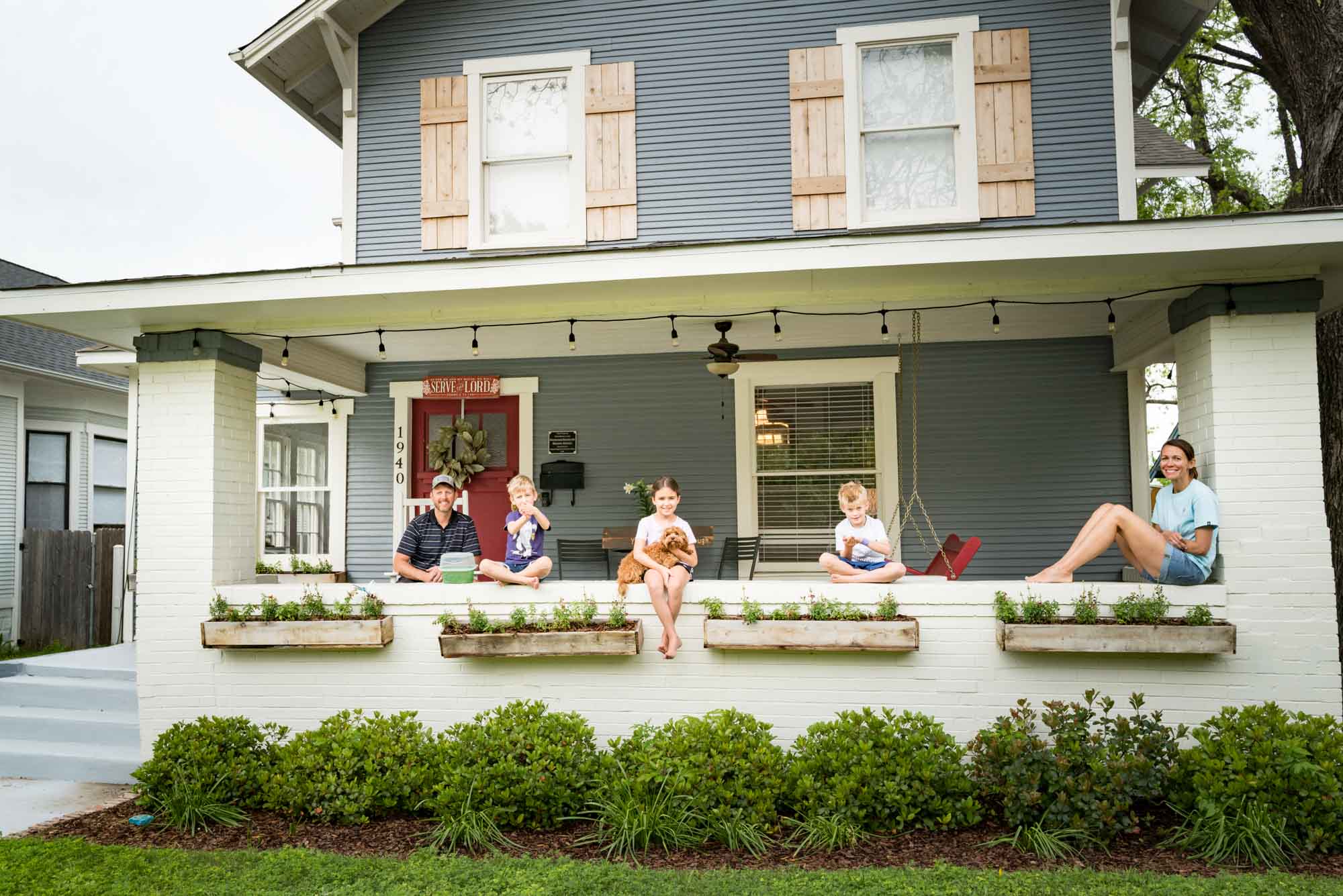 12 Apr

Life in The Fairmount – Our Porchtrait Project – Meet the Lowe's over on College Ave
Life in The Fairmount – Our Porchtrait Project
Happy Easter from the Lowe's (Scott, Becca, Zoë, Luke, Isaac) over in the 1900 block of 6th Avenue!
Last summer I was fortunate enough to meet this sweet family while biking in the neighborhood with my little friend Nathen. It was the lemonade stand that got us but we lingered because of the hospitality.
When I asked Scott about being a part of the Fairmount Porchtrait Project they were happy to oblige. I love what the Lowe's have been doing this week in the driveway leading up to Easter. They started some chalk drawings relating to Easter and they leave a box of chalk out for those in the neighborhood that want to add on, such a lovely and fun idea!
When I asked Scott the usual Fairmount Porchtrait Project questions here is what he said –
The most difficult thing with the shelter in place for our family is being separated from friends & spending time with them & the difficulty for siblings to get along. The fear of the unknown & home schooling!
What do they look forward to the most?
Seeing Friends , playing baseball at ULL, going to eat at Heim BBQ, going to parks.
We have lived in the Fairmount for 5 yrs and our favorite thing is front porch talking to neighbors and living near magnolia.
Our favorite nearby business's are Summer moon, Melt, Heim and brewed.
I am so grateful to Scott for being a part of the Fairmount Porchtrait Project, I am looking forward to summer so that I can visit for lemonade again and visit without having to stand on the sidewalk!
Shot on a Leica Q2
About the Photographer – I'm Ronnie Mosley, my wife Carol and I have lived in the Fairmount almost three years in the 1500 block of College Ave. My wife is the best neighbor anyone could hope for, I love people through the lens of my camera and Carol loves people with acts of kindness.
I have photographed in over 40 countries during the last five years, telling the stories of people who are making a difference in the lives of orphans, vulnerable children and people in poverty.
To lean more about my work of Capturing Grace click here.
Message me if you'd like to be included in the Fairmount Porchrait Project!
Our social media hashtags are #MrRonniesNeigborhood #lifeinthefairmount #FairmountPorchraits #LeicaQ2 #Leica #summilux