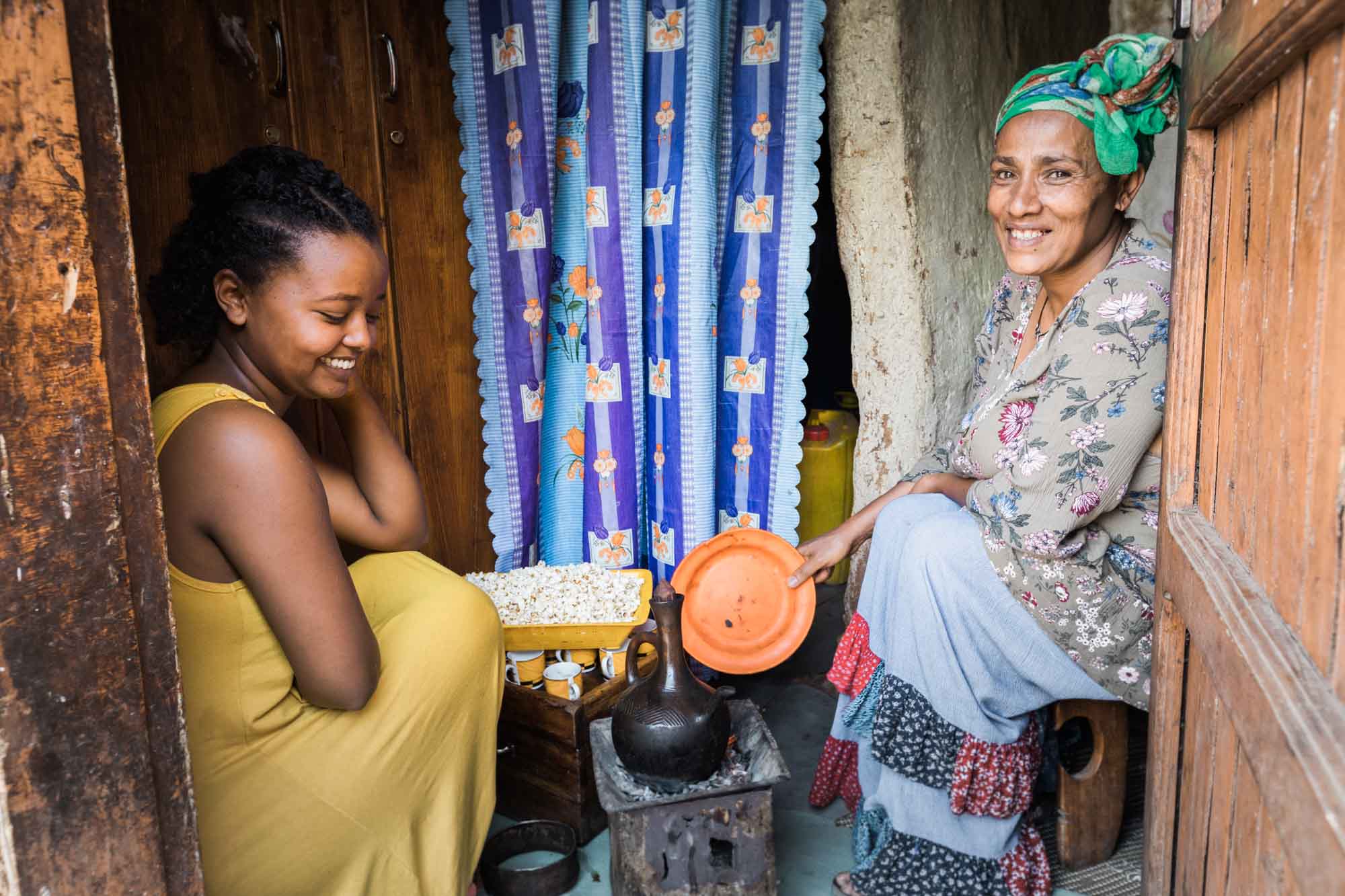 14 Apr

Hagere and Mahlet in Addis ababa ethiopia – Photographing for the adera foundation
Today my heart finds it's way back to Addis Ababa Ethiopia, where I was photographing just a few weeks ago for the Adera Foundation.
In March of 2020, I made my fifth trip to Addis Ababa, Ethiopia, a place that feels more and more like home. I have shared many stories over the last five years of moms in poverty whose lives have been changed through the ministry of Adera. I have shared beautiful portraits of moms and their children during their time at the Adera daycare and feeding program. I have loved producing images of moms creating and wearing the paper bead necklaces that are the cornerstone of this ministry. Their mission statement is – "The Adera Foundation shares the gospel in both word and deed, transforming the lives of the poor with help and true hope."
On this year's trip, I shared with Julie Miller, the director of Adera, my desire to visit some of the homes that the moms live in, providing a more intimate picture of their lives and how they live. Julie shared my enthusiasm, and my first visit was to the home of Hagere and her daughter Mahlet.
The story on file for Hagere reads like this –
"Hagere Tegegn is an artisan employed by Adera Designs. She is the mother of three children. Hagere, her husband, and one of her sons are HIV positive. Since her childhood, Hagere passed through many challenges. Before joining Adera, when she was without work, she used to argue with her husband every day because they didn't have enough money to take care of their family. He often expressed his anger in abusive behaviors or language. Often her poor health would force her to spend much of the day in bed. She was underweight and had stopped taking care of herself. Hagere had lost hope. Many people assumed she was close to death.
"God changed my story through Adera," Hagere testified. "After starting to work at Adera, my life has completely changed, and my hope has flourished. The change began with my physical appearance. I gained weight and started to feel whole. I started to take care of myself and wear clean clothes. I now can buy whatever is needed for my children, which makes me feel so proud of myself as a mom. When my husband lost his job for a year, I managed to take care of all the expenses. Now I am bold, and I can defend myself from my husband's abusive behavior. I have the confidence to participate in any social gatherings in my society. When my neighbors see me, they usually use a saying in Amharic, 'A person's look tells you how he lives.' Which means your physical appearance testifies how your life is. When I wake up in the morning, I am no longer worried about my husband's insults or arguments because I have friends that I spend the day with, which makes me laugh and enjoy my life. All this has happened because of Adera. Adera gave me my life back." Hagere Oct 2016
I loved my time with Hagere and her daughter Mahlet, just getting to know them as friends while sharing stories. I learned quickly that 23 year old Mahlet speaks perfect English and is attending college.
The moms in the Adera program live challenging and impoverished lives. One of Adera's contributions is bringing some stability to their lives through work training, which includes the making of necklaces from paper beads. The most significant  impact is to the children of the moms who receive a much better education than they otherwise would. Mahlet is in her second year of college and is fixing to graduate with an accounting degree. After our photographs, Mahlet prepared a traditional Ethiopian coffee ceremony. This tradition is always offered to guests and is considered rude to turn down. During our time, we exchanged stories, including the one of why I do what I do, along with pictures of my family.  
I felt a special connection with sweet Mahlet as I shared my own story of Trust, Faith, and Change.
Mahlet was fascinated with how God provided a path that allows me to honor my daughter Christina after our family experienced the absence of her earthly presence in 2013. I shared how this path led me to India to meet the young man that Christina sponsored through Compassion International for  9 years, forming a relationship with Sathish through letters.  
Tears rolled down Mahlet's face as she shared that she was a Compassion child and was so grateful for the bond that she formed with her sponsor.
I was able to ask Mahlet some candid questions about her life and what she plans to do with her accounting degree. She hopes to get an excellent job at a bank as an accountant. I asked Mahlet if  she planned  to move out and get a  sweet home with this new income. Mahlet seemed a little puzzled at that idea and said "no, I will continue living here and provide for my family. I will take good care of my mother, who has worked so hard to take care of us all of her life." 
 After our coffee ceremony, it was hard to leave this sweet family. I will always remember and be grateful for Mahlet's parting words, " you are a very good dad, and I can see the Love in your eyes." I love it when God, knowing  us so intimately, blesses both the giver and the receiver.  
To learn more about how you can be a part of changing lives in Ethiopia please see the Adera website – https://www.aderafoundation.org

For Adera stories on my Capturing Grace blog, click here