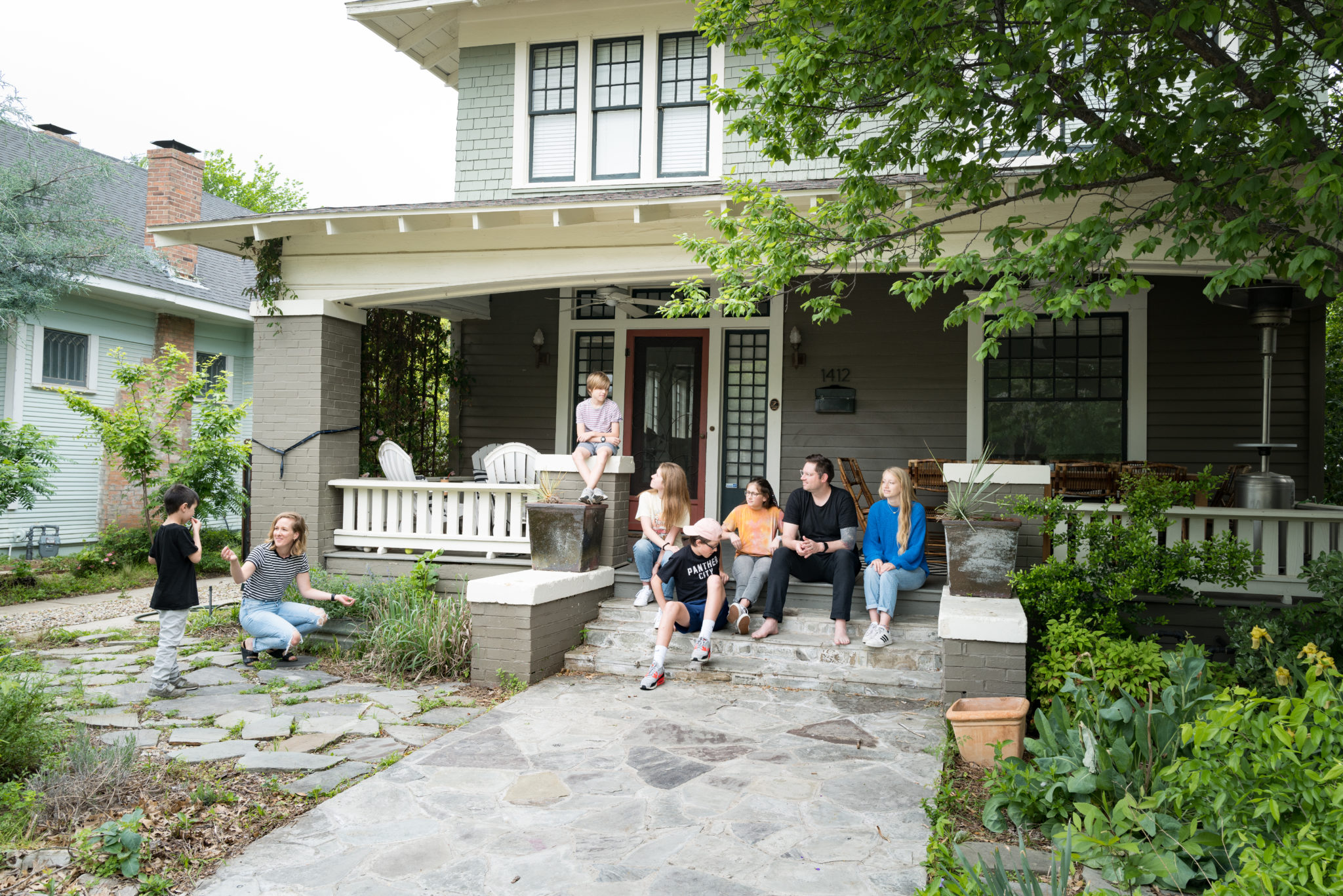 17 Apr

Life in The Fairmount – Our Porchtrait Project Meet the Hamilton's over in the 1400 block of S. Adams St
Life in The Fairmount – Our Porchtrait Project
Meet the Hamilton's over in the 1400 block of S Adams St. I really loved my time with this sweet family while shooting their "Porchtrait" I could feel so much warmth and love on their front porch. Knowing that they are only a couple of blocks from my own home makes me happy.
When I asked Lauren my Porchtrait Project question's about life during Shelter In Place, here is what she had to say….
We are the Hamilton family. AJ and I have been married for 20 years and we have six kids; Sinai (17), Aedia (15), Hudson (14), Ethne (12), Drake (9), and Skyler (8).
We've been in Fort Worth for a little over five years, and we've lived in Fairmount for almost four. The eclectic/artsy mood and the vibrancy of the neighborhood originally drew us here. During this time of quarantine, we've enjoyed these things to a greater extent. You can find us walking the neighborhood, riding bikes or playing in the front yard. We have greatly enjoyed more time as a family and talking from a distance with our neighbors.
As a teacher, I spend my days putting together weekly distance learning plans for my students and meeting together online. Between these things, I am helping facilitate my own children's schooling. There have still been books to read, papers to write and presentations to share. One of the challenges our family faces is struggling through the loss of connection with those friends outside our neighborhood. But our kids are finding ways to connect and laugh with their friends; last night one of them participated in an online disco dance party with girls from her class.
Sinai, our oldest, is graduating this year. She missed out on her Senior trip to Italy and will miss all the wonderful celebrations/milestones that Senior year brings. But she has barely missed a beat and we are all enjoying a bit more time with her before she heads out into the world. Our youngest Skyler, came to live with us last year after some really difficult circumstances. He didn't start to speak till he was 6, so at 8 he still needs a lot of speech therapy and every month is pivotal. We are extremely thankful for our in-home healthcare worker who has continued to provide speech therapy for him along with a bit of normalcy.
Stay safe everyone. We will see you around the hood!
To meet all your neighbors who have participated in the Fairmount Porchtrait Project go to https://capturinggrace.org/capturinggrace/tag/the-fairmount-porchtrait-project/
Shot on a Leica Q2
Message me if you'd like to be included in the Fairmount Porchrait Project!
Everyone in the Fairmount has such loving hearts that they always ask how much it costs.
IT IS FREE!
This is a love gift from my heart to this amazing community that we live in. For those that persist, you can make a donation to the non profit that I donate my time too, Capturing Grace.
You can learn more about my work at www.capturinggrace.org
Why I started Capturing Grace – https://wp.me/P9Ktas-5
To Donate – https://capturinggrace.org/donate/
About the Photographer – I'm Ronnie Mosley, my wife Carol and I have lived in the Fairmount almost three years in the 1500 block of College Ave. My wife is the best neighbor anyone could hope for; I love people through the lens of my camera and Carol loves them with acts of kindness.
I have photographed in over 40 countries during the last five years, telling the stories of people who are making a difference in the lives of orphans, vulnerable children and people in poverty.
#MrRonniesNeigborhood #lifeinthefairmount #FairmountPorchraits #LeicaQ2 #Leica #summilux