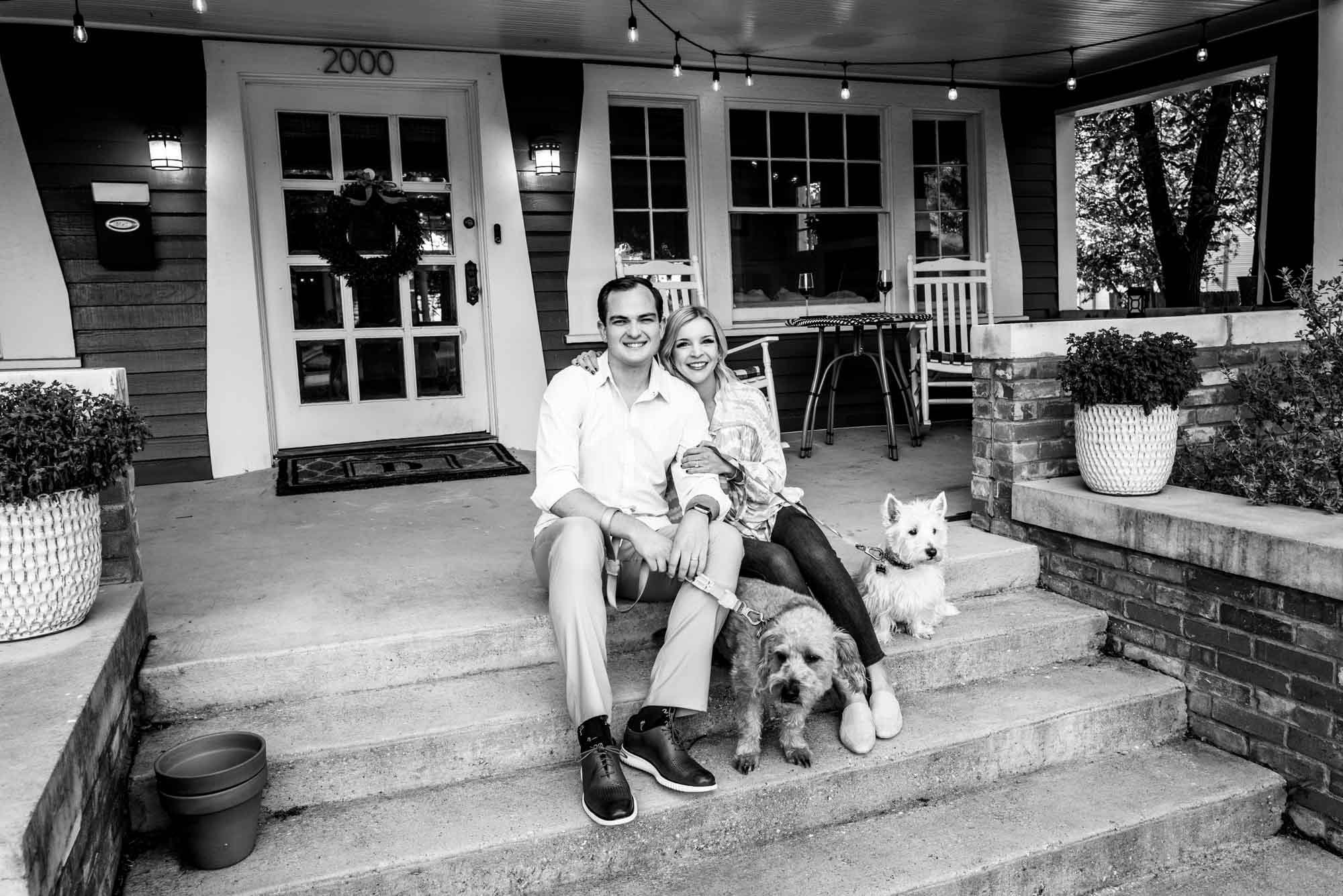 21 Apr

Life in The Fairmount – Our Porchtrait Project – Meet the Dolan's over in the 2000 block of College Avenue.
Life in The Fairmount – Our Porchtrait Project
Meet the Dolan's over in the 2000 block of College Avenue.
It was so nice to meet Caroline and Alex and their two dogs, Phil and Baxter, last week. It was the week of Caroline's birthday, perfect timing for our Porchtrait shoot! Caroline and Alex were so kind to read about and support the humanitarian work that I do through my non profit, Capturing Grace. I am grateful for their kind and generous hearts ❤️
When I asked Caroline my Porchtrait Project question's about life during Shelter In Place, here is what she had to say….
What's been the most difficult thing for you about shelter in place/social distancing?
Not seeing our families has been extremely hard, but we are fortunate for all of the ways to connect with technology from afar. Aside from supporting local businesses, it has been hard not being able to do much to help (with the exception of staying home and being responsible).
What do you miss the most?
We love to travel, so not knowing when we will be able to travel again is something we took for granted. It's sad to think about some of the smaller places around the globe that are special to us that are being impacted by the lack of tourism.
What do you look forward to the most?
Seeing our family in Austin and getting to travel back there. Austin is home for both of us and we both grew up there. We met in high school and have been together for 10 years (married for over 3 years) so we are fortunate to typically spend holidays with both of our families who have become close over the years.
How long have you lived in the Fairmount?
Almost 3 years
Share your favorite thing about living in the Fairmount?
The age old debate of "gunshots or fireworks?"… KIDDING! We love how friendly and accepting the neighborhood is and that you always get a friendly greeting when passing by a neighbor on a walk. This neighborhood reminds us a lot of Austin and we loved it immediately!
What is your favorite business in the Fairmount? (And why)
Such a tough question, but Lili's is one of our favorite restaurants. When we were in college and I would come visit Alex while he was at TCU, we would go to Lili's for special occasions. Heim, The Usual, Bearded Lady are other staples for us!
To meet all your neighbors who have participated in the Fairmount Porchtrait Project go to https://capturinggrace.org/capturinggrace/tag/the-fairmount-porchtrait-project/
Shot on a Leica Q2
Message me if you'd like to be included in the Fairmount Porchrait Project!
Everyone in the Fairmount has such loving hearts that they always ask how much it costs.
IT IS FREE!
This is a love gift from my heart to this amazing community that we live in. For those that persist, you can make a donation to the non profit that I donate my time too, Capturing Grace.
You can learn more about my work at www.capturinggrace.org
Why I started Capturing Grace – https://wp.me/P9Ktas-5
To Donate – https://capturinggrace.org/donate/
About the Photographer – I'm Ronnie Mosley, my wife Carol and I have lived in the Fairmount almost three years in the 1500 block of College Ave. My wife is the best neighbor anyone could hope for; I love people through the lens of my camera and Carol loves them with acts of kindness.
I have photographed in over 40 countries during the last five years, telling the stories of people who are making a difference in the lives of orphans, vulnerable children and people in poverty.
#MrRonniesNeigborhood #lifeinthefairmount #FairmountPorchraits #LeicaQ2 #Leica #summilux