22 Apr

Life in The Fairmount – Our Porchtrait Project – Meet the Allen's over in the 1300 block of 1300 S Lake!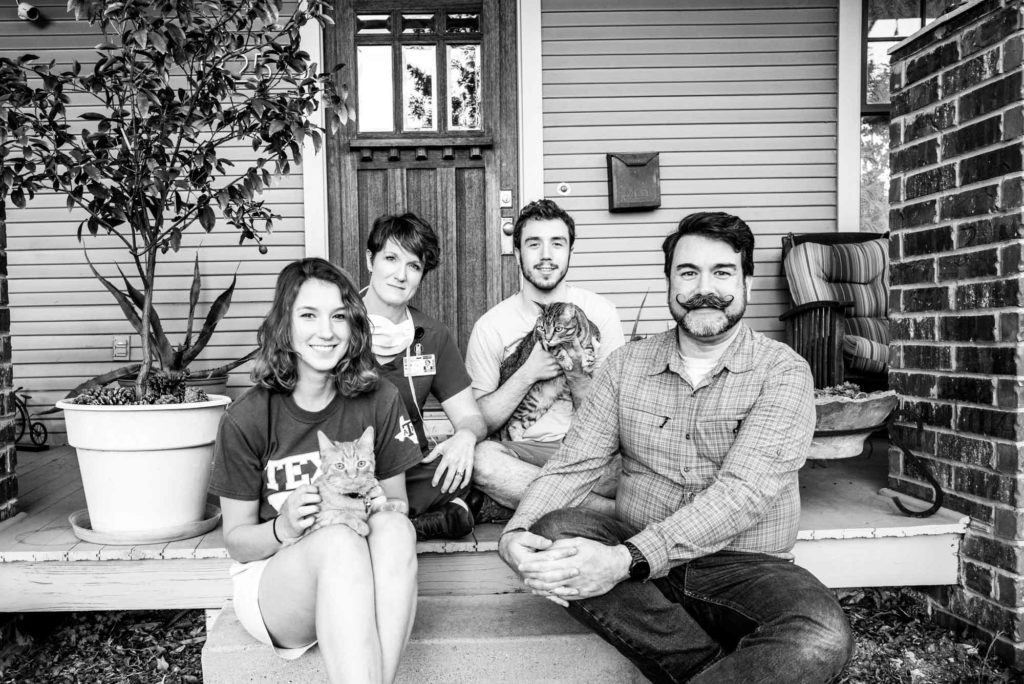 Life in The Fairmount – Our Porchtrait Project
Meet the Allen's over in the 1300 block of 1300 S Lake!
When I rolled up on my bicycle to take the Allen's Porchtrait I learned that Margo had worked with my daughter in law Tessa who is also a nurse. I loved chatting with Paul who has such a contagious smile. I look forward to future coffee chats with Paul at Avoca, he promised to tell me all about his coffee collaborations and conversations with my daughter Christina!
When I asked Margo my Porchtrait Project question's about life during Shelter In Place, here is what she had to say….
Our children are Emory age 20, college student living at home, Anya age 18, college student back home from Texas A&M due to the corona virus.
Cats are Flannel (gray tabby) and Tolstoy (orange tabby)
What's been the most difficult thing for you about shelter in place/social distancing?
The hardest part of social distancing for us has been missing out on gatherings of friends, church, the symphony, group bicycle rides. We both work at JPS, so are thankful our jobs are busier, instead of gone like some of our friends and neighbors. It is sad for our Aggie to cut her freshman year short but she is learning how to manage online school. It is difficult to help my patients understand how serious this virus is and how important it is to protect themselves and others.
What do you look forward to the most?
I think we look forward most to getting together with our extended families, our friends, last minute dinner meet ups. We're doing some virtual meet ups, but not the same.
We have so many friends and neighbors who own small businesses here and it is hard to see them struggle and figure out how to survive and take care of their employees. We can't wait to see them be busy and successful again.
What is your favorite business in the Fairmount?
We have too many local favorites to list- so much greatness here! Many businesses have helped us celebrate in good days and now in hard times we've seen them give to show support for unemployed service workers, health care workers, first responders. But, shout out to Heim BBQ who both of our kids work for, when life isn't Covid crazy. They've been so good to our kids and treated them well.
How long have you lived in the Fairmount?
We've lived in the 'hood about 10 years, and built our house here 10 years ago.
Share your favorite thing about living in the Fairmount?
We love the great neighbors, people with diverse opinions, the strong sense of community identity. But our favorite thing is the walkable/bikeable environment. Most of our family can bike or walk to work, the dentist, church, the doctor, to play, to see friends.
What kind of work do you do?
Paul works in IT at JPS doing computery things. I am an RN at JPS at the clinic serving our neighbors experiencing homelessness. I provide care for residents in the shelters and in our clinic by the shelters. \We both love having jobs with a real sense of mission to improve our community. Emory works at Heim for a college job and Anya works at Heim when home from Aggieland. The cats are lazy and refuse to work.
❤️❤️❤️
To meet all your neighbors who have participated in the Fairmount Porchtrait Project go to https://capturinggrace.org/capturinggrace/tag/the-fairmount-porchtrait-project/
Shot on a Leica Q2
Message me if you'd like to be included in the Fairmount Porchrait Project!
Everyone in the Fairmount has such loving hearts that they always ask how much it costs.
IT IS FREE!
This is a love gift from my heart to this amazing community that we live in. For those that persist, you can make a donation to the non profit that I donate my time too, Capturing Grace.
You can learn more about my work at www.capturinggrace.org
Why I started Capturing Grace – https://wp.me/P9Ktas-5
To Donate – https://capturinggrace.org/donate/
About the Photographer – I'm Ronnie Mosley, my wife Carol and I have lived in the Fairmount almost three years in the 1500 block of College Ave. My wife is the best neighbor anyone could hope for; I love people through the lens of my camera and Carol loves them with acts of kindness.
I have photographed in over 40 countries during the last five years, telling the stories of people who are making a difference in the lives of orphans, vulnerable children and people in poverty.
#MrRonniesNeigborhood #lifeinthefairmount #FairmountPorchraits #LeicaQ2 #Leica #summilux