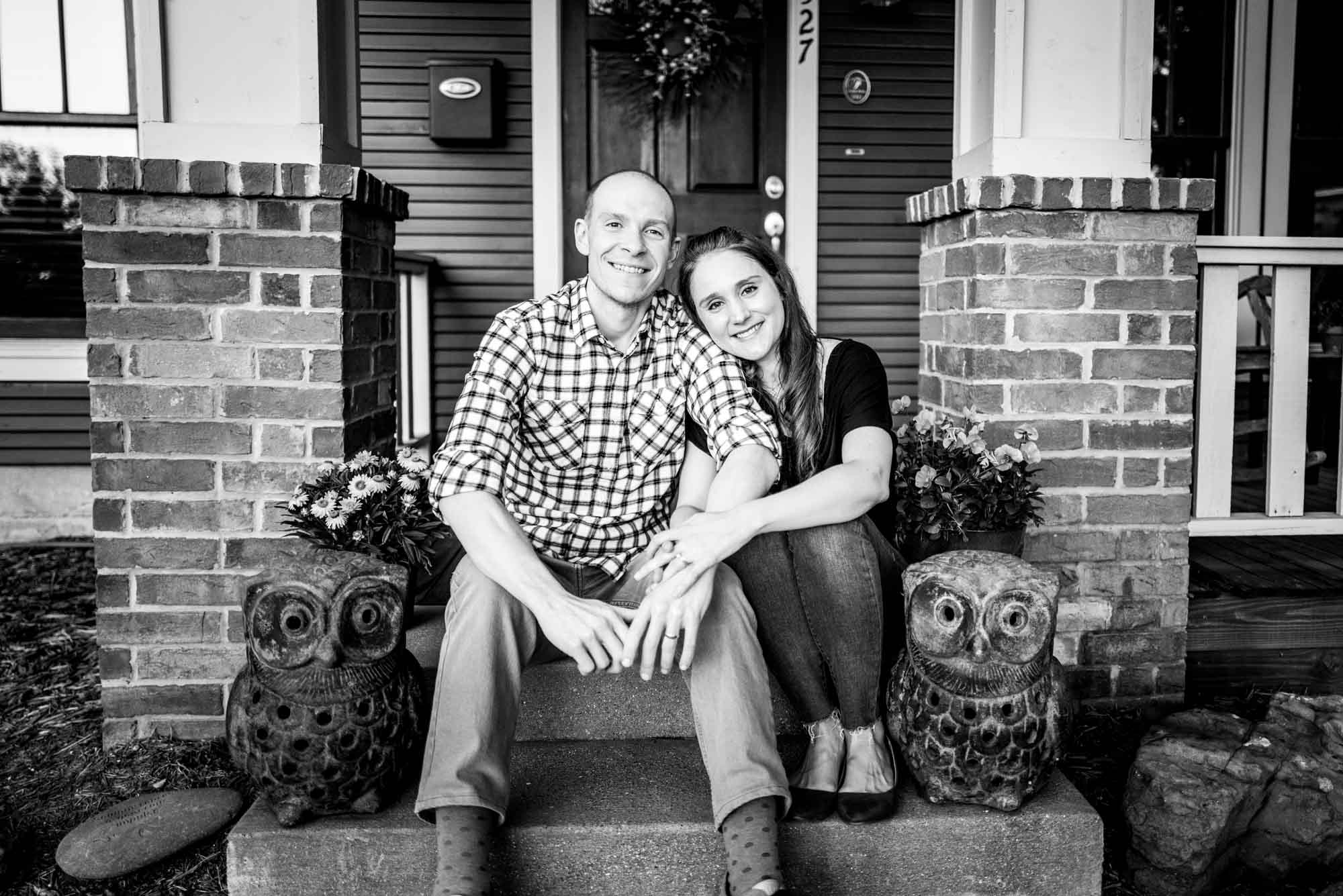 25 Apr

Life in The Fairmount – Our Porchtrait Project – Meet the Gunnels over in the 1500 block of Alston Avenue.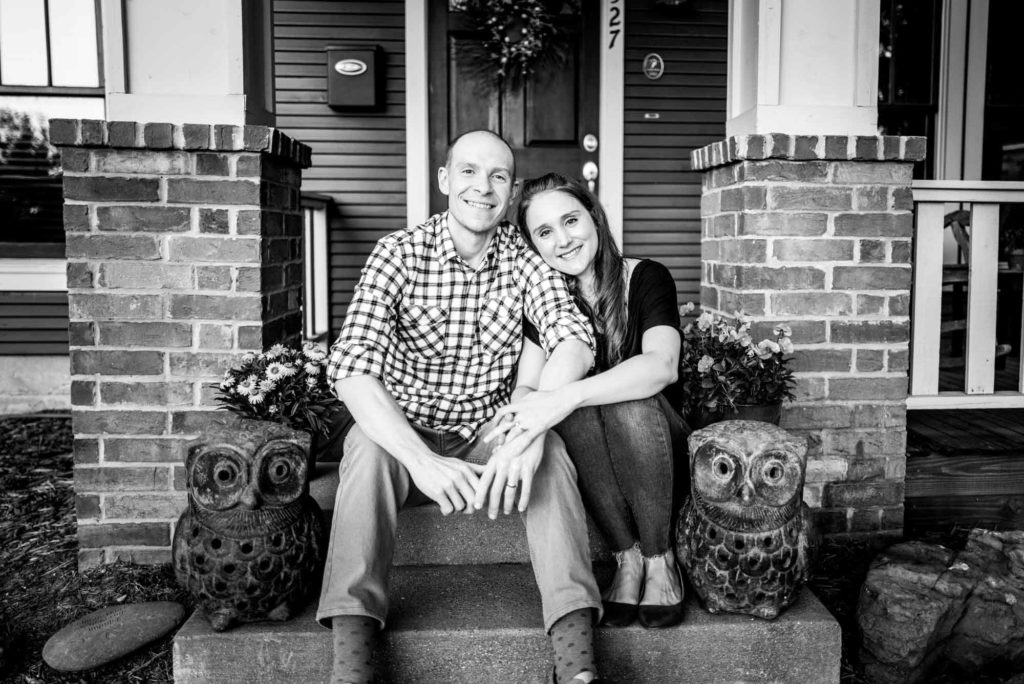 Life in The Fairmount – Our Porchtrait Project
Meet the Gunnels over in the 1500 block of Alston Avenue.
The first time I met Colby Gunnels I was crying a lot more than I was laughing. Six years ago Colby and Jessica were my first real estate clients after a loss that I thought I would not survive.
Colby contacted me regarding a home of interest and we met at Avoca coffee to discuss his real estate needs. The Gunnels were looking for a home in the Fairmount and wanted me to help them find it.
During our time together at Avoca I shared with Colby my story of trust, faith and change (https://wp.me/P9Ktas-5), our friendship began then. As Colby and I walked to our cars, Colby turned to me and said "l have to tell you something. When I was searching for an agent I came across your name and I felt God prompting me to contact you. After you shared your story I now know why."
Colby and Jessica live a beautiful yet challenging story, Jessica has battled CF (Cystic Fibrosis) all of her life. To watch them walk this incredibly difficult path as a neighbor and friend has been difficult, sometimes heartbreaking but always inspiring. It is so easy to take life for granted until you have to fight for it, so hard. A major turning point in Jessica's fight with this relentless disease was reaching a point of lung transplant approval. Jessica's transplant brought with it a series of battles but also a new lease on life. Jessica and I share a passion for traveling the world, something she can once again pursue.
The Gunnels and I have a tremendous appreciation for life, learning to see each day as the gift that it is.
When I asked the Gunnels my Porchtrait Project question's about life during Shelter In Place, here is what they had to say….
What's been the most difficult thing for you about shelter in place/social distancing?
Haha, well as the resident introvert, Jessica is kind of "living her best life" right now. She enjoys the quiet and slow pace of life around the house. Colby, on the other hand is going completely stir crazy! We both miss seeing our family and friends in person, and we worry for those who have been hit hard by the crisis.
What do you miss the most during Shelter in Place?
Going to the gym and coffee dates at Avoca and Brewed.
What do you look forward to the most?
TRAVELING AGAIN!!
Also, not having to constantly navigate the 6-Feet-Apart-Dance with the rest of the world.
How long have you lived in the Fairmount?
Exactly 6 years and 1 day on the date these photos were taken!
(Fun fact: Ronnie was our realtor for both homes we've bought in Fairmount during those six years. He convinced us to take the plunge and put an offer on what became our first home on Hawthorne, and quickly thereafter he became a cherished, dear friend in our lives. Thank you, Ronnie!)
Share your favorite thing about living in the Fairmount?
From the very beginning, we fell in love with the depth, diversity, and history of the neighborhood. The sense of community in Fairmount is something we treasure.
What is your favorite business in the Fairmount? (And why)
Too many too choose! We love our local businesses – it's part of what makes this neighborhood so special. At the moment, though we are really loving San Andres Taqueria – they have delicious daily specials (99 cent tacos, what??) and the most amazing churros ever.
What kind of work do you do?
We're both attorneys, though life has led both of us down the path to unconventional legal careers.
PS. Our cat's name is Keats ?
To meet all your neighbors who have participated in the Fairmount Porchtrait Project go to https://capturinggrace.org/capturinggrace/tag/the-fairmount-porchtrait-project/
Shot on a Leica Q2
Message me if you'd like to be included in the Fairmount Porchrait Project!
This is a love gift from my heart to this amazing community that we live in. For those who can, you can make a donation to the non profit that I donate my time too, Capturing Grace.
You can learn more about my work at www.capturinggrace.org
Why I started Capturing Grace – https://wp.me/P9Ktas-5
To Donate – https://capturinggrace.org/donate/
I will provide you with a link to your full resolution photographs within a week of our shoot.
☺️
About the Photographer – I'm Ronnie Mosley, my wife Carol and I have lived in the Fairmount almost three years in the 1500 block of College Ave. My wife is the best neighbor anyone could hope for; I love people through the lens of my camera and Carol loves them with acts of kindness.
I have photographed in over 40 countries during the last five years, telling the stories of people who are making a difference in the lives of orphans, vulnerable children and people in poverty.
#MrRonniesNeigborhood #lifeinthefairmount #FairmountPorchraits #LeicaQ2 #Leica #summilux