27 Apr

Life in The Fairmount – Our Porchtrait Project – Meet the Harris's over in the 2000 block of 5th Avenue.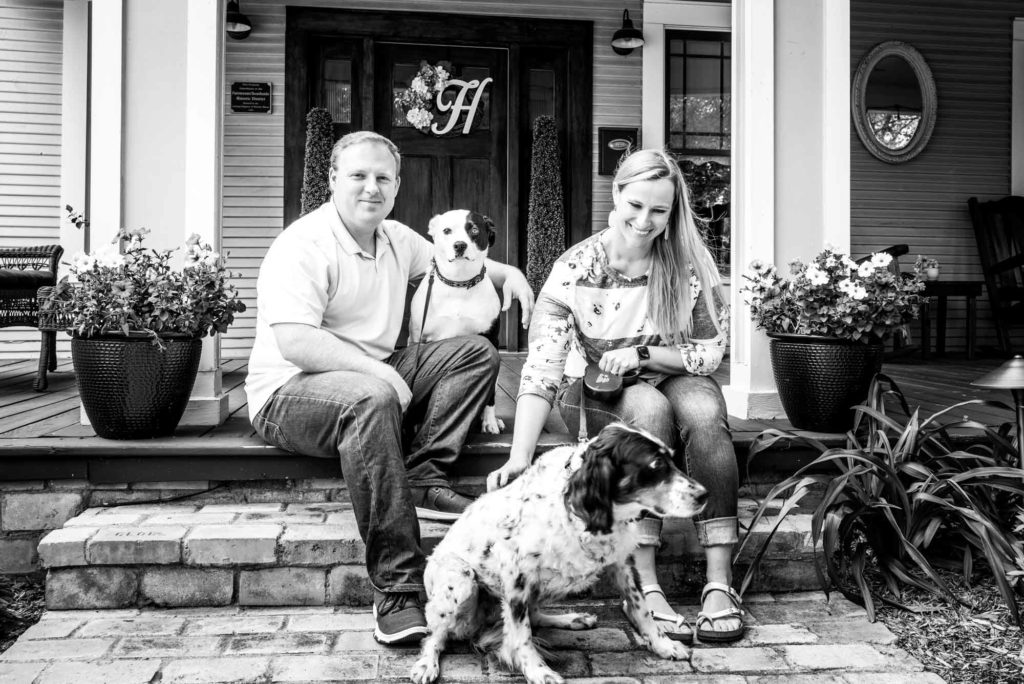 Life in The Fairmount – Our Porchtrait Project
Meet the Harris's over in the 2000 block of 5th Avenue.
I always wondered who lived in the "dinosaur house", I was so excited to take their Porchtrait and find out!
When I asked Samantha and Cameron my Porchtrait Project question's about life during Shelter In Place, here is what she had to say….
We are Cameron and Samantha Harris, our two pups are Josie (English setter) and Daisy (boxer/border collie mix), and Andy (the Apatosaurus) is our yard dino.
What's been the most difficult thing for you about shelter in place/social distancing?
We really enjoy spending time with family and friends. They are the main reason we moved back to Texas and not being able to visit with them has been difficult.
What do you miss the most during Shelter in Place?
In addition to our family time, we are big travelers and really miss getting to explore new places.
What do you look forward to the most?
Having a big family get together, a vacation and being able to wander around Target again.
How long have you lived in Fairmount?
We moved to Fairmount almost two and a half years ago.
Share your favorite thing about living in Fairmount?
All the beautiful and unique houses. We love that we can walk a street a hundred times and still see things that we've never noticed before. Plus, you're walking distance to Magnolia and so close to TCU, South Main, Sundance Square and the Stockyards. We think it is one of the best areas this great city has to offer. This really is a wonderful place to live!
What is your favorite business in Fairmount? (And why)
We are big fans of Melt, Heim, Lili's, Salsa Limon, Craftwork and Avoca on Magnolia, as well as Panther City BBQ and Coco Shrimp over on South Main.
What kind of work do you do?
Cameron previously worked in college athletics, as well as international travel and is set to finish culinary school soon. Samantha works in nearby hospitals.
To meet all your neighbors who have participated in the Fairmount Porchtrait Project go to https://capturinggrace.org/capturinggrace/tag/the-fairmount-porchtrait-project/
Shot on a Leica Q2
Message me if you'd like to be included in the Fairmount Porchrait Project!
This is a love gift from my heart to this amazing community that we live in. For those who can, you can make a donation to the non profit that I donate my time too, Capturing Grace.
You can learn more about my work at www.capturinggrace.org
Why I started Capturing Grace – https://wp.me/P9Ktas-5
To Donate – https://capturinggrace.org/donate/
I will provide you with a link to your full resolution photographs within a week of our shoot.
☺️
About the Photographer – I'm Ronnie Mosley, my wife Carol and I have lived in the Fairmount almost three years in the 1500 block of College Ave. My wife is the best neighbor anyone could hope for; I love people through the lens of my camera and Carol loves them with acts of kindness.
I have photographed in over 40 countries during the last five years, telling the stories of people who are making a difference in the lives of orphans, vulnerable children and people in poverty.
#MrRonniesNeigborhood #lifeinthefairmount #FairmountPorchraits #LeicaQ2 #Leica #summilux