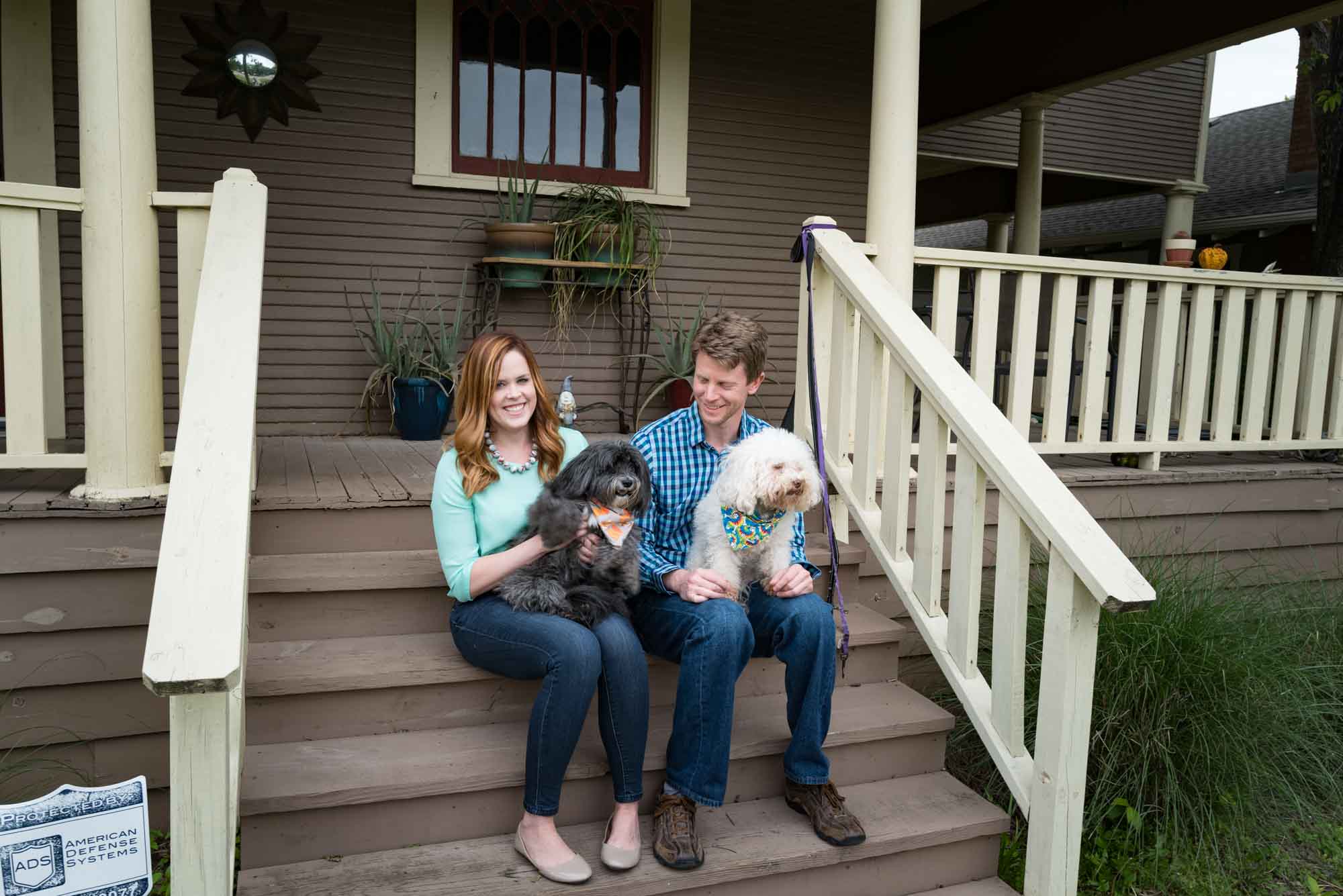 28 Apr

Life in The Fairmount – Our Porchtrait Project – Meet Cait and Will over in the 1800 block of Fairmount Avenue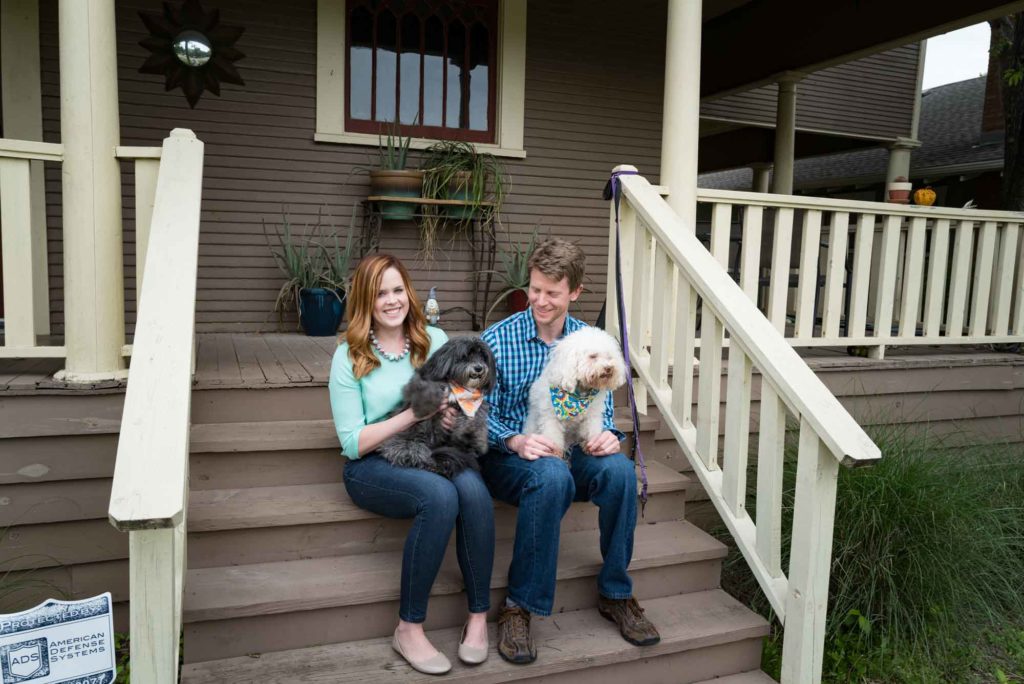 Life in The Fairmount – Our Porchtrait Project
Meet Cait and Will and their two pups, Matilda (white dog) and Carlton (grey dog),
over in the 1800 block of Fairmount Avenue.
Just when I thought all the Porchtrait's would be similar, Cait and Will reached out for a Porchtrait. Their Acro Yogo poses were amazing and expanded my horizons for this project. One thing is for sure, the Fairmount is an amazingly talented and diverse neighborhood!
When I asked Cait and Will my Porchtrait Project question's about life during Shelter In Place, here is what they had to say….
What's been the most difficult thing for you about shelter in place/social distancing?
Cait: I am a professor at UNTHSC, and I am so thankful to still be employed, but I really miss my students. Teaching to a computer screen just isn't the same as watching their faces as they learn and make connections.
Will: I am a pharmacist in a grocery store, so I got to see the palpable panic before the official shelter in place order was given. It was disturbing to see people treating each other with disdain and hoarding essential supplies.

What do you miss the most during Shelter in Place?
Travel!!! We are both total travel addicts and have had several trips cancelled during Shelter in Place, including a few long weekends and a vacation to Banff, Canada.

What do you look forward to the most?
We miss impromptu happy hours around Near Southside with our friends and can't wait to enjoy a cold beer with our favorite people. The perfect patio weather lately has made us miss these gatherings even more! We have been hosting plenty of virtual gatherings, though!

How long have you lived in the Fairmount?
We have lived here about four and a half years now, and loved every minute of it. We felt at home in Fairmount the day we started looking at houses.

Share your favorite thing about living in the Fairmount?
The neighbors. We have met some of the best people! Neighbors have helped me change flat tires, chased down my escape artist dogs, and gifted us homemade breads and cheeses. We also love all the random events from parades for any occasion to porch crawls to going all out for Halloween!

What is your favorite business in the Fairmount?
Esperanza's. We actually discovered this neighborhood because we frequented Esperanza's for chilaquiles almost every weekend. We just can't get enough of their breakfast food and salsa!

What kind of work do you do?
We met in pharmacy school about ten years ago. Since graduating, Will has become a community pharmacist at a grocery store chain, and Cait specialized in inpatient cardiology and teaches at the pharmacy school at UNTHSC.

I (Cait) had been begging for a dog for four years, and when I saw Carlton's photo on the internet I just KNEW he was my dog. I was headed out of town for a conference but I made Will drive almost four hours roundtrip to go adopt him from the Humane Society. He is the best $25 we ever spent. He is terrified of pencils and shoes and really any object, but he's the sweetest snuggle monster. About a year later, we adopted Matilda from the local shelter to keep Carlton company. She rules the roost, loves to eat out of the snack box (trash can), and carries her most prized possession–her hairbrush–with her wherever she goes.
We have been practicing Acro Yoga on and off for a few years now. It's a fun way to build strength and practice communication skills. We can't wait til social distancing is over so we can get back to practicing with all our Acro friends!
To meet all your neighbors who have participated in the Fairmount Porchtrait Project go to https://capturinggrace.org/capturinggrace/tag/the-fairmount-porchtrait-project/
Shot on a Leica Q2
Message me if you'd like to be included in the Fairmount Porchrait Project!
This is a love gift from my heart to this amazing community that we live in. For those who can, you can make a donation to the non profit that I donate my time too, Capturing Grace.
You can learn more about my work at www.capturinggrace.org
Why I started Capturing Grace – https://wp.me/P9Ktas-5
To Donate – https://capturinggrace.org/donate/
I will provide you with a link to your full resolution photographs within a week of our shoot.
☺️
About the Photographer – I'm Ronnie Mosley, my wife Carol and I have lived in the Fairmount almost three years in the 1500 block of College Ave. My wife is the best neighbor anyone could hope for; I love people through the lens of my camera and Carol loves them with acts of kindness.
I have photographed in over 40 countries during the last five years, telling the stories of people who are making a difference in the lives of orphans, vulnerable children and people in poverty.
#MrRonniesNeigborhood #lifeinthefairmount #FairmountPorchraits #LeicaQ2 #Leica #summilux