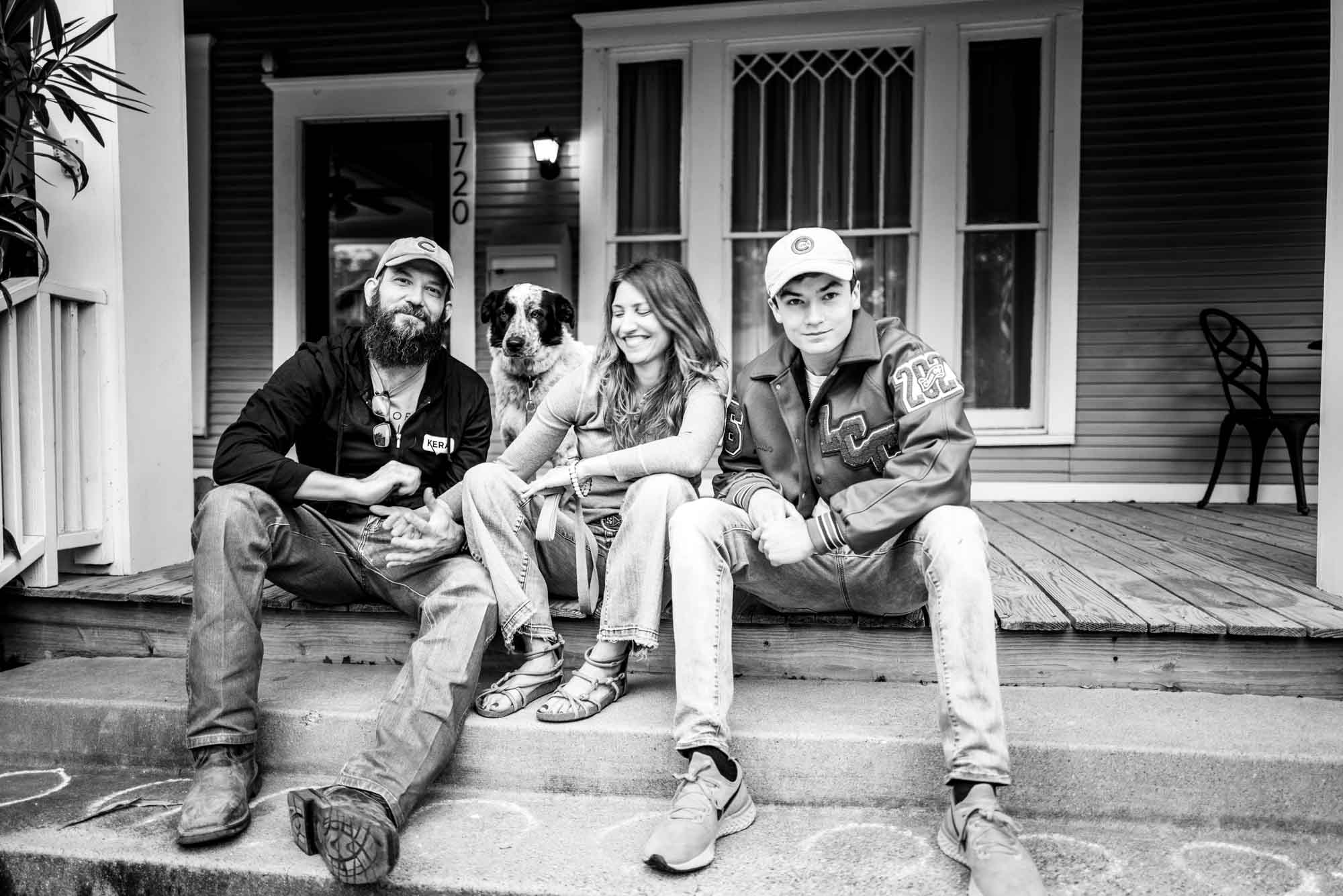 28 Apr

Life in The Fairmount – Our Porchtrait Project – Meet Perry, Adrienne and Frankie over in the 1700 block of Alston Avenue!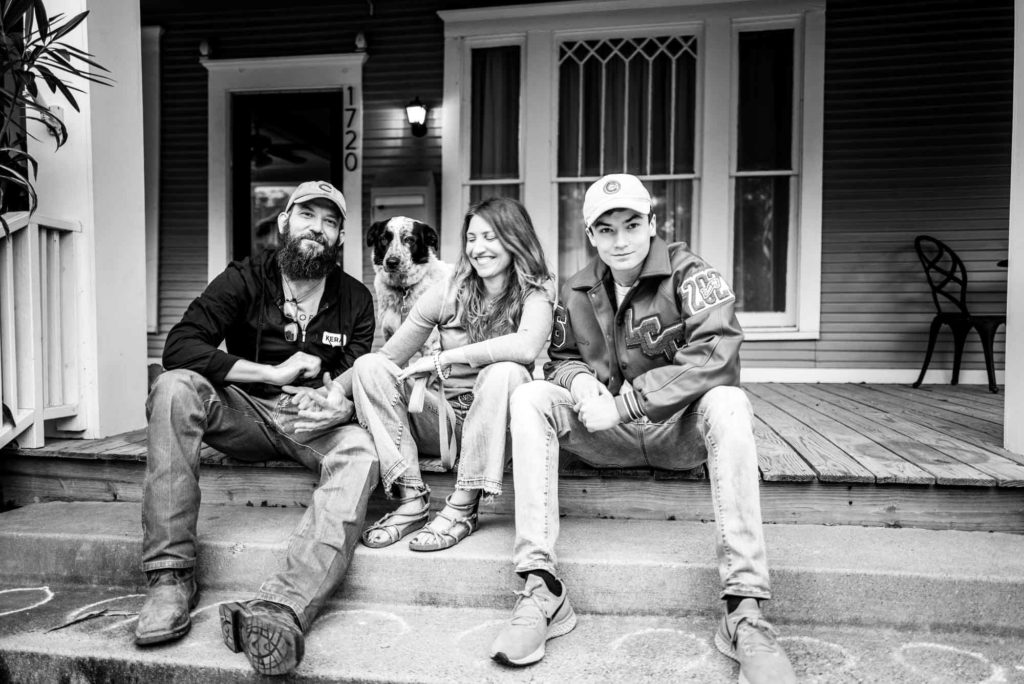 Life in The Fairmount – Our Porchtrait Project
Meet Perry, Adrienne and Frankie over in the 1700 block of Alston Avenue!
Ever since I saw Perry pulling his Tiny Trash Truck along the streets of the Fairmount, picking up trash with a big smile ,while tunes played from his miniature garbage truck, I have wanted to meet him!
I am so glad that the Fairmount Porchtrait project brought us together and allowed me to meet his sweet wife Adrienne and son Perry as well.
Frankie just turned 15 today so HAPPY BIRTHDAY FRANKIE!
When I asked Adrienne my Porchtrait Project question's about life during Shelter In Place, here is what she had to say….
What's been the most difficult thing for you about shelter in place/social distancing?
The most difficult thing for me (Adrienne) is not getting to hang out with my mom. She is about to move cross-country and not being able to spend time together during her last few months in FW has been pretty dreadful. I'm so grateful for the technology that allows us to see and talk to our parents and siblings and nieces and nephews every day.
What do you miss the most during Shelter in Place?
We are really disappointed about missing several music festivals and family camping trips we had planned this year. Everything epic has been cancelled. Having this experience coincide with the onset of spring has been merciful, as we're still able to enjoy warm sunshine while we walk the dogs and skateboard and run the Tiny Trash Truck route, but it is also causing an intense and insatiable wanderlust.
What do you look forward to the most?
We can't wait to make plans and go places again! And hug everyone!
How long have you lived in the Fairmount?
16 years
Share your favorite thing about living in the Fairmount?
Our porch! To us, Fairmount porches reflect the connectedness and community we value as a neighborhood. They serve as an extension of our living room. Even right now, we can come outside, have a cup of coffee on the porch, and wave and visit with our neighbors and be reminded that we are all here for each other and things will be okay.
I asked Perry to share about how he got started with the Tiny Trash Truck and here is what he had to say –
"It began as a lark. I modified a simple yard cart and threw it together the night before The Fort Worth Neighborhood Litter Stomp in October, for that event. And for possible later use by the OG litter hunter in the family, Adrienne. I work for the family business building actual garbage trucks for a living. It seemed only fitting that if I was going to build something to pick up trash, I might as well build a little trash truck.
But the next weekend I took it out again. And met a few neighbors, collected a couple bags, and listened to music along the way. I didn't really have a plan other than to walk, pick up some trash and listen to music. That's about it.
The people I'd meet or simply wave at as we met on the road seemed to really get something, some sort of surprising joy, out of seeing something so unexpected. To be truthful, early on in my walks I'd sometimes have feelings of ridiculousness for pulling this absurd little cart behind me, while looking down picking up trash. But the next block, I'd find myself talking to a neighbor in their yard, a restaurant owner on South Main, or a homeless person on Hemphill. Their excited bewilderment and my attempt to explain what they were looking at made me want to keep walking and keep trash picking.
And so I have, every weekend for about 6 months now. I can't imagine another inanimate object in my life that could've changed me like this ridiculous little cart. But it's just sort of taken on a life of its own. Just as no one ever expected to see the lights or hear the music from a little trash truck in the first place, I never felt like this thing would push me out the door to take it walking as often as I could.
I hope as I build more Tiny Trash Trucks for the willing to borrow, my neighbors will get just as hooked on the walk in their own personal way or in groups. Eventually I want to have trucks and cleanup gear for check out and use in every community center in the city."
To meet all your neighbors who have participated in the Fairmount Porchtrait Project go to https://capturinggrace.org/capturinggrace/tag/the-fairmount-porchtrait-project/
Shot on a Leica Q2
Message me if you'd like to be included in the Fairmount Porchrait Project!
This is a love gift from my heart to this amazing community that we live in. For those who can, you can make a donation to the non profit that I donate my time too, Capturing Grace.
You can learn more about my work at www.capturinggrace.org
Why I started Capturing Grace – https://wp.me/P9Ktas-5
To Donate – https://capturinggrace.org/donate/
I will provide you with a link to your full resolution photographs within a week of our shoot.
☺️
About the Photographer – I'm Ronnie Mosley, my wife Carol and I have lived in the Fairmount almost three years in the 1500 block of College Ave. My wife is the best neighbor anyone could hope for; I love people through the lens of my camera and Carol loves them with acts of kindness.
I have photographed in over 40 countries during the last five years, telling the stories of people who are making a difference in the lives of orphans, vulnerable children and people in poverty.
#MrRonniesNeigborhood #lifeinthefairmount #FairmountPorchraits #LeicaQ2 #Leica #summilux