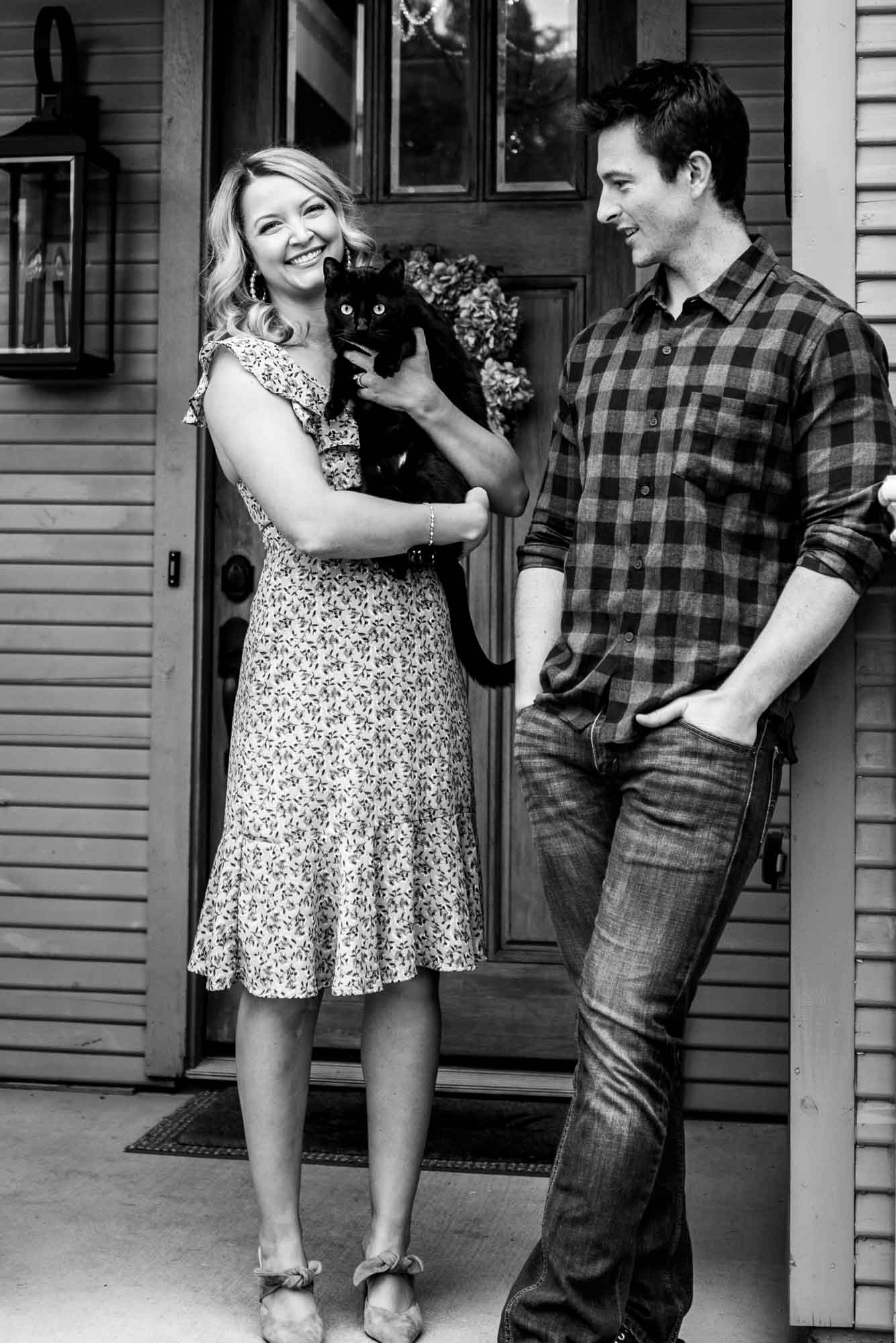 29 Apr

Life in The Fairmount – Our Porchtrait Project – Meet Casey and Henry Aleck over in the 2200 block of Alston Avenue!
Life in The Fairmount – Our Porchtrait Project
Meet Casey and Henry Aleck over in the 2200 block of Alston Avenue!
I enjoyed meeting them both and feeling the ❤️❤️❤️ that radiated from the front porch of their sweet little cottage. ?
When I asked Casey my Porchtrait Project question's about life during Shelter In Place, here is what she had to say….
We are Casey and Henry Aleck! We met in college at Texas Christian University (Go Frogs) and got married in September of 2019. We fell in love with the city of Fort Worth during college and are so happy to call this city our home. We have no children (yet) except for our fur baby Rocky.
What's been the most difficult thing for you about shelter in place/social distancing?
The most difficult thing about social distancing has been not seeing our friends or family. We are both extremely social and it has been hard not being able to hang out with our favorite people! Even though we are unable to see our friends or family in person during this time, there is some positivity that we can take from this situation. We have been completely blown away with our friends and family that have made sure we are staying connected. During this time, we have done face times and zoom meetings with friends we haven't seen or talked to in months. It has been really wonderful to reconnect with our friends and to just have a conversation. Our families also do not live in Texas and we have zoom meetings every Friday and Saturday where we catch up and play games! Usually we would all be so busy that we would only text each other during the week a few times. We are now talking to them even more and even though there is so much hardship going on during this time it has truly been wonderful to just connect with people again.
What do you miss the most during Shelter in Place?
We miss being able to walk down our favorite street, Magnolia! We miss all of the wonderful restaurants and to see people out with their families enjoying our amazing city. We also miss being able to go to all the fantastic breweries in Fort Worth, that is an activity we always enjoyed doing especially during the weekends.
What do you look forward to the most?
We are looking forward to being able to do activities in our neighborhood and around Fort Worth. We love going to concerts and are looking forward to experiencing those again!
How long have you lived in the Fairmount?
We have lived in Fairmount for almost two years.
Share your favorite thing about living in the Fairmount?
Our favorite thing about Fairmount is the people. When we first moved into our house, all of our neighbors on the street came over to introduce themselves and made us feel so welcomed! The people in this neighborhood are so caring, generous, and helpful, we cannot believe how lucky we are to live in a neighborhood as amazing as this!
What is your favorite business in the Fairmount?
It is hard to pick just one favorite business in Fairmount because there are so many businesses that we love! But we would have to say that Fort Brewery is one of our favorite spots. Not only are the beers and the food incredible, but we also love the people that work there!
What kind of work do you do? I (Casey) am a Registered Nurse in the Operating Room at Texas Health Resources Fort Worth (Harris Methodist). Henry is a Strength and Conditioning Coach working in professional baseball.
To meet all your neighbors who have participated in the Fairmount Porchtrait Project go to https://capturinggrace.org/capturinggrace/tag/the-fairmount-porchtrait-project/
Shot on a Leica Q2
Message me if you'd like to be included in the Fairmount Porchrait Project!
This is a love gift from my heart to this amazing community that we live in. For those who can, you can make a donation to the non profit that I donate my time too, Capturing Grace.
You can learn more about my work at www.capturinggrace.org
Why I started Capturing Grace – https://wp.me/P9Ktas-5
To Donate – https://capturinggrace.org/donate/
I will provide you with a link to your full resolution photographs within a week of our shoot.
☺️
About the Photographer – I'm Ronnie Mosley, my wife Carol and I have lived in the Fairmount almost three years in the 1500 block of College Ave. My wife is the best neighbor anyone could hope for; I love people through the lens of my camera and Carol loves them with acts of kindness.
I have photographed in over 40 countries during the last five years, telling the stories of people who are making a difference in the lives of orphans, vulnerable children and people in poverty.
#MrRonniesNeigborhood #lifeinthefairmount #FairmountPorchraits #LeicaQ2 #Leica #summilux