09 May

fe in The Fairmount – Our Porchtrait Project – Meet the Moore's over in the 2200 block of Fairmount Ave.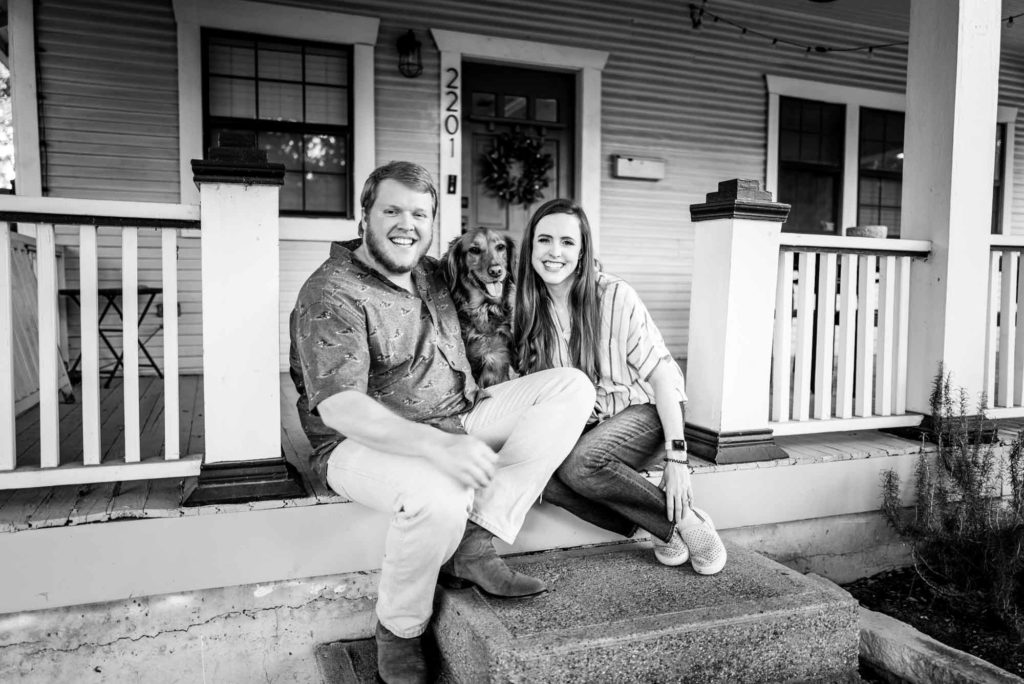 Life in The Fairmount – Our Porchtrait Project
Meet the Moore's over in the 2200 block of Fairmount Ave.
I loved meeting Taryn, Luke and their golden girl Lily and taking their Porchtrait! The experience was made all the sweeter by being gifted with Taryn's homemade Jelepeno cheddar bread! Yum!
When I asked Taryn my Porchtrait Project question's about life during Shelter In Place, here is what she had to say….
What's been the most difficult thing for you about shelter in place/social distancing?
By far the hardest part has been not getting to see our family and friends… we miss them so much!! Zoom calls are just not the same. We miss meals with friends, game nights, traveling, and all things that involve other people! Spring is also such a great time to spend outdoors with friends and family, and it is certainly disappointing not to be able to share that with them in this season.
What do you look forward to the most?
We are looking forward to hugging our friends and family! And to sharing a bowl of chips and queso over happy hour with our people. We also are eagerly waiting to meet our friend's newborn baby!
How long have you lived in Fairmount?
We are new to Fairmount!
We bought our first home here last November and have loved it ever since.
Share your favorite thing about living in Fairmount?
Oh goodness, where to begin?
Our favorite things about Fairmount are probably the people, the culture, and the location. We have always cherished neighborhood walks, but this simple activity has been a true gift during this quarantine season. We love admiring the unique and historic homes of this community and we have truly enjoyed meeting so many different neighbors. We are looking forward to when we can gather again and build even deeper relationships with those around us. And obviously, we love being so close to everything in Fort Worth – especially our favorite restaurants. Luke also finds it criminal that the Fairmount Facebook page is free for the entertainment, and also resourcefulness, that it provides.
What is your favorite business in Fairmount? (And why)
Salsa Limon and Nonna Tata – because we love incredible food!
What kind of work do you do?
Luke works in finance at Blue River Partners and Taryn works at Dallas Baptist University as an academic advisor. We are both also in graduate school, Luke pursuing an MBA and Taryn pursuing a professional counseling degree. We are looking forward to completing these degrees over the next year! Lily is a free loader, but thinks she is responsible for security and crumb-cleanup in the Hockett household.
To meet all your neighbors who have participated in the Fairmount Porchtrait Project go to https://capturinggrace.org/capturinggrace/tag/the-fairmount-porchtrait-project/
Shot on a Leica Q2
Message me if you'd like to be included in the Fairmount Porchrait Project!
This is a love gift from my heart to this amazing community that we live in. For those who can, you can make a donation to the non profit that I donate my time too, Capturing Grace.
You can learn more about my work at www.capturinggrace.org
Why I started Capturing Grace – https://wp.me/P9Ktas-5
To Donate – https://capturinggrace.org/donate/
I will provide you with a link to your full resolution photographs within a week of our shoot.
☺️
About the Photographer – I'm Ronnie Mosley, my wife Carol and I have lived in the Fairmount almost three years in the 1500 block of College Ave. My wife is the best neighbor anyone could hope for; I love people through the lens of my camera and Carol loves them with acts of kindness.
I have photographed in over 40 countries during the last five years, telling the stories of people who are making a difference in the lives of orphans, vulnerable children and people in poverty.
#MrRonniesNeigborhood #lifeinthefairmount #FairmountPorchraits #LeicaQ2 #Leica #summilux