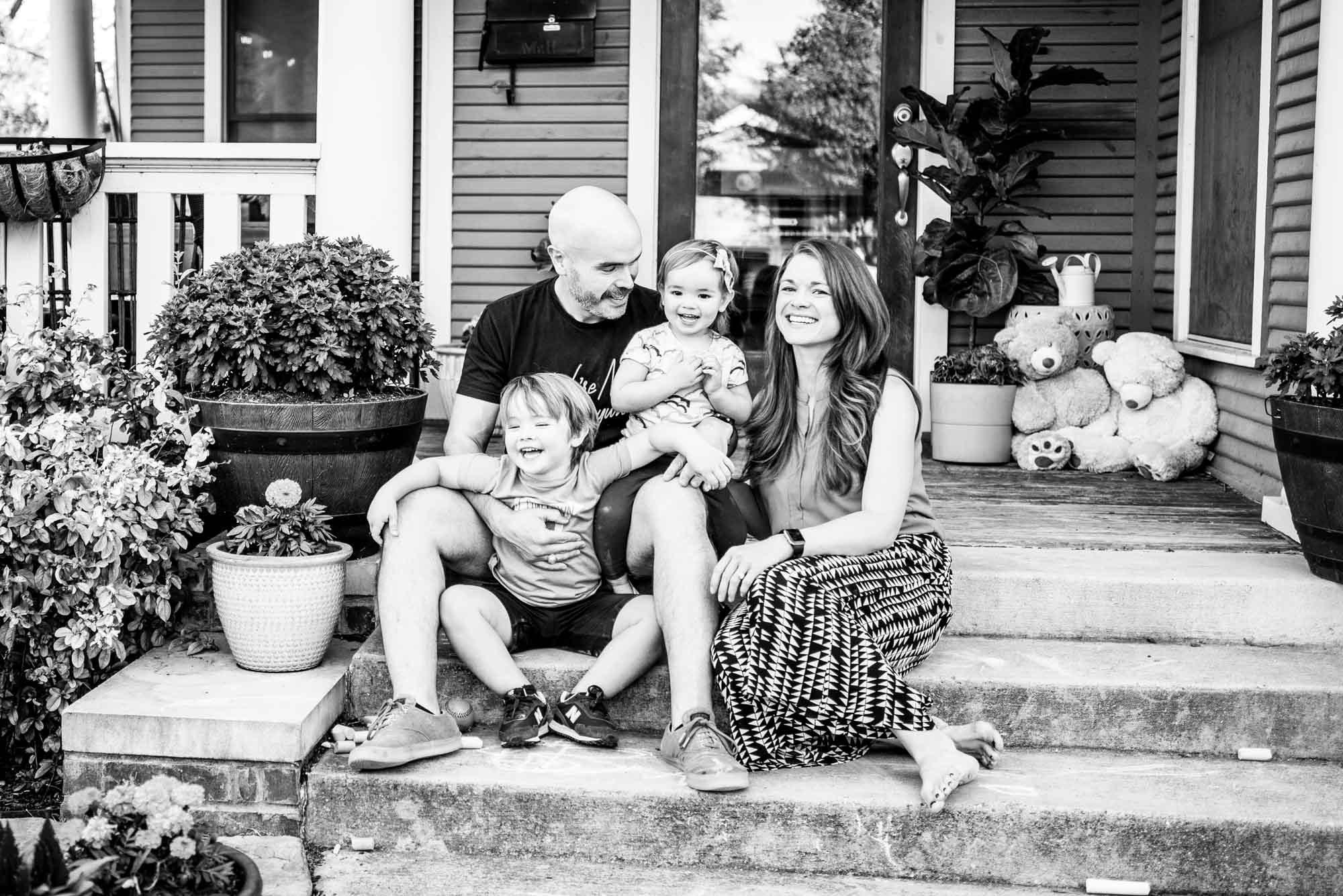 09 May

Life in The Fairmount – Our Porchtrait Project – Meet the Garza's over in the 1800 block of S Adams St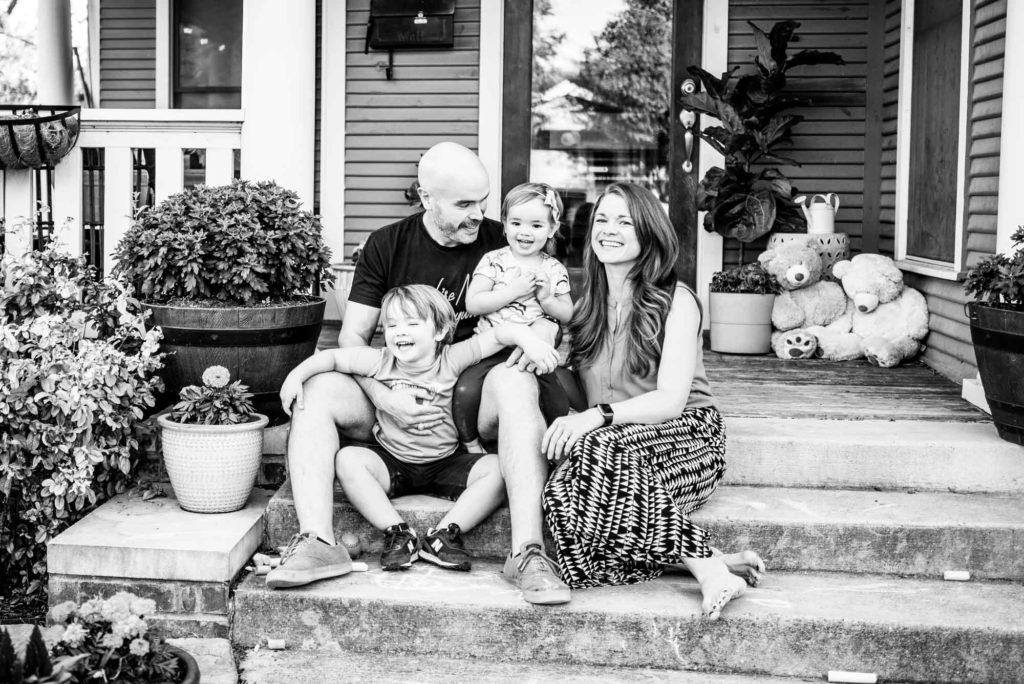 Life in The Fairmount – Our Porchtrait Project
Meet the Garza's over in the 1800 block of S Adams St. I really enjoyed meeting Mariel, Joey and taking a "Porchtrait" of their sweet family. Mariel and Joey are amazing photographers so we had plenty to chat about.
When I asked Mariel my Porchtrait Project question's about life during Shelter In Place, here is what she had to say….
What's been the most difficult thing for you about shelter in place/social distancing?
We count ourselves lucky in this situation. Even though our photography business has come to a screeching halt, Joey's job has continued and our family is healthy.
The hardest aspect of shelter in place/social distancing is explaining it and adapting to it with our 4 yr old and almost 2 yr old. Seeing his head sink when we try to explain why he can't go to school to see his friends, go to his cousins house to play, or why we can't go to the science museum. Or over hear him tell his uncle via video call that he wishes the uncle could come over and read to him, but he can't, because of "the virus."
What do you miss the most during Shelter in Place?
Visiting family. We are lucky to have so many siblings and extended family in Fort Worth/Dallas area, even many writhing walking distance but with the current situation, we are limited to video calls for the most part. However, we have been lucky to have some quality porch time with a few of them in the last couple of weeks!
What do you look forward to the most?
A family gathering where the kiddos play freely with their cousins. Hugs, especially from our parents and grandparents. And Live music. We have enjoyed many live streams from our house. But there is nothing better than a beautiful night surrounded by family and friends watching the kids shake their hips and tap their toes to our favorite local artists. It's good for the soul.
How long have you lived in Fairmount?
Just over 2 years.
Share your favorite thing about living in Fairmount?
The willingness for neighbors to share their talents and treasures. Thanks Ronnie! Also, the ability to walk/run to so many different neighborhoods and businesses and family friendly entertainment.
What is your favorite business in Fairmount? (And why)
We are huge supporters of small businesses and Southside has just about all of our favorites! So I'm not sure I can pick just one. We have a favorite for each day of the week and have supported just about every restaurant/bar at some point. An ideal Saturday with our family in Fairmount would start with a cup of freshly brewed coffee on our porch made from Avoca's Misty Valley Beans. No one leaves home before being properly caffeinated. Followed by a delicious scone and a second cup of coffee at Great Harvest, while listening to storytime by Monkey and Dog Books. Or a breakfast Taco from Pacos. Then, over to watch glass blowers work their magic at Sinca. After some hopscotch on Magnolia and a few laps around the neighborhood on our scooters, a family friendly favorite lunch is always Fort Brewery. When you have little kids you either don't go out to eat or you go places that the kids love and the environment is conducive to keeping kids entertained. We love the low key atmosphere. Open picnic table seating for communal or large family gatherings. They have a fantastic patio with yard games and shade. Oh, and their menu has something for everyone: great sandwiches, salads and pizzas. We've never had a bad meal. If we are really trying to flex our Fairmount muscles with friends and family, we'd take them to indulge in Melt for ice cream then over to Free Play for some good old fashion arcade games and ski ball. Now that the kids are tired we'd stroll the neighborhood until they pass out and grab a bottle of wine from Kent and Co and order spice take out for dinner.
What kind of work do you do?
Joey is an IT Director and guru of all things related. Mariel is a stay at home working mom. Collectively, we are Mariel and Joey Lifestyle Photography. As the seasons of life have evolved over the last decade, we have photographed many of life's biggest milestones for our clients, family, and friends. After years of trying to find our "brand," we have decided we are in the business of building relationships. We love authentically capturing the raw emotions of people's LIFE and LOVE. Many of our wedding clients contact us to photograph the opening of their new business. Then, often we get to be by their sides as they welcome home their baby for the first time. It is truly the biggest compliment to have loyal clients that trust us through all of life's biggest events.
Birth and Newborn
First steps
Graduation
Lifestyle family portraits
Opening a small business
Proposals
Weddings
Adoptions
Elopements
Corporate Conferences
On-site printing
Keynote speaking engagements
Branding and headshots
Selling a home.
To meet all your neighbors who have participated in the Fairmount Porchtrait Project go to https://capturinggrace.org/capturinggrace/tag/the-fairmount-porchtrait-project/
Shot on a Leica Q2
Message me if you'd like to be included in the Fairmount Porchrait Project!
This is a love gift from my heart to this amazing community that we live in. For those who can, you can make a donation to the non profit that I donate my time too, Capturing Grace.
You can learn more about my work at www.capturinggrace.org
Why I started Capturing Grace – https://wp.me/P9Ktas-5
To Donate – https://capturinggrace.org/donate/
I will provide you with a link to your full resolution photographs within a week of our shoot.
☺️
About the Photographer – I'm Ronnie Mosley, my wife Carol and I have lived in the Fairmount almost three years in the 1500 block of College Ave. My wife is the best neighbor anyone could hope for; I love people through the lens of my camera and Carol loves them with acts of kindness.
I have photographed in over 40 countries during the last five years, telling the stories of people who are making a difference in the lives of orphans, vulnerable children and people in poverty.
#MrRonniesNeigborhood #lifeinthefairmount #FairmountPorchraits #LeicaQ2 #Leica #summilux