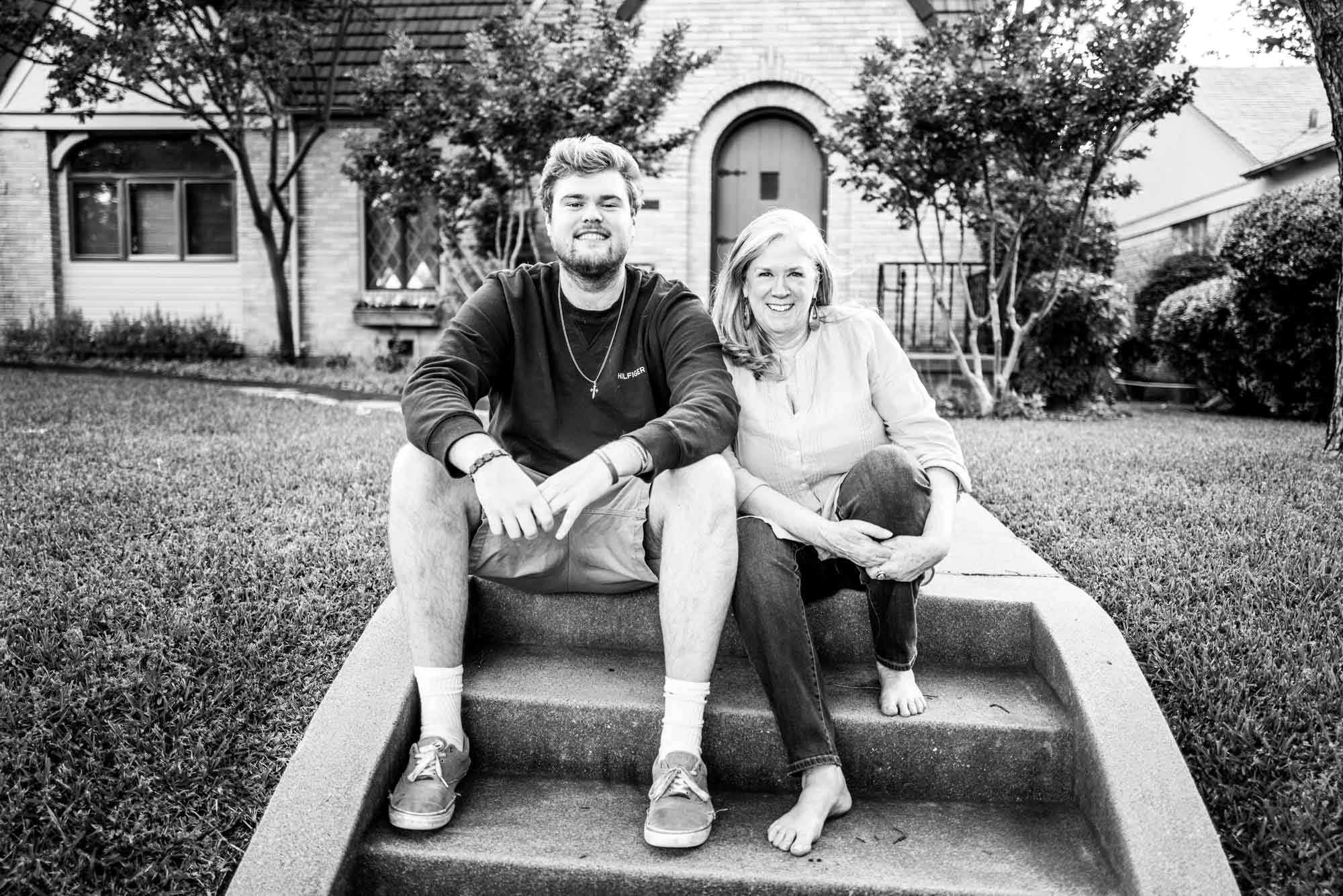 14 May

Life in The Fairmount – Our Porchtrait Project – Meet Donna Thompson, her son Noah and dogs Deacon and Gilligan, over in the 2900 block of 5th Ave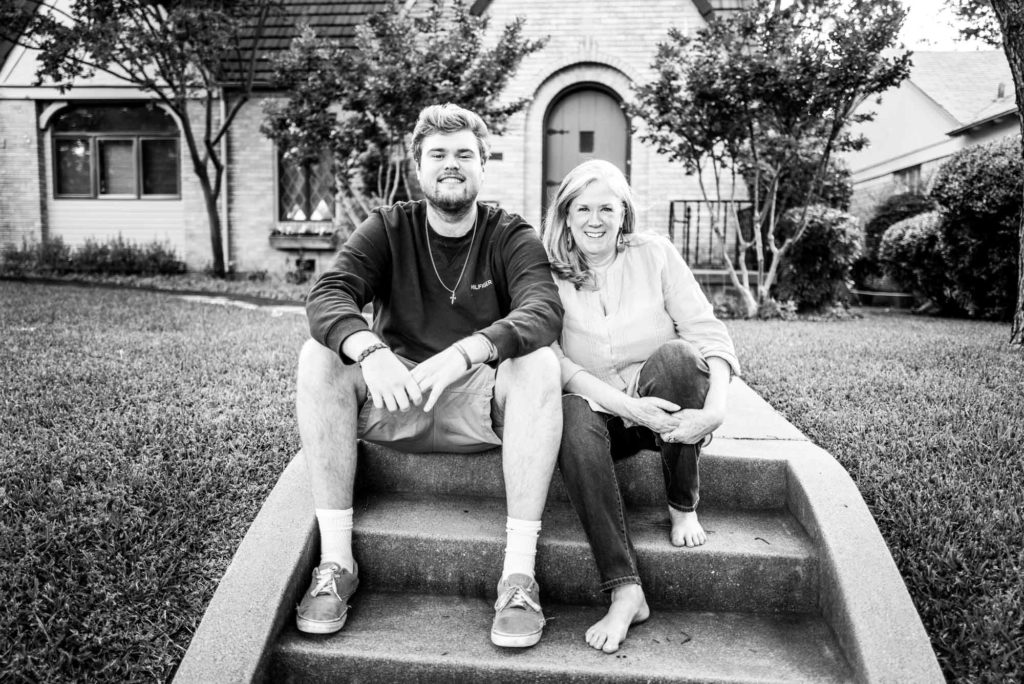 Life in The Fairmount – Our Porchtrait Project
Meet Donna Thompson, her son Noah and dogs Deacon and Gilligan, over in the 2900 block of 5th Ave.
I loved meeting Donna and her son, in fact, we enjoyed our shoot together so much that I did it twice! I messed up the first time (yep, that happens) but Donna and Noah were kind to allow me to return for more stories and photos. ☺️
When I asked Donna my Porchtrait Project question's about life during Shelter In Place, here is what she had to say….
I have one son, Noah Thomson. He is 23 years old. He lives in a nearby apartment complex, but he has spent a good amount of time here during the quarantine for several reasons. I also have a renter in my guesthouse. Her name is Taylor and she has lived in the guesthouse for almost a year and has recently told me that she wants to stay for another year, I'm very happy about that!
The most difficult part of SIP has been the absolute requirement to stay at home. It's like being told that you can't have sweets for an undetermined amount of time. Although I don't typically like sweets, I will crave them when I am told I can't have them. I am now craving going to a restaurant and the movies!
I miss hugging friends and family. My niece lives on 6th Avenue and she had a baby on April 1. I haven't been able to hold my great niece. I've only seen her from a distance with their family on their porch and me on the walkway. I'm looking forward to making up for lost time.
I have lived in Ryan Place for 3.5 years. I graduated from TCU in the early 80's. I have always loved Fort Worth and several years ago I had the opportunity to move back. My parents had passed away and I no longer needed to live in Plano (please don't judge!) to be close to them in their senior years.
My son graduated high school and decided to attend TCU as well. He is actually the seventh member of my family to graduate from TCU. Anyway, I told him he could have one year to mark his territory in FW and after that I would be moving back.
I fell in love with this neighborhood after visiting family and friends in Fort Worth. As mentioned, I was moving from Plano where you didn't know your neighbors and the houses were cookie cutter and somewhat unimaginative. In other words, the opposite of this neighborhood.
My house was built in the late 1920's and has remained rather true to the original plan. I can see where rooms have been added or somehow changed by looking at the door jams where doors once were. There is also a set of stairs on the outside of the house that ascends to what once was a door but is now a sturdy wall. I do enjoy the mystery of it all though.
I am a retired teacher. I have been able to continue to work with children in the area through a program called Academy 4. It is an all-volunteer mentoring program which takes place at Daggett Elementary and several other schools in the area. We are assigned a fourth-grade student to mentor for the year focusing on leadership skills and goal setting. I am finishing up my third year with the program and I love that it joins neighbors for a great cause. I have gotten to know some of my neighbors better through the program. Sadly, we couldn't complete the year due to the quarantine. This is another aspect of normal life which I dearly miss.
My son recently asked me if this house is my "forever" house. That answer should have been obvious. Yes, this is my house, my neighborhood and the reason I smile when I pull into the driveway after being gone.
To meet all your neighbors who have participated in the Fairmount Porchtrait Project go to https://capturinggrace.org/capturinggrace/tag/the-fairmount-porchtrait-project/
Shot on a Leica Q2
Message me if you'd like to be included in the Fairmount Porchrait Project!
This is a love gift from my heart to this amazing community that we live in. For those who can, you can make a donation to the non profit that I donate my time too, Capturing Grace.
You can learn more about my work at www.capturinggrace.org
Why I started Capturing Grace – https://wp.me/P9Ktas-5
To Donate – https://capturinggrace.org/donate/
I will provide you with a link to your full resolution photographs within a week of our shoot.
☺️
About the Photographer – I'm Ronnie Mosley, my wife Carol and I have lived in the Fairmount almost three years in the 1500 block of College Ave. My wife is the best neighbor anyone could hope for; I love people through the lens of my camera and Carol loves them with acts of kindness.
I have photographed in over 40 countries during the last five years, telling the stories of people who are making a difference in the lives of orphans, vulnerable children and people in poverty.
#MrRonniesNeigborhood #lifeinthefairmount #FairmountPorchraits #LeicaQ2 #Leica #summilux