18 May

Life in The Fairmount – Our Porchtrait Project – Meet the Blankenship's over in the 2200 block of Alston Ave.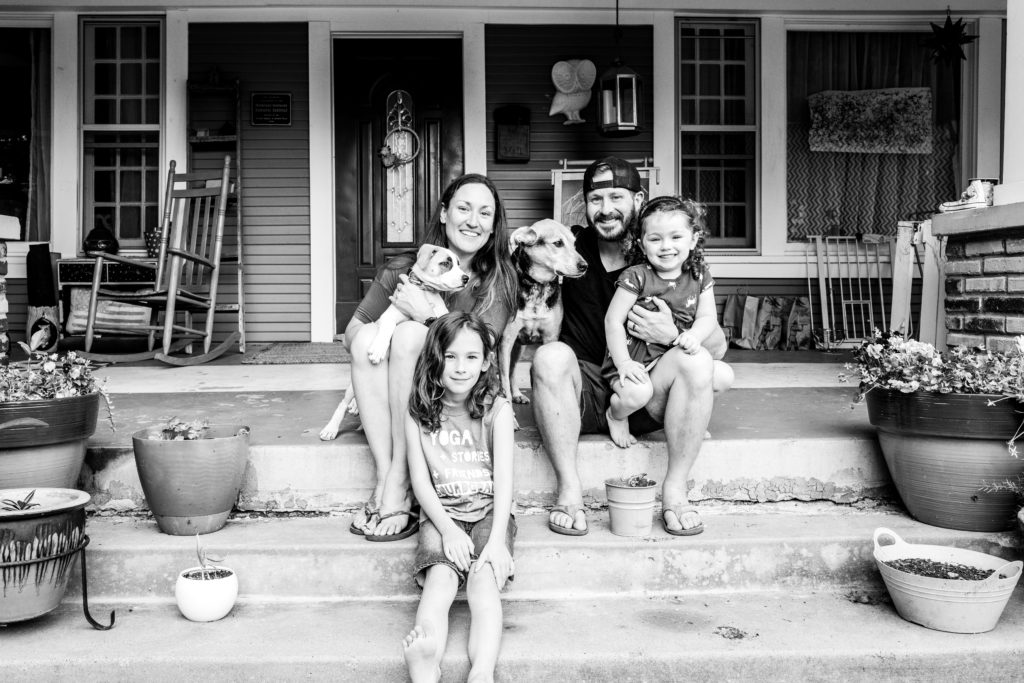 Life in The Fairmount – Our Porchtrait Project
Meet the Blankenship's over in the 2200 block of Alston Ave.
I thoroughly enjoyed meeting Brooke & Tom Blankenship, precocious three year old Nola and her big sister, eight year old Rylan. I love these images that reflect our time together, their Porchtrait.
When I asked Brooke my Porchtrait Project question's about life during Shelter In Place, here is what she had to say….
What's been the most difficult thing for you about shelter in place/social distancing?
As a children's yoga teacher, its been challenging breaking into and navigating the online teaching environment. My classes rely so much on human connection and the energy of the children in front of me to direct the class. But there is so much good to be seen in all of this, too. I have the ability to meet with young yogis far beyond the borders of my own community. Meeting online allows us to meet more often, which means my little yogis are practicing and learning to tools I teach them a lot faster than with just a weekly practice. And I'm creating greater awareness through social media for Yogi Squad's mission, to empower kids with tools and resources for responding to their big emotions so they can navigate social and academic challenges with resilience and confidence. Expanding Yogi Squad's impact is something I hadn't anticipated before, but has been an amazing benefit to sheltering in place.
What do you miss the most during Shelter in Place?
Hugs. We live in a neighborhood where every one we know is not only our neighbor but our friend. I can't wait to hug everyone again.
What do you look forward to the most?
A vacation! Maybe sans kids. Ha.
How long have you lived in the Fairmount?
11 wonderful years. #fairmountforever
Share your favorite thing about living in the Fairmount?
Front porch living. I don't think I could ever live in a house without one again.
What is your favorite business in the Fairmount? (And why)
Melt for the happiest ice cream on Earth.
Fixture for the delish shrimp and grits.
Rosen House because it's the sweetest little BnB in one of Fairmount's coolest homes.
S&V Plant Love for all the pretty plant babies.
What kind of work do you do?
I run a nonprofit organization that makes kids better through yoga and books! Tom is a construction manager for GSA (general services administration).
What's been the best activity you've done during social distancing? Almost daily bike rides with my 8 year old. And Zooming with all the beautiful women in my book club.
What are you thankful for?
I am thankful for the opportunity to slow down and soak up extra time with my girls.
To meet all your neighbors who have participated in the Fairmount Porchtrait Project go to https://capturinggrace.org/capturinggrace/tag/the-fairmount-porchtrait-project/
Shot on a Leica Q2
Message me if you'd like to be included in the Fairmount Porchrait Project!
This is a love gift from my heart to this amazing community that we live in. For those who can, you can make a donation to the non profit that I donate my time too, Capturing Grace.
You can learn more about my work at www.capturinggrace.org
Why I started Capturing Grace – https://wp.me/P9Ktas-5
To Donate – https://capturinggrace.org/donate/
I will provide you with a link to your full resolution photographs within a week of our shoot.
☺️
About the Photographer – I'm Ronnie Mosley, my wife Carol and I have lived in the Fairmount almost three years in the 1500 block of College Ave. My wife is the best neighbor anyone could hope for; I love people through the lens of my camera and Carol loves them with acts of kindness.
I have photographed in over 40 countries during the last five years, telling the stories of people who are making a difference in the lives of orphans, vulnerable children and people in poverty.
#MrRonniesNeigborhood #lifeinthefairmount #FairmountPorchraits #LeicaQ2 #Leica #summilux