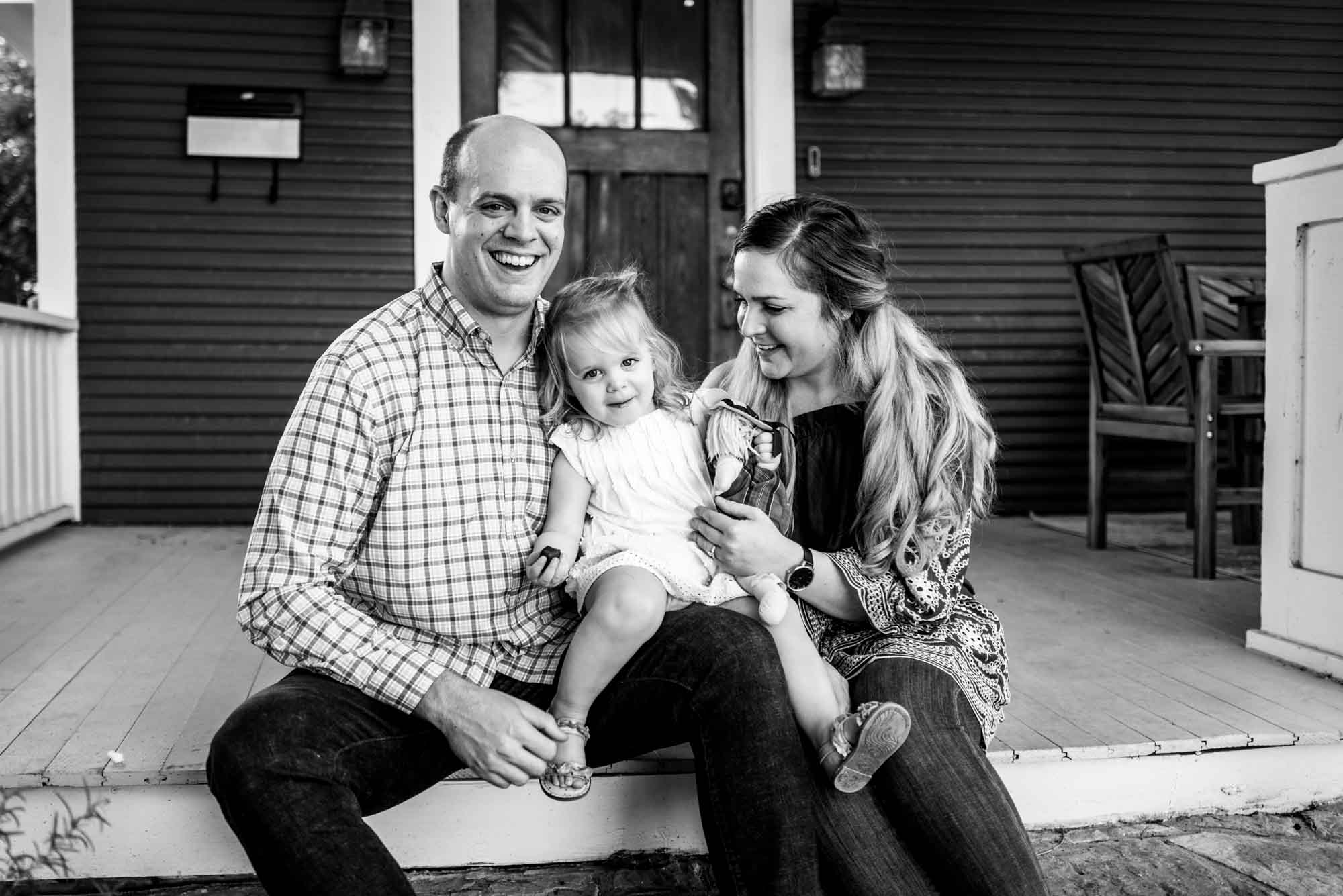 19 May

Life in The Fairmount – Our Porchtrait Project – Meet the Sim's over in the 1600 block of S Adams St.
Life in The Fairmount – Our Porchtrait Project
Meet the Sim's over in the 1600 block of S Adams St.
I loved meeting Patrick, Meredith & two year old Madeline and taking their Porchtrait! Taking home some delicious chocolate chip cookies and orange marmalade was an extra a bonus, thank you Patrick and Meredith!
When I asked Patrick my Porchtrait Project question's about life during Shelter In Place, here is what she had to say….
Here are some thoughts relating to Shelter In Place that I have been asking our Fairmount Community.
Feel free to answer any that are interesting to you and share whatever you like from your heart about your families experiences during these times.
What's been the most difficult thing for you about shelter in place/social distancing?
Not being able to spend time with all of our family & friends in person.
What do you miss the most during Shelter in Place?
Sheltering at home all in all has brought us closer together as a family. It has allowed us to get some projects finished around the house, and we have enjoyed daily walks throughout the neighborhood and to the trinity trails. We really miss outdoor meals at several of our favorite restaurants, and visiting the Zoo, Science Museum and botanical gardens as a family. Madeline LOVES the tigers at the zoo.
What do you look forward to the most?
Attending a Texas Rangers game at Globe Life Field.
How long have you lived in Fairmount?
Since October 2019
Share your favorite thing about living in Fairmount?
Friendly neighbors, walkability to restaurants and parks and front porch sitting. We are very fond of our plot at the community garden.
What is your favorite business in Fairmount? (And why)
This is a hard tie between Esperanza's, Fort Brewery and Shaws. We are Texans who just moved back from Pennsylvania and we sure missed the food here! We are happy to get great tex mex, we love the burgers and the patio at Shaws and we frequently refill our growler with Ocho from Fort Brewery.
What kind of work do you do?
Patrick is a Physician at Baylor Scott & White practicing Physical Medicine and Rehabilitation. Meredith is freelance apparel designer and stay at home boss mom. Madeline is a professional mess maker, toy tester and connoisseur of naps.
To meet all your neighbors who have participated in the Fairmount Porchtrait Project go to https://capturinggrace.org/capturinggrace/tag/the-fairmount-porchtrait-project/
Shot on a Leica Q2
Message me if you'd like to be included in the Fairmount Porchrait Project!
This is a love gift from my heart to this amazing community that we live in. For those who can, you can make a donation to the non profit that I donate my time too, Capturing Grace.
You can learn more about my work at www.capturinggrace.org
Why I started Capturing Grace – https://wp.me/P9Ktas-5
To Donate – https://capturinggrace.org/donate/
I will provide you with a link to your full resolution photographs within a week of our shoot.
☺️
About the Photographer – I'm Ronnie Mosley, my wife Carol and I have lived in the Fairmount almost three years in the 1500 block of College Ave. My wife is the best neighbor anyone could hope for; I love people through the lens of my camera and Carol loves them with acts of kindness.
I have photographed in over 40 countries during the last five years, telling the stories of people who are making a difference in the lives of orphans, vulnerable children and people in poverty.
#MrRonniesNeigborhood #lifeinthefairmount #FairmountPorchraits #LeicaQ2 #Leica #summilux