21 May

Life in The Fairmount – Our Porchtrait Project – Meet Katie and Parker over in the 1700 block of Alston Ave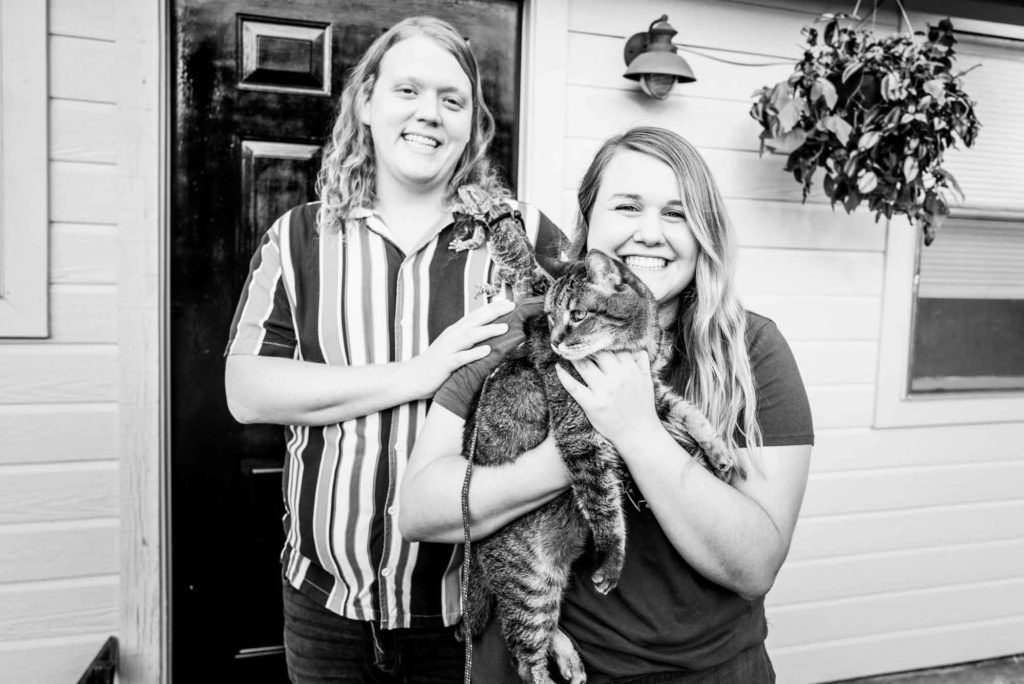 Life in The Fairmount – Our Porchtrait Project
Meet Katie and Parker over in the 1700 block of Alston Ave.
It was great to meet Katie Fernandez and Parker Anderson and there two 2 pets – a 16 year old kitty named Nora and a bearded dragon named Toothless!
When I asked Katie my Porchtrait Project question's about life during Shelter In Place, here is what she had to say….
What's been the most difficult thing for you about shelter in place/social distancing?
Both of our job situations went through big changes. It was a huge adjustment for us both. We've both realized how much our daily routine tends to define us, and how much we take it for granted. Of course, it's also been a cool opportunity to focus on the value of simply being, instead of doing.
We can't wait to see the live music scene regenerate (Parker is a musician)!
We just moved here at the beginning of May! It was a blessing in disguise to have a little more time than normal to spend moving in.
Parker works at two local nonprofits – Arts Fifth Avenue and Mondo Drummers, and it's so fun to be within walking distance of somewhere he spends so much time. We also love getting to be walking distance to all of our favorite places and hope to build community here.
Our favorite businesses are Melt and Avoca (Katie) and Spiral and the Boiled Owl (Parker). Date night is always Nonna Tata. All of those places have good memories for us separately and as a couple!
I am a speech language pathologist working in pediatric home health doing mostly feeding therapy, and Parker is a drummer. He works in the dance departments at TCU and TCC, teaches at Arts Fifth, and is in two bands (Dead Vinyl, Keanu Leaves).
Best activity: All of the cooking. And, adopting our bearded dragon!
We are both so thankful for the time that we've had together throughout this and how our community has shown up for us during some difficult times – I lost my job at the end of March and Parker's work slowed a lot, but we were lucky enough to find support in so many places here in Fort Worth. We're also thankful for this little house that fell into our lap at the perfect time!
To meet all your neighbors who have participated in the Fairmount Porchtrait Project go to https://capturinggrace.org/capturinggrace/tag/the-fairmount-porchtrait-project/
Shot on a Leica Q2
Message me if you'd like to be included in the Fairmount Porchrait Project!
This is a love gift from my heart to this amazing community that we live in. For those who can, you can make a donation to the non profit that I donate my time too, Capturing Grace.
You can learn more about my work at www.capturinggrace.org
Why I started Capturing Grace – https://wp.me/P9Ktas-5
To Donate – https://capturinggrace.org/donate/
I will provide you with a link to your full resolution photographs within a week of our shoot.
☺️
About the Photographer – I'm Ronnie Mosley, my wife Carol and I have lived in the Fairmount almost three years in the 1500 block of College Ave. My wife is the best neighbor anyone could hope for; I love people through the lens of my camera and Carol loves them with acts of kindness.
I have photographed in over 40 countries during the last five years, telling the stories of people who are making a difference in the lives of orphans, vulnerable children and people in poverty.
#MrRonniesNeigborhood #lifeinthefairmount #FairmountPorchraits #LeicaQ2 #Leica #summilux