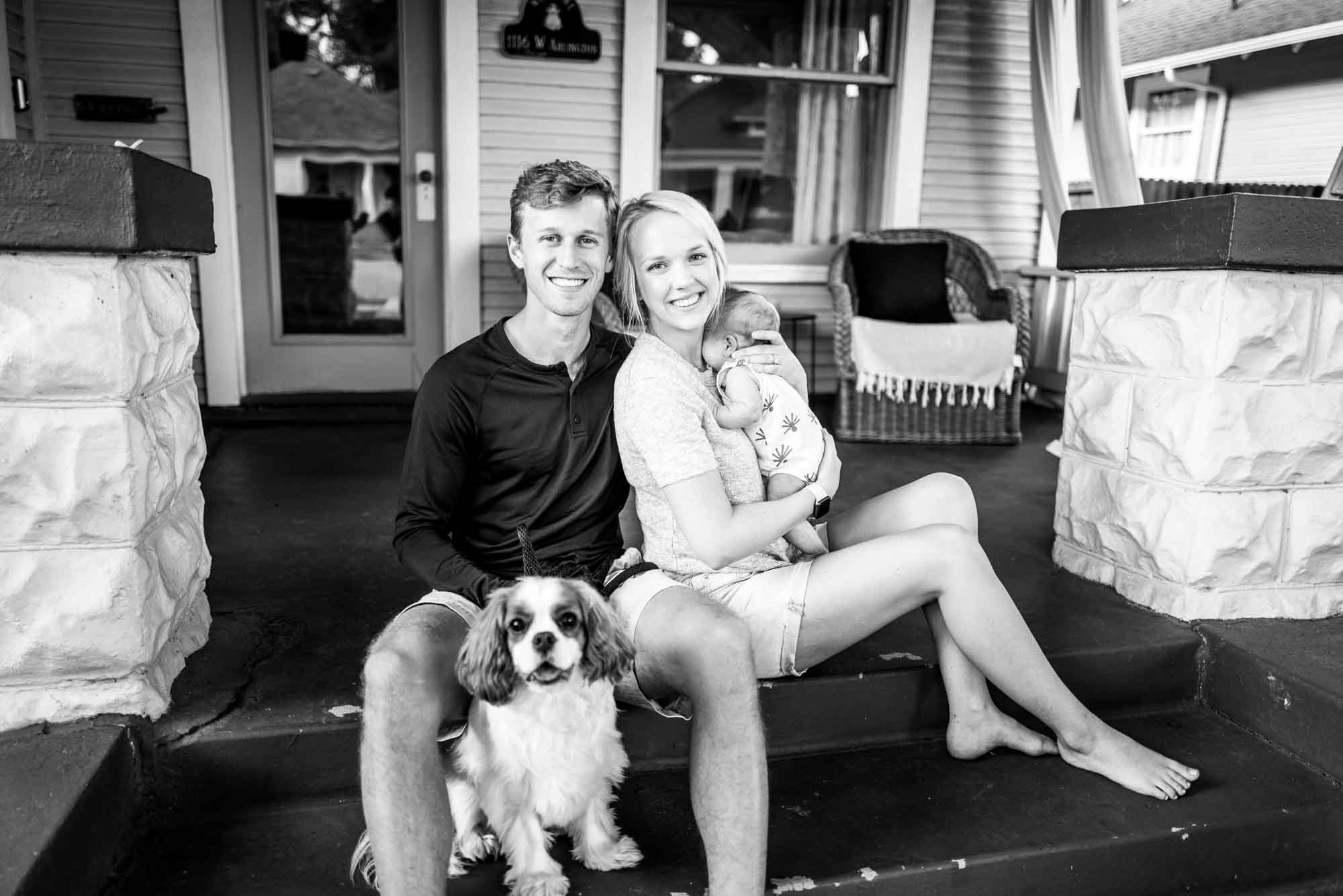 23 May

Life in The Fairmount – Our Porchtrait Project – Meet the Walton's over in the 1100 block of W Arlington Ave.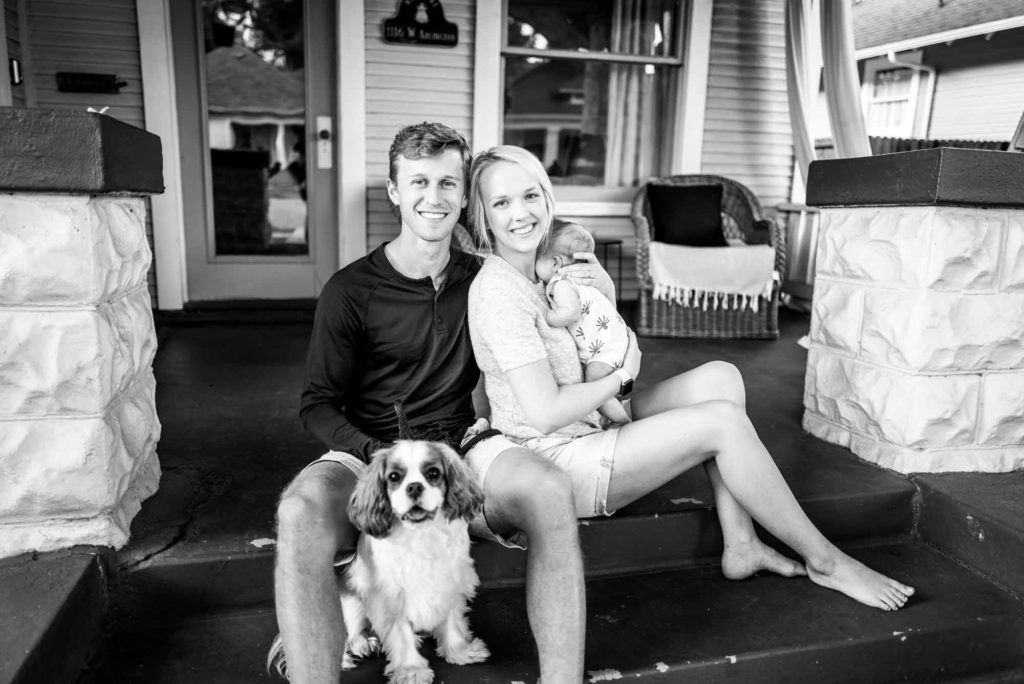 Life in The Fairmount – Our Porchtrait Project
Meet the Walton's over in the 1100 block of W Arlington Ave.
I loved meeting Taylor, Michael, and 1 month old Maeve. Between baby Maeve and Arnie the dog I wasn't sure if my camera, or heart, could handle the sweetness… ❤️. I love the photographs that resulted from our Porch-trait!
When I asked Taylor my Porchtrait Project question's about life during Shelter In Place, here is what she had to say….
Taylor is a Labor and Delivery Nurse and Michael is an accountant.
We have lived in Fairmount since we got married in April of 2017.
We first rented a house down the street on S Adams and quickly realized we wanted to make Fairmount a permanent home.
Having our first baby a month ago in the middle of this pandemic is not at all what we had pictured this time would look like but has truly been a blessing in so many ways. Life slowed down and allowed us more time as just the two of us the month before she arrived and has given us sweet slow time as a family now that she is here.
The hardest part of this season has been having to make social distancing decisions regarding friends and family and our newborn. She hasn't gotten to meat or be held by some of our closest people. But keeping our family healthy has been our biggest priority.
During social distancing we've loved going on walks in the evenings and drinking morning coffee or eating dinner on the front porch.
Some of our favorite restaurants in the neighborhood are Lili's (the place we had our first date 6 years ago) and Heim (the food we had catered at our rehearsal dinner). We love the character and history of the neighborhood. We love having some of our closest friends live only blocks from us.
We are thankful for our family and our friends who have been so supportive of us during this crazy time of becoming new parents. We are thankful for God's love and protection over our family in keeping us all healthy. We are thankful that the world slowed down just in time to allow us to soak up this sweet time with our girl, Maeve.
To meet all your neighbors who have participated in the Fairmount Porchtrait Project go to https://capturinggrace.org/capturinggrace/tag/the-fairmount-porchtrait-project/
Shot on a Leica Q2
Message me if you'd like to be included in the Fairmount Porchrait Project!
This is a love gift from my heart to this amazing community that we live in. For those who can, you can make a donation to the non profit that I donate my time too, Capturing Grace.
You can learn more about my work at www.capturinggrace.org
Why I started Capturing Grace – https://wp.me/P9Ktas-5
To Donate – https://capturinggrace.org/donate/
I will provide you with a link to your full resolution photographs within a week of our shoot.
☺️
About the Photographer – I'm Ronnie Mosley, my wife Carol and I have lived in the Fairmount almost three years in the 1500 block of College Ave. My wife is the best neighbor anyone could hope for; I love people through the lens of my camera and Carol loves them with acts of kindness.
I have photographed in over 40 countries during the last five years, telling the stories of people who are making a difference in the lives of orphans, vulnerable children and people in poverty.
#MrRonniesNeigborhood #lifeinthefairmount #FairmountPorchraits #LeicaQ2 #Leica #summilux