30 May

Life in The Fairmount – Our Porchtrait Project – Meet Ethen and Stefanie over in the 2200 block of Mistletoe Blvd.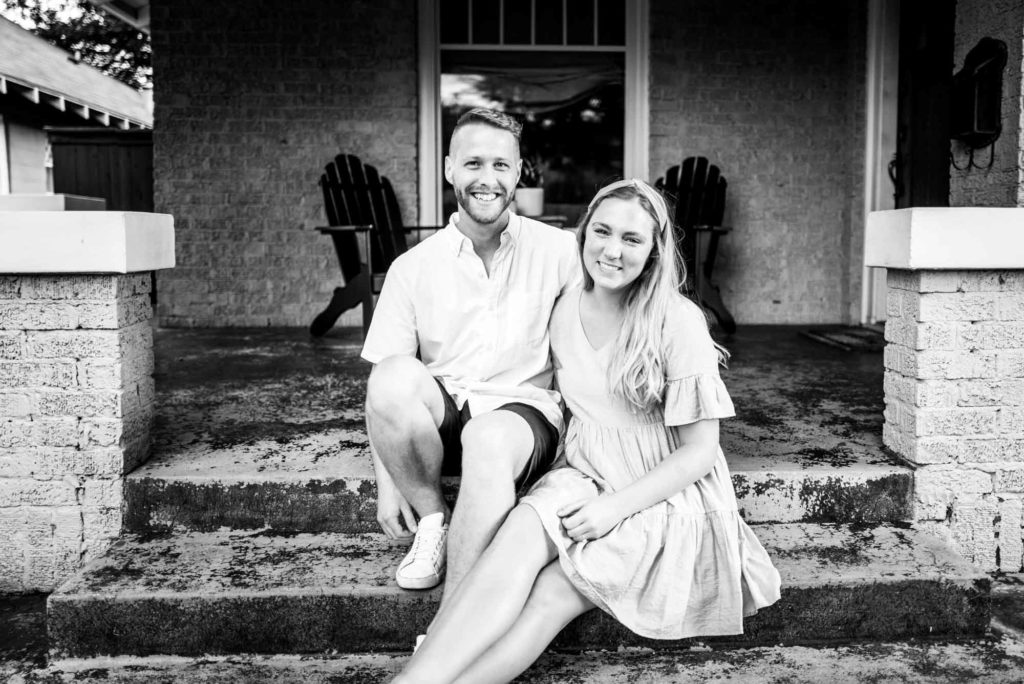 Life in The Fairmount – Our Porchtrait Project
Meet Ethen and Stefanie over in the 2200 block of Mistletoe Blvd.
Ok, so technically Ethen and Stefanie are not in Fairmount but having just moved from the Fairmount, just a few blocks away, and, since they totally embrace and love the project, I just couldn't say no!
My time with these two was so much fun, we laughed…. a lot. The most humorous moment was when Ethen made the mistake of recounting some story with a former girlfriend. Not smart. That resulted in Photo #02 below 
Fortunately for the photo session, that led to the makeup, photo #3 below
All is well that ends well… photo #1 below
When I asked Stefanie my Porchtrait Project question's about life during Shelter In Place, here is what she had to say….
What do you miss the most during Shelter in Place?
Similar to most people, we miss socializing with friends! We both love to spend time downtown, so we have been trying to support local restaurants via to-go orders.
What do you look forward to the most?
We are looking forward to drinking beer on a patio! (the simple things in life)
How long have you lived in the Fairmount?
We rented a house in Fairmount for 2 years, and now have made our first home purchase in Mistletoe Heights!
Share your favorite thing about living in the Fairmount?
While in Fairmount, we loved how friendly everyone was. It was nice to pass houses on walks, and wave to people sitting on their porch.
What is your favorite business in the Fairmount? And Why?
Ethan's favorite: Salsa Limon (lifelong taco lover!)
Steffi's favorite: Spiral Diner (lifelong vegetarian!)
What kind of work do you do?
Ethan is an accountant at Ernst and Young.
Steffi is a nurse at Cook Children's.
What's been the best activity you've done during social distancing?
We have spent more time outside the last few months, than ever before. We take long walks, and read or work on our porch often.
What are you thankful for?
We are thankful to both still have full time work, our supportive families, and our health!
To meet all your neighbors who have participated in the Fairmount Porchtrait Project go to https://capturinggrace.org/capturinggrace/tag/the-fairmount-porchtrait-project/
Shot on a Leica Q2
Message me if you'd like to be included in the Fairmount Porchrait Project!
This is a love gift from my heart to this amazing community that we live in. For those who can, you can make a donation to the non profit that I donate my time too, Capturing Grace.
You can learn more about my work at www.capturinggrace.org
Why I started Capturing Grace – https://wp.me/P9Ktas-5
To Donate – https://capturinggrace.org/donate/
I will provide you with a link to your full resolution photographs within a week of our shoot.
☺️
About the Photographer – I'm Ronnie Mosley, my wife Carol and I have lived in the Fairmount almost three years in the 1500 block of College Ave. My wife is the best neighbor anyone could hope for; I love people through the lens of my camera and Carol loves them with acts of kindness.
I have photographed in over 40 countries during the last five years, telling the stories of people who are making a difference in the lives of orphans, vulnerable children and people in poverty.
#MrRonniesNeigborhood #lifeinthefairmount #FairmountPorchraits #LeicaQ2 #Leica #summilux