23 Jun

Life in The Fairmount – Our Porchtrait Project – Meet the Suasnovar's over in the 1400 block of Sixth Ave.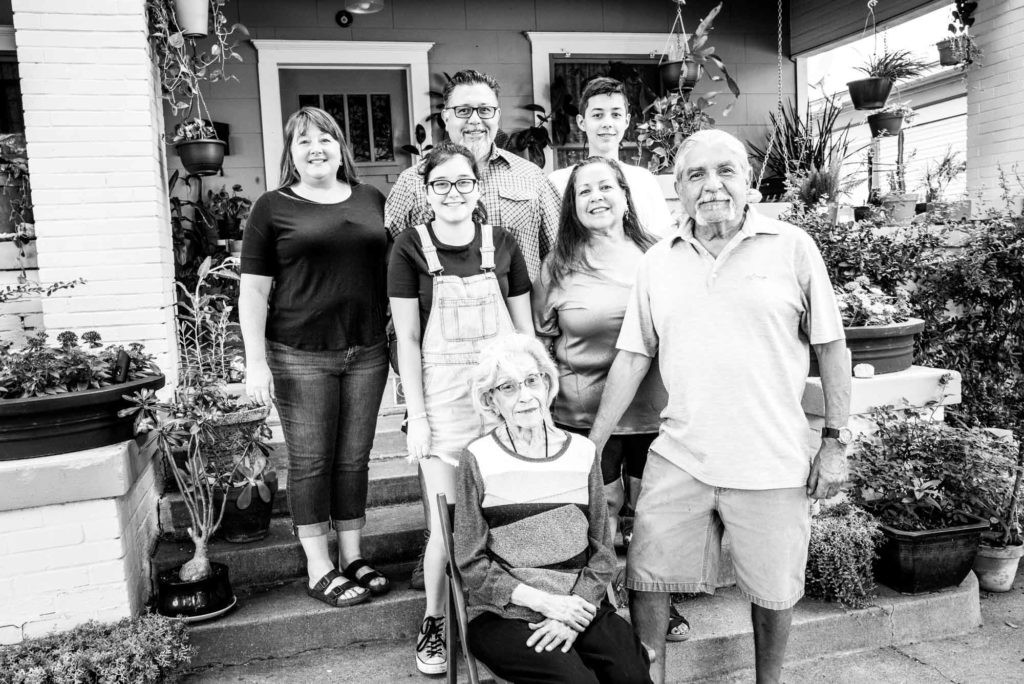 Life in The Fairmount – Our Porchtrait Project
Meet the Suasnovar's over in the 1400 block of Sixth Ave.
I loved meeting Leah and her sweet extended family! I had always wondered who lives in this lovely old home with the side lot that looks like a garden, containing a VW bug and a little VW bus for a book exchange. It was such a pleasure to exchange stories with these three generations that all live on the same block.
When I asked Leah my Porchtrait Project question's about life during Shelter In Place, here is what she had to say….
We are Desi, Leah and our children Zoey and Ethan Suasnovar.  Zoey is 16 and Ethan is 15.
The first photograph includes Desi's mother, Rosa, his sister, Louisa, and brother Angelo join us. We all reside in the 1400 block of 6th Ave.
What's been the most difficult thing for you about shelter in place/social distancing?
The most difficult thing has been not seeing our friends and family. We are used to hosting dinner at our house, and frequently have more folks to feed than chairs for them to sit in, and I have missed the faces crowded around our dinner table.
What do you miss the most during Shelter in Place?
Security. I miss the security to freely roam about however we want with the knowledge we will stay healthy. I don't like the vulnerability in not knowing we won't get sick, or that we will even find the groceries we need at the store. It's been unsettling.
What do you look forward to the most?
Being out without a mask.
How long have you lived in the Fairmount?
Desi has lived here for over 25 years, I have lived here about 20 years and our kids were born and raised here. They are the third generation of Suasnovars to be living in Fairmount.
Share your favorite thing about living in the Fairmount?
The character of the homes, and the characters that reside within. I love my neighbors. ?
What is your favorite business in the Fairmount? (And why)
BENITO'S. Always and Forever. It's just been our go to safety net for more years than I can count. Looking back through old photo's, we have captured so many memories at their chili festooned tables. The same staff have been there for years, and my husband and I courted there, and have been taking our kids there their whole lives. We all love the food.
What kind of work do you do?
Desi and I both work for Tarrant County College, both for Facilities and Operations. I manage the District Warehouse and Desi for the Facilities department at the downtown campus.
What's been the best activity you've done during social distancing?
Gardening. Lots of gardening. At least we were locked down during the nicest part of the year.
What are you thankful for?
I am so thankful that we have all remained healthy, and have been able to continue to work in some capacity. TCC has taken really good care of their employees during this pandemic.
To meet all your neighbors who have participated in the Fairmount Porchtrait Project go to https://capturinggrace.org/capturinggrace/tag/the-fairmount-porchtrait-project/
Shot on a Leica Q2
Message me if you'd like to be included in the Fairmount Porchrait Project!
This is a love gift from my heart to this amazing community that we live in. For those who can, you can make a donation to the non profit that I donate my time too, Capturing Grace.
You can learn more about my work at www.capturinggrace.org
Why I started Capturing Grace – https://wp.me/P9Ktas-5
To Donate – https://capturinggrace.org/donate/
I will provide you with a link to your full resolution photographs within a week of our shoot.
☺️
About the Photographer – I'm Ronnie Mosley, my wife Carol and I have lived in the Fairmount almost three years in the 1500 block of College Ave. My wife is the best neighbor anyone could hope for; I love people through the lens of my camera and Carol loves them with acts of kindness.
I have photographed in over 40 countries during the last five years, telling the stories of people who are making a difference in the lives of orphans, vulnerable children and people in poverty.
#MrRonniesNeigborhood #lifeinthefairmount #FairmountPorchraits #LeicaQ2 #Leica #summilux