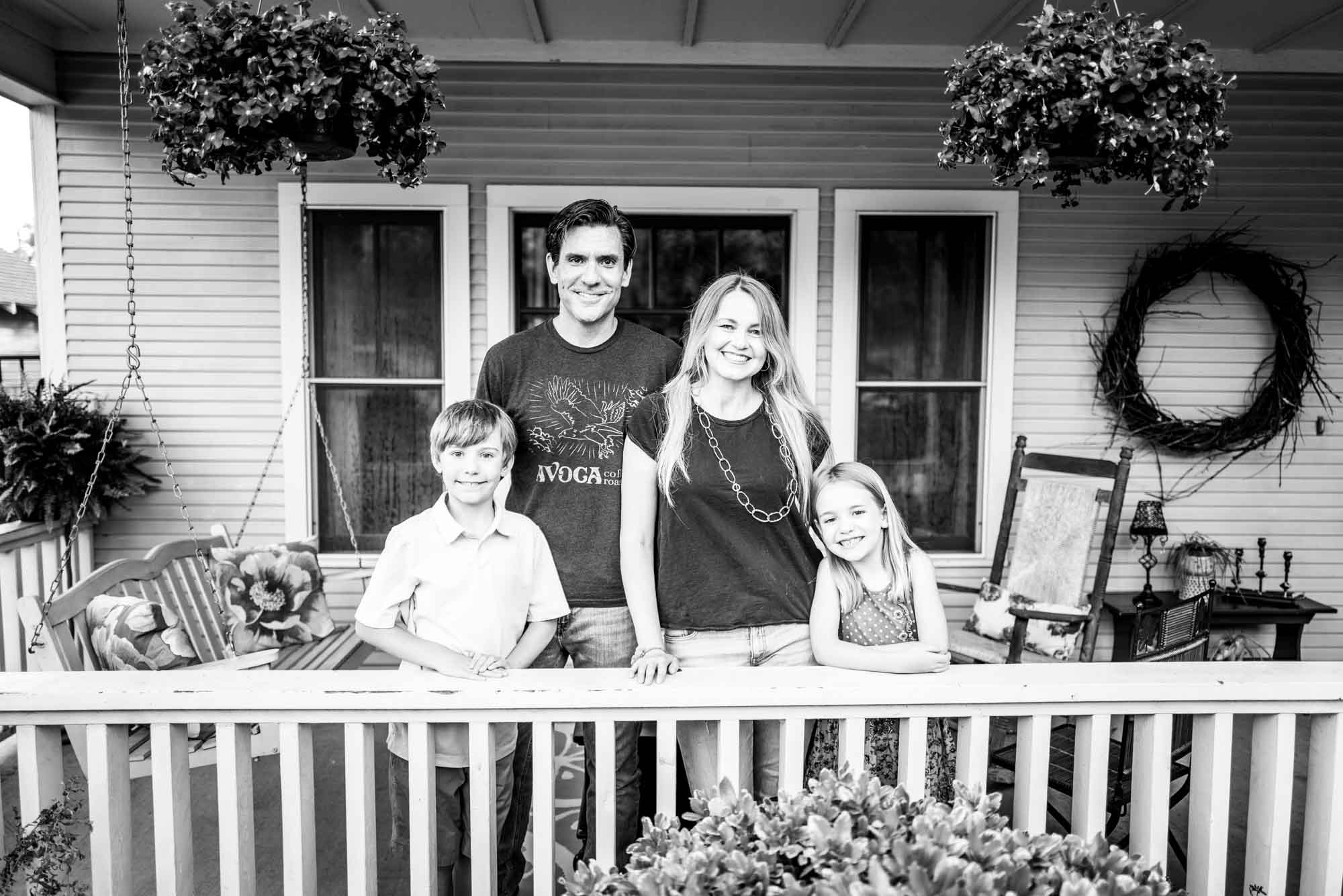 25 Jun

Life in The Fairmount – Our Porchtrait Project – Meet the Buchanan's over in the 1700 block of Lipscomb St.
Life in The Fairmount – Our Porchtrait Project
Meet the Buchanan's over in the 1700 block of Lipscomb St.
I really enjoyed meeting this sweet family that lives just a few blocks from my wife and I. I chuckled when their 9 year old son Henry recited a list of reasons for living in the Fairmount that sounded identical to my own. I'm not sure if that makes me childlike or just makes him really smart… i'm leaning towards the latter even though I am a child at heart. ❤️
When I asked Ashley my Porchtrait Project question's about life during Shelter In Place, here is what she had to say….
What has been the best activity you've done during social distancing?
We have been taking family walks through the neighborhood while working from home. The kids have made a game of counting the cats we see and have renamed everyone's porch cats. On these walks, we have met so many of our wonderful Lipscomb neighbors. We've also tried our hand at gardening and baking sourdough.
We are also enjoying fostering for Good Neighbors Animal Rescue and spending more time with our own pets. Our 14 year-old, 3-legged Pekingese rescue is particularly fond of our current work-from-home arrangement.
What kind of work do you do?
Jason works for an electronics components distributor, and Ashley teaches Montessori middle school.
How long have you lived in the Fairmount?
We have lived in Fairmount for five years. When we moved here from Denver, there was only one neighborhood that felt like home right away. After finding Spiral Diner, Jason literally walked around the neighborhood and asked people on their porches about living here. We can't imagine living anyplace else in Fort Worth.
What is your favorite Fairmount business?
It is almost impossible to choose a favorite business in our neighborhood, but the first two places we fell in love with were Spiral and Avoca. And we've eaten a lot of delicious breakfast burritos from Paco's and spent many an evening watching the artists at SiNaCa make amazing things.
What do you miss?
We find ourselves missing the unique community activities like Friday on the Green and Open Streets.
What are you thankful for?
We are thankful for healthcare workers and other essential workers who are still out there every day, keeping things going and keeping people safe.
We are also so thankful for our time together as a family.
To meet all your neighbors who have participated in the Fairmount Porchtrait Project go to https://capturinggrace.org/capturinggrace/tag/the-fairmount-porchtrait-project/
Shot on a Leica Q2
Message me if you'd like to be included in the Fairmount Porchrait Project before it comes to a close at the end of June.
This is a love gift from my heart to this amazing community that we live in. For those who can, you can make a donation to the non profit that I donate my time too, Capturing Grace.
You can learn more about my work at www.capturinggrace.org
Why I started Capturing Grace – https://wp.me/P9Ktas-5
To Donate – https://capturinggrace.org/donate/
I will provide you with a link to your full resolution photographs within a week of our shoot.
☺️
About the Photographer – I'm Ronnie Mosley, my wife Carol and I have lived in the Fairmount almost three years in the 1500 block of College Ave. My wife is the best neighbor anyone could hope for; I love people through the lens of my camera and Carol loves them with acts of kindness.
I have photographed in over 40 countries during the last five years, telling the stories of people who are making a difference in the lives of orphans, vulnerable children and people in poverty.
#MrRonniesNeigborhood #lifeinthefairmount #FairmountPorchraits #LeicaQ2 #Leica #summilux