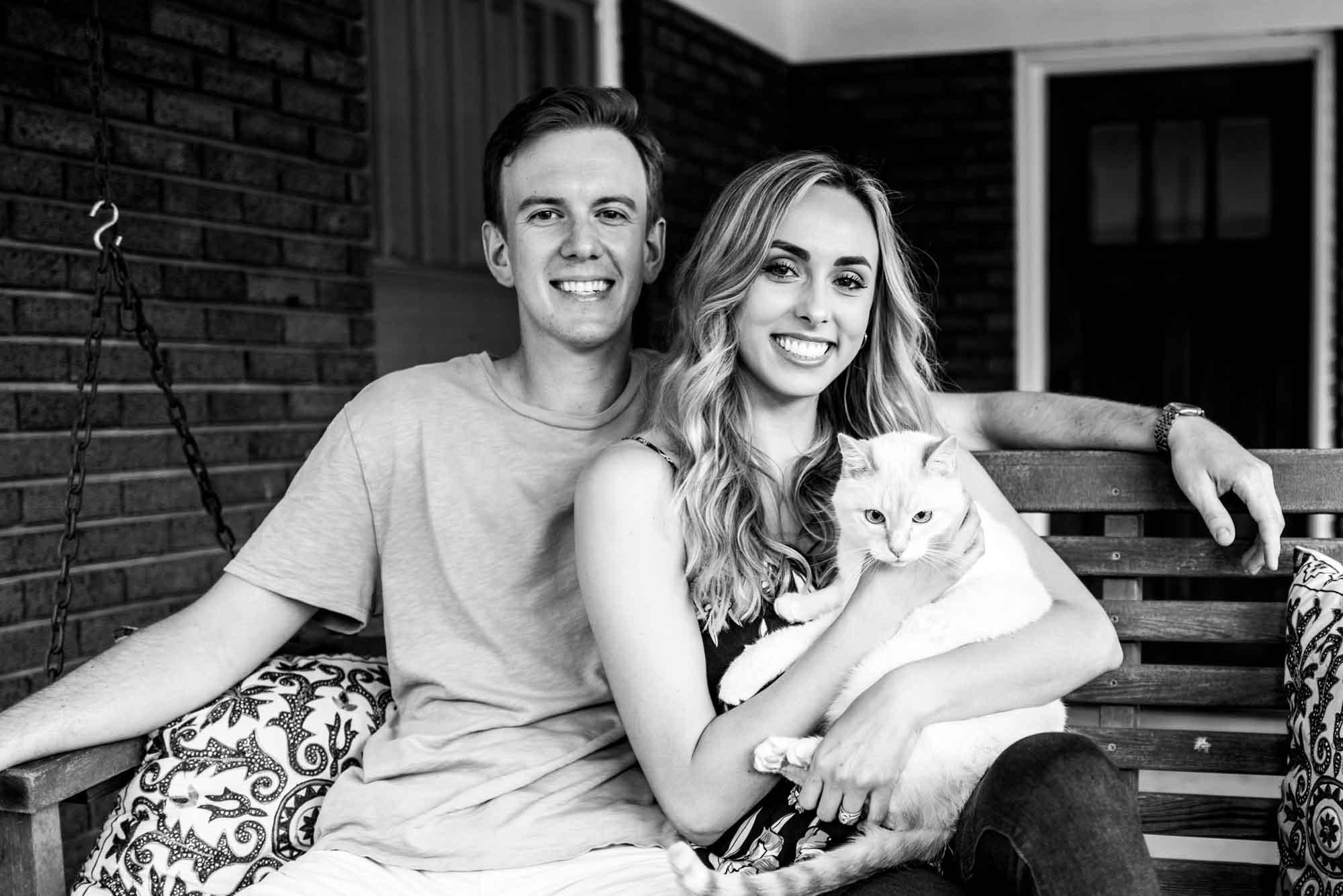 26 Jun

Life in The Fairmount – Our Porchtrait Project – Meet the Brankin's over in the 2200 block of Fairmount Ave.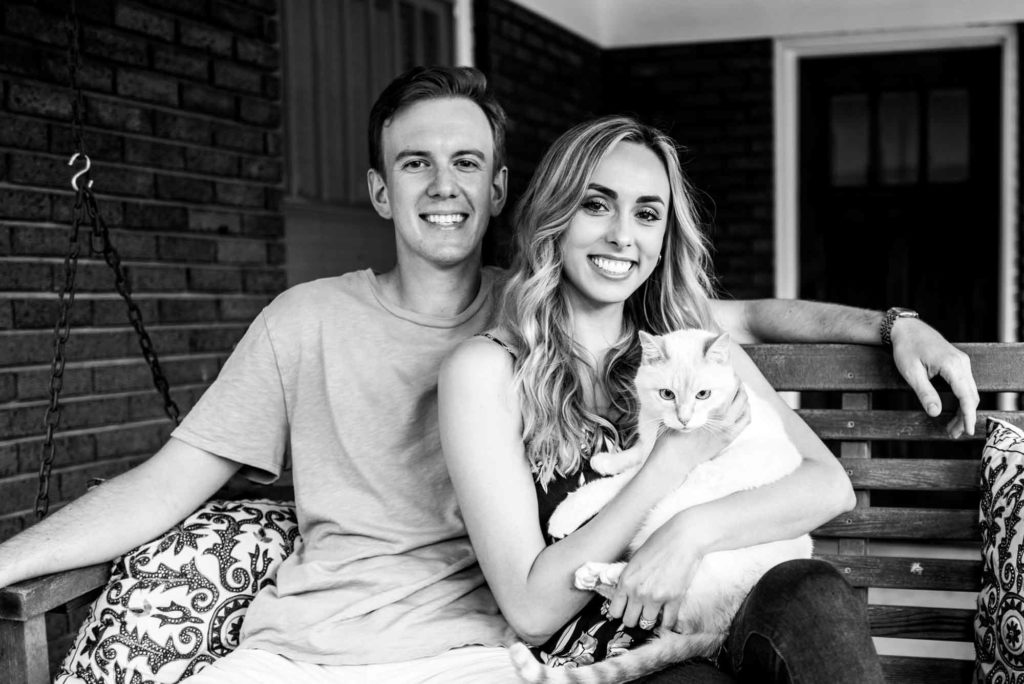 Life in The Fairmount – Our Porchtrait Project
Meet the Brankin's over in the 2200 block of Fairmount Ave.
I enjoyed meeting Conner and Natalie, exchanging stories and learning about life in their 1921 craftsman style home.
When I asked Conner my Porchtrait Project question's about life during Shelter In Place, here is what he had to say….
What's been the most difficult thing for you about shelter in place/social distancing?
Natalie: I work as a Respiratory Therapist at a local hospital and, at the beginning of the pandemic, it was nerve-wracking and worrisome being on the front lines since there was so much we didn't know about the virus. We were living in an apartment when the pandemic first started, so we were cooped up and socially distanced from our family and friends for awhile. Now we have slowly started to see our family and friends again. I wear a mask any time I go in public and I always wear a face shield and n95 at work, so I feel very protected and safe visiting now.
Connor: Certainly would echo the "cooped up" line from Nat. Before this thing hit, I liked working from home here and there, but the adjustment to 7 days/wk was a lesson in discipline and a very tough 2-3 week adjustment. I get my energy from social interactions and a good bit of our livelihood comes from live events so that was a toughie to overcome. But after making adjustments, I am finding this lifestyle extremely productive and enjoyable.
What do you miss the most during Shelter in Place?
Natalie: I missed my family and friends, barre classes at D Method, yoga at Soul Sweat and canceling trips we had planned.
Connor: Concerts, friends, vacation
What do you look forward to the most?
Natalie: A vaccine, get togethers with family and friends and travel!
Connor: Concerts, travel
How long have you lived in the Fairmount?
In the midst of all the crazy, we decided to move up our house search timeline (we were planning on getting into one towards the end of the year). Our dream house in Fairmount had come back on the market and we jumped on it. We closed on May 22, so it will be a month here soon!
Share your favorite thing about living in the Fairmount?
Natalie: So. Many. Things. We absolutely LOVE our porch and the charm of our 1921 craftsman style home. We have amazing neighbors (score!) and I personally love all the neighborhood kitties I see when we go on walks. They're the cutest!
Connor: Porch life is the best life for sure. Neighbors couldn't be any better and we love all of the unique and historic architecture. Feels like home!
What is your favorite business in the Fairmount? (And why)
Natalie: Ellerbe… yum!
Connor: Yep, Ellerbe is top of the list for sure. Love everything from Benito's to Spice to the Usual to Finn's to Yucatan to Heim to Melt, the list goes on.
What kind of work do you do?
Natalie: Respiratory Therapist
Connor: Sales Engineer @ Space Electronics, Management Consultant @ CEvents
What's been the best activity you've done during social distancing?
Natalie: We bought our wonderful home in Fairmount and all the long walks we've gone on while enjoying the charm of the neighborhood.
Connor: Ditto, also have really enjoyed game nights, home improvement projects and getting creative in business to adapt to the different environments/processes
What are you thankful for?
Natalie: So many things! I'm thankful for my health, my husband (he's been a great support system during this time), my family and friends and being a part of this community.
Connor: Job stability, my wife on the front lines, new opportunities, good health and strong WiFi.
To meet all your neighbors who have participated in the Fairmount Porchtrait Project go to https://capturinggrace.org/capturinggrace/tag/the-fairmount-porchtrait-project/
Shot on a Leica Q2
Message me if you'd like to be included in the Fairmount Porchrait Project before it comes to a close at the end of June.
This is a love gift from my heart to this amazing community that we live in. For those who can, you can make a donation to the non profit that I donate my time too, Capturing Grace.
You can learn more about my work at www.capturinggrace.org
Why I started Capturing Grace – https://wp.me/P9Ktas-5
To Donate – https://capturinggrace.org/donate/
I will provide you with a link to your full resolution photographs within a week of our shoot.
☺️
About the Photographer – I'm Ronnie Mosley, my wife Carol and I have lived in the Fairmount almost three years in the 1500 block of College Ave. My wife is the best neighbor anyone could hope for; I love people through the lens of my camera and Carol loves them with acts of kindness.
I have photographed in over 40 countries during the last five years, telling the stories of people who are making a difference in the lives of orphans, vulnerable children and people in poverty.
#MrRonniesNeigborhood #lifeinthefairmount #FairmountPorchraits #LeicaQ2 #Leica #summilux