02 Jul

Life in Fairmount – Our Porchtrait Project – Meet the Dillmann's over in the 1800 block of College Ave.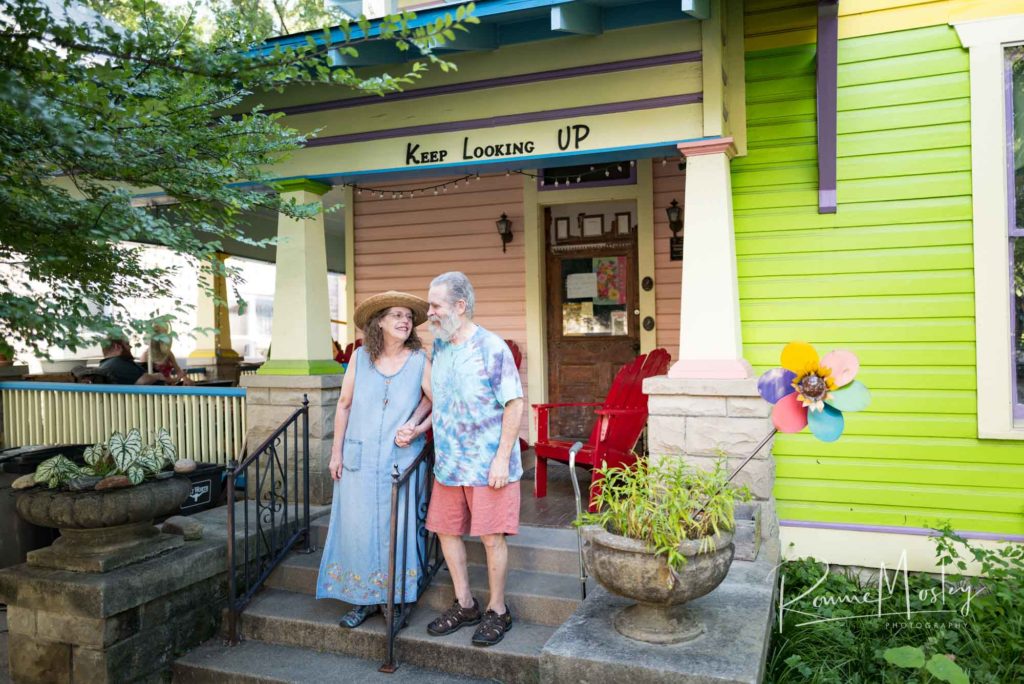 Life in Fairmount – Our Porchtrait Project
Meet the Dillmann's over in the 1800 block of College Ave.
I loved getting to meet the owners of the "Keep Looking Up" house! I have always admired the vibrant colors, it's a perfect reflection of the family that lives within. I came on the perfect evening, Nina had arranged for a violinist to play for her and her husbands 39th anniversary, it was an honor to document their celebration.
When I asked Nina my Porchtrait Project question's about life during Shelter In Place, here is what she had to say….
I am 64, Nina Dillmann, Doug, my husband, is 74. We've been married for 39 years and have 3 children. Ben, 33, Anna, 30, and Daisy, 24. We homeschooled our kids and loved old houses so we moved to Fairmount in 1996, 10 months after Daisy was born.
The absolute most difficult thing about coping with the virus is not getting to hug our children! They won't let us because we're seniors. I hate not being able to hug them.
What we missed during shelter in place was Doug's physical therapy 3 times a week! PT was helping him get around better, and I missed being able to drop him off for an hour at a safe place.
I look forward to adopting out some of our Rescue cats. We were closed for Adoptions during the lockdown but were still taking in kittens. We're overfull and our cats need Homes.
We've lived in Fairmount for 24 years. My favorite thing about Fairmount is how people come together to help each other. When Daisy was diagnosed with cancer in 2014, the Men of Fairmount did a fundraising event so she could pay our out of pocket max. It was the brain child of Jake Hill. Daisy was 18 at the time and she paid her own hospital bill with the money Jake raised.
Our favorite businesses in Fairmount are Old Home Supply and Arts Fifth Avenue. I'm across the street from OHS and love to buy hardware that matches what we have in our house! A5A is dear to me because Gracey Tune and I have been friends since 1990 and when she moved Arts in Tap only a few blocks away from my house I was thrilled. I've been a tap dancer since I was a kid.
I'm the President of a non-profit Rescue organization. The registered address is our house at 1812, and when Doug and I are gone, the cats are beneficiaries of our Trust. After all the cats are Adopted or pass away (we have some senior cats), our children inherit.
Best activity we've done is watch TV. We didn't have a TV for several years so with nowhere to go, we caught up with TV. Also stayed busy with the Rescue ?.
I'm thankful that I've lived long enough to learn so much about Life. I'm also thankful that I'm still learning! I'm thankful that I don't worry about what's going on in our world because I know worrying is a waste of time. I'm thankful that I've been given a truly Colorful life and the ability to find Joy. I'm thankful for sadness and pain because without them, I wouldn't appreciate Joy and happiness!
I'm thankful that I don't always play by the rules.
To meet all your neighbors who have participated in the Fairmount Porchtrait Project go to https://capturinggrace.org/capturinggrace/tag/the-fairmount-porchtrait-project/
Shot on a Leica Q2
The deadline for Porchtrait requests was the end of June but I am still posting from those already taken.
I have loved every moment with my wonderful neighbors, hearing and sharing stories from the heart. I look forward to future projects that allow these sweet front porch interactions to continue.
This has been a love gift from my heart to this amazing community that we live in. For those who can, you can make a donation to the non profit that I donate my time too, Capturing Grace.
You can learn more about my work at www.capturinggrace.org
Why I started Capturing Grace – https://wp.me/P9Ktas-5
To Donate – https://capturinggrace.org/donate/
I will provide you with a link to your full resolution photographs within a week of our shoot.
☺️
About the Photographer – I'm Ronnie Mosley, my wife Carol and I have lived in the Fairmount almost three years in the 1500 block of College Ave. My wife is the best neighbor anyone could hope for; I love people through the lens of my camera and Carol loves them with acts of kindness.
I have photographed in over 40 countries during the last five years, telling the stories of people who are making a difference in the lives of orphans, vulnerable children and people in poverty.
#MrRonniesNeigborhood #lifeinthefairmount #FairmountPorchraits #LeicaQ2 #Leica #summilux