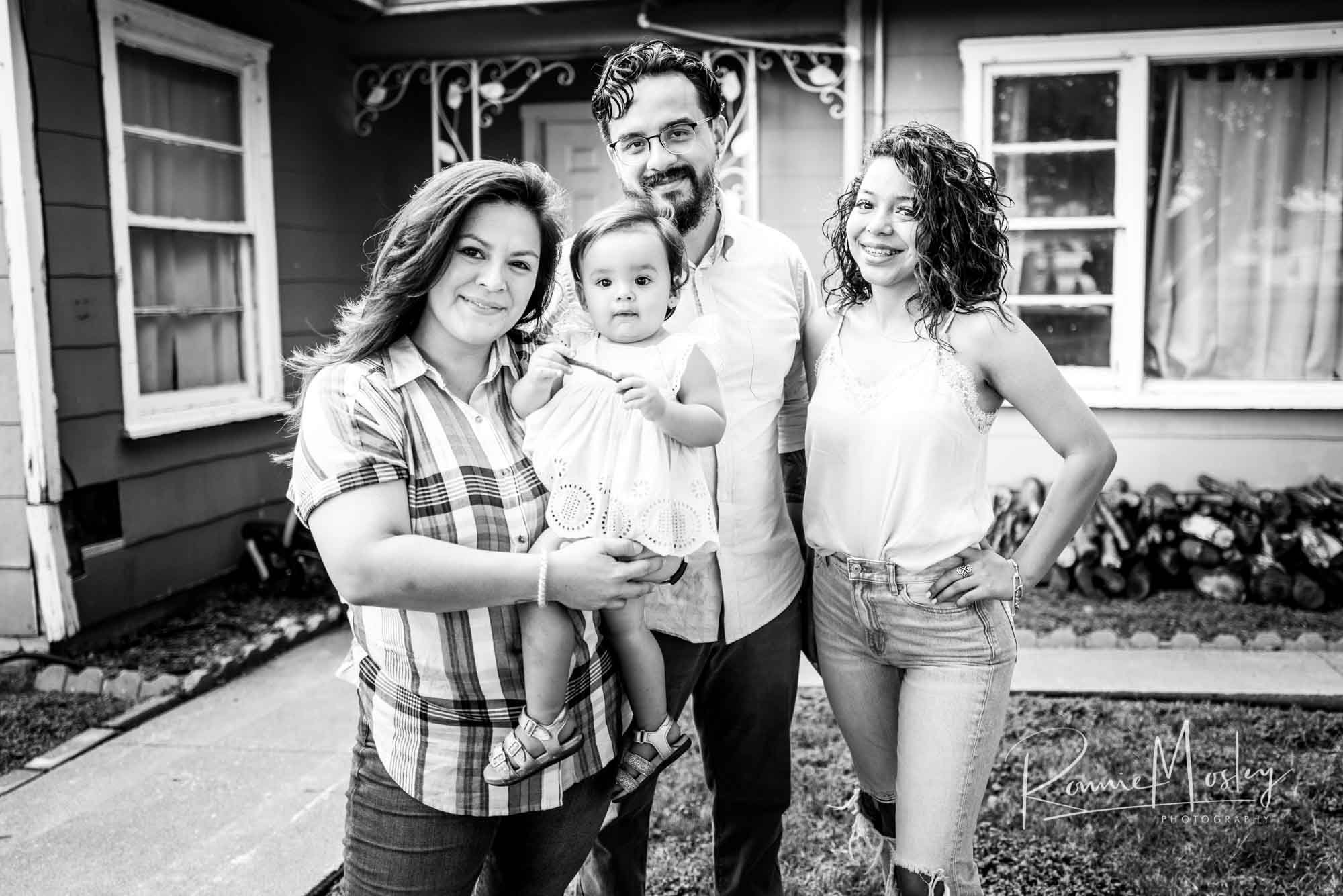 10 Jul

Life in the Fairmount – Our Porchtrait Project – Meet the Ayala's over in the 1200 block of Lilac St.
Life in the Fairmount – Our Porchtrait Project
Meet the Ayala's over in the 1200 block of Lilac St.
I enjoyed meeting Raul, Juana, Jasmine (17) and 15 month old Ella Jane over on Lilac St and taking their Porchtrait! I learned that Juana grew up in Fairmount and I loved hearing her stories.
When I asked Juana my Porchtrait Project question's about life during Shelter In Place, here is what she had to say….
What's been the most difficult thing for you about shelter in place/social distancing?
The most difficult thing is the obvious. Not being able to socialize or leave our home without fear for our health and the health and lives of our family and friends. Raul and I both work for Parks and Recreation for the City of Fort Worth. We both work with children, adults and seniors and since this pandemic started we haven't been able to see our friendly faces. We are trying everything we can to keep our family safe during this time. By taking the proper precautions and limiting our time out. We can only hope our family stays safe.
What do you miss the most during Shelter in Place?
Being able to go out without fear. We are home bodies anyways but we definitely miss being able to even make a quick trip to the store without the fear of being exposed. We for sure miss the ability to just take a break for the night and just enjoy each other's company away from home and work.
What do you look forward to the most?
I personally look forward to working with my kids and community members from work. I can't wait to host my next Rummage Sale or going to garage sales, and we are most definitely looking forward to mini road trips to visit family and friends.
How long have you lived in the Fairmount?
I grew up in the neighborhood. My siblings and I went to Daggett Elementary and Daggett Middle School. My oldest daughter Jasmine attended Daggett Elementary and then Daggett Montessori and participated in the after school program at Fire Station. I saw this community come from being really rough to what it is now. Growing up we dealt with really bad gang violence domestic disturbance, home invasions, theft, vandalism and stray dogs. The neighborhood has come a very long way. So this area is definitely very much a part of who I am. It was a good feeling to see how everything was changing and to be a part of that made it even more exciting.
Share your favorite thing about living in the Fairmount?
Being able to walk and bike to virtually everything we need. And the history I have living here.
What is your favorite business in the Fairmount?
Growing up my friends and I would walk to the Rec Center on Lipscomb Street, which is now Fire Station Community Center. We would hang out there after school almost every day and eventually I started working there as a Community Center Aide.
What kind of work do you do?
Raul and I work for the City of Fort Worth Parks and Recreation.
What's been the best activity you've done during social distancing?
In our family we have happy feet. We love to turn up the music and just let the rhythm take over! Besides that, we were able to get a few house projects done and spend quality time with our girls.
What are you thankful for?
Being able to go through this together with my family in good health.
To meet all your neighbors who have participated in the Fairmount Porchtrait Project go to https://capturinggrace.org/capturinggrace/tag/the-fairmount-porchtrait-project/
Shot on a Leica Q2
The deadline for Porchtrait requests was the end of June but I am still posting from those already taken.
I have loved every moment with my wonderful neighbors, hearing and sharing stories from the heart. I look forward to future projects that allow these sweet front porch interactions to continue.
This has been a love gift from my heart to this amazing community that we live in. For those who can, you can make a donation to the non profit that I donate my time too, Capturing Grace.
You can learn more about my work at www.capturinggrace.org
You can learn more about my work at www.capturinggrace.org
Why I started Capturing Grace – https://wp.me/P9Ktas-5
To Donate – https://capturinggrace.org/donate/
I will provide you with a link to your full resolution photographs within a week of our shoot.
☺️
About the Photographer – I'm Ronnie Mosley, my wife Carol and I have lived in the Fairmount almost three years in the 1500 block of College Ave. My wife is the best neighbor anyone could hope for; I love people through the lens of my camera and Carol loves them with acts of kindness.
I have photographed in over 40 countries during the last five years, telling the stories of people who are making a difference in the lives of orphans, vulnerable children and people in poverty.
#MrRonniesNeigborhood #lifeinthefairmount #FairmountPorchraits #LeicaQ2 #Leica #summilux