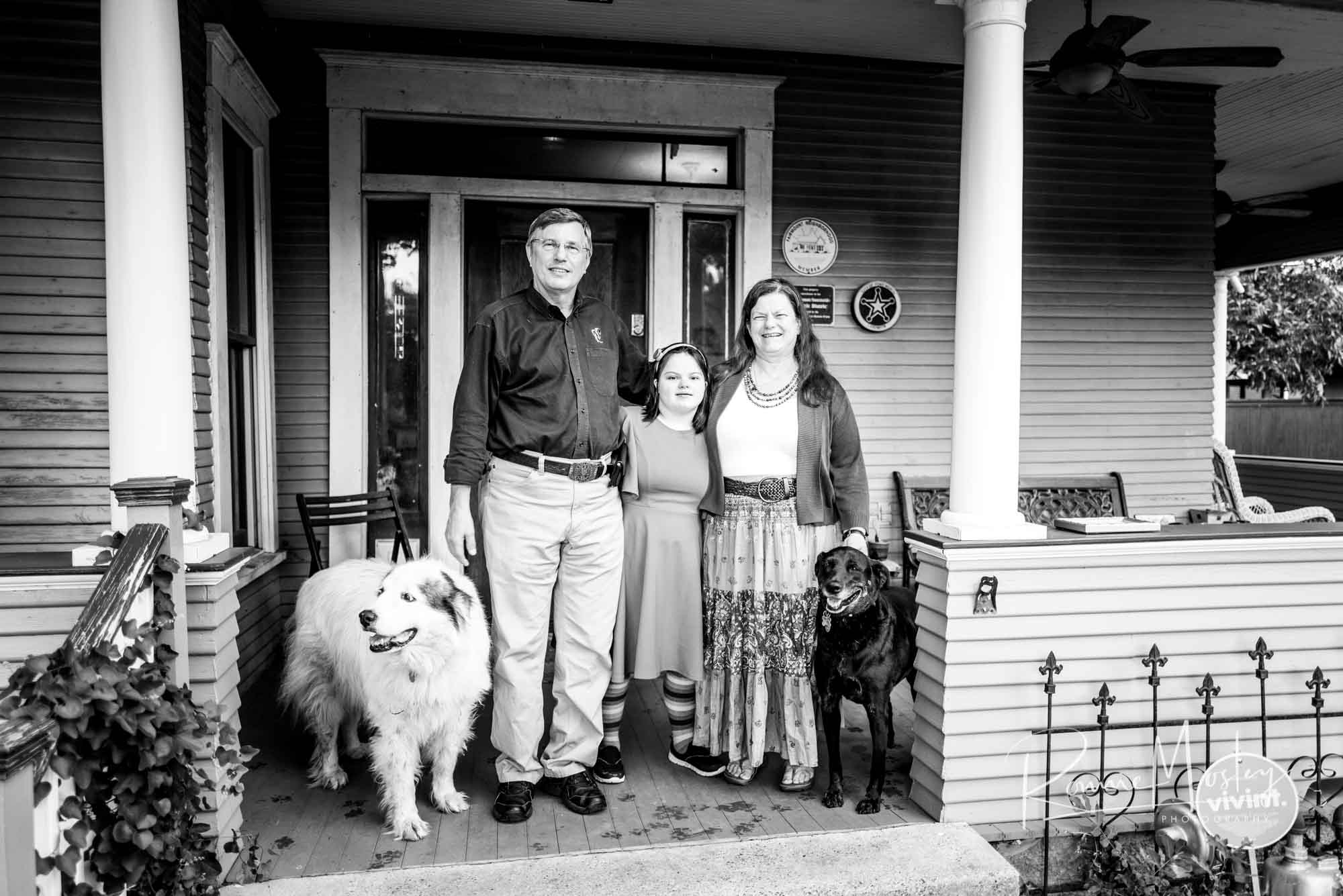 13 Jul

Life in the Fairmount – Our Porchtrait Project – Meet the Koch's over in the 1900 block of College Ave.
Life in the Fairmount – Our Porchtrait Project
Meet the Koch's over in the 1900 block of College Ave.
I enjoyed meeting Paul, Teresa and their daughter Rebecca and taking their Porchtrait. It was interesting to learn a little about their homes history during our visit. Built in 1907 it's past includes being the 3rd location of the Lena Pope home, providing refuge to children after the depression and post-war years.
When I asked Teresa my Porchtrait Project question's about life during Shelter In Place, here is what she had to say….
We are Paul and Teresa Koch, both 59. Rachel, age 33, lives in California with her husband, Matt. Michelle is no longer with us – she passed away in 2017 at the age of 26 (suicide).
Sarah lives at home, she is 27.
Rebecca lives at home (she has Down syndrome), she is 19 and attends the Green Oaks School in Arlington.
Paul is a systems engineer at Lockheed Martin, and is in the process of retiring after 36 years. Teresa has been a stay at home mom for 32 years.
Our shelter in place experience has been kind of unique – my mother went into hospice in North Carolina in February, and asked that I come stay in the facility with her (she had a lung cancer diagnosis, and was no longer able to get around at home). She was there for a month before she died; the day before she died, NC went on lockdown.
After her death, I stayed with my dad at their house for the next 2 months until I could fly back home.
Meanwhile, Paul was deemed "essential", so he kept going to work. Sarah watched Rebecca, since she had to stay home from school.
I finally got back to Fort Worth on Mother's Day, by which time Texas was coming out of shelter in place!
What we missed most during SIP was seeing each other ?
We moved into our house in July, 1985 ($57,500). Back then, the neighborhood was MUCH different. We have loved seeing the changes over the years.
Our favorite businesses in Fairmount are The Old Home Supply and Mama's Pizza (not technically Fairmount, but we've been eating there every Friday night since we moved here!).
As I told you, our house was the 3rd location of the Lena Pope Home – years ago when we were researching the history of the house, we actually spoke to a few folks who lived there.
I also visited with descendants of the original family of J.P. French, who lived here when the house was built in 1907, and they gave us a picture of the house with a couple of the French sons sitting in front of it. One of the French sons attended the Medical College that was originally on College Avenue!
In terms of the neighborhood, we are so grateful to see so many young families moving in again – our parents thought that we were crazy to live here, but we have always loved our house – it is our home. It's where we raised our kids, it has a LOT of sweat equity in it, and it is as much a part of our family as our kids and our pets!
We hope that all of the families who have moved into the neighborhood will build as many wonderful memories in their homes as we have in ours over the years ?
To meet all your neighbors who have participated in the Fairmount Porchtrait Project go to https://capturinggrace.org/capturinggrace/tag/the-fairmount-porchtrait-project/
Shot on a Leica Q2
The deadline for Porchtrait requests was the end of June but I am still posting from those already taken.
I have loved every moment with my wonderful neighbors, hearing and sharing stories from the heart. I look forward to future projects that allow these sweet front porch interactions to continue.
This has been a love gift from my heart to this amazing community that we live in. For those who can, you can make a donation to the non profit that I donate my time too, Capturing Grace.
You can learn more about my work at www.capturinggrace.org
Why I started Capturing Grace – https://wp.me/P9Ktas-5
To Donate – https://capturinggrace.org/donate/
I will provide you with a link to your full resolution photographs within a week of our shoot.
☺️
About the Photographer – I'm Ronnie Mosley, my wife Carol and I have lived in the Fairmount almost three years in the 1500 block of College Ave. My wife is the best neighbor anyone could hope for; I love people through the lens of my camera and Carol loves them with acts of kindness.
I have photographed in over 40 countries during the last five years, telling the stories of people who are making a difference in the lives of orphans, vulnerable children and people in poverty.
#MrRonniesNeigborhood #lifeinthefairmount #FairmountPorchraits #LeicaQ2 #Leica #summilux