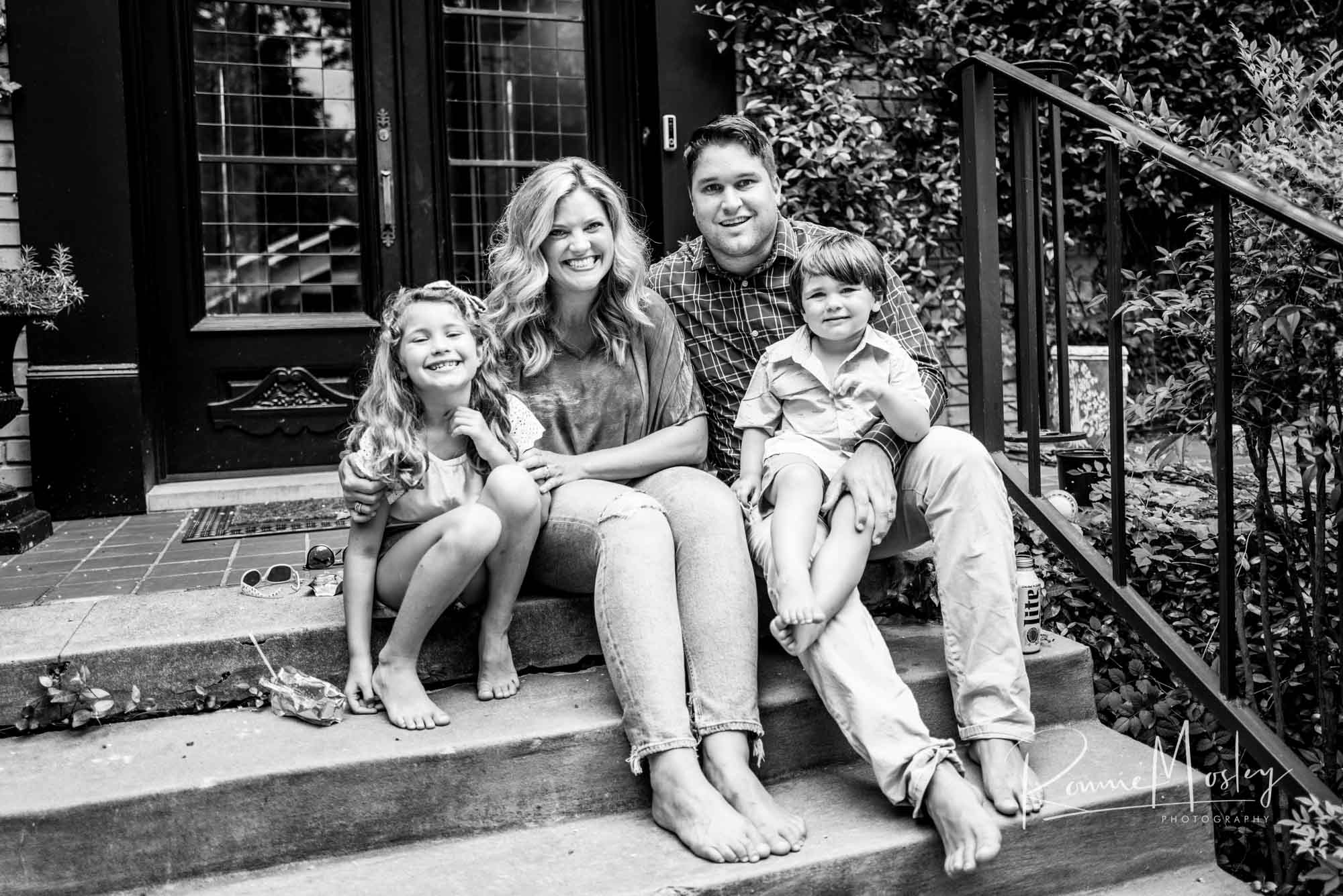 15 Jul

Life in the Fairmount – Our Porchtrait Project – Meet the Miles family, just outside of the Fairmount but still "Fairmounters" at heart ❤️
Life in the Fairmount – Our Porchtrait Project
Meet the Miles family, just outside of the Fairmount but still "Fairmounters" at heart ❤️
When I received a request from Michelle to take the 1 mile road trip to Mistletoe to capture their Porchtrait I was happy to oblige. Michelle, along with husband Dan, lived in the Fairmount for 10 years and have loved keeping up with friends and neighbors through the Fairmount Porchtrait Project.
When I asked Michelle my Porchtrait Project question's about life during Shelter In Place, here is what she had to say….
We are The Miles Family! Dan, Michelle, Charlotte age 5, almost 6 (we call her Charlie), and Jackson age 2, almost 3. We have a cat named Lucy and a dog named Lady Glitter Sparkles.
In relating to Shelter in Place, we have tried to make the best of it and find the positives. Both my husband and I decided that we want to look back on this time and see the good, visualize the memories, and feel the traditions that united our tiny family during this time. Quarantining with young ones is not for the faint of heart or strength but it's also the most magical.
Most difficult thing: We missed my parents for the longest time. I call my mom every day, my husband works with my dad, and my kids are obsessed with their grandparents. We stayed away for the first eight weeks and couldn't make it more than that. The decision we had to make as a family though, was that if we were going to see them, we had to maintain social distance from others until this thing fizzles out.
What do we miss the most during Shelter in Place: as much as we adore our children we miss babysitters and date nights! ?
What we look forward to: Honestly this whole experience has shown us the power of slowing down and we have promised each other to continue the slower pace once we are back in the real world. There's a power in being able to breathe, focus on our tiny family, yet still accomplish our goals. ?
We did live in Fairmount for ten years! We started in a perfect bungalow on Henderson and then bought a fixer upper on Alston. As of January 2020 we live in Mistletoe Heights! We have dreamed of owning this home for years and are still shocked at how every detail came to fruition.
My favorite thing about this whole area is the people. That may be my favorite thing about Fort Worth in general. When I first moved here from San Antonio for college in 2005 I remember calling my mom saying "Mom. I know you taught me stranger danger but everyone here says hello." and she just told me "Darlin' that's Fort Worth. You can say hi back". And my grocery runs have made me new friends ever since. ?
We are thankful for our tiny family and our people. We are far from perfect but with each other, laughter, good deeds, and the kindness of and for those around us, we've learned we can literally accomplish anything!
To meet all your neighbors who have participated in the Fairmount Porchtrait Project go to https://capturinggrace.org/capturinggrace/tag/the-fairmount-porchtrait-project/
Shot on a Leica Q2
The deadline for Porchtrait requests was the end of June but I am still posting from those already taken.
I have loved every moment with my wonderful neighbors, hearing and sharing stories from the heart. I look forward to future projects that allow these sweet front porch interactions to continue.
This has been a love gift from my heart to this amazing community that we live in. For those who can, you can make a donation to the non profit that I donate my time to, Capturing Grace.
You can learn more about my work at www.capturinggrace.org
Why I started Capturing Grace – https://wp.me/P9Ktas-5
To Donate – https://capturinggrace.org/donate/
I will provide you with a link to your full resolution photographs within a week of our shoot.
☺️
About the Photographer – I'm Ronnie Mosley, my wife Carol and I have lived in the Fairmount almost three years in the 1500 block of College Ave. My wife is the best neighbor anyone could hope for; I love people through the lens of my camera and Carol loves them with acts of kindness.
I have photographed in over 40 countries during the last five years, telling the stories of people who are making a difference in the lives of orphans, vulnerable children and people in poverty.
#MrRonniesNeigborhood #lifeinthefairmount #FairmountPorchraits #LeicaQ2 #Leica #summilux