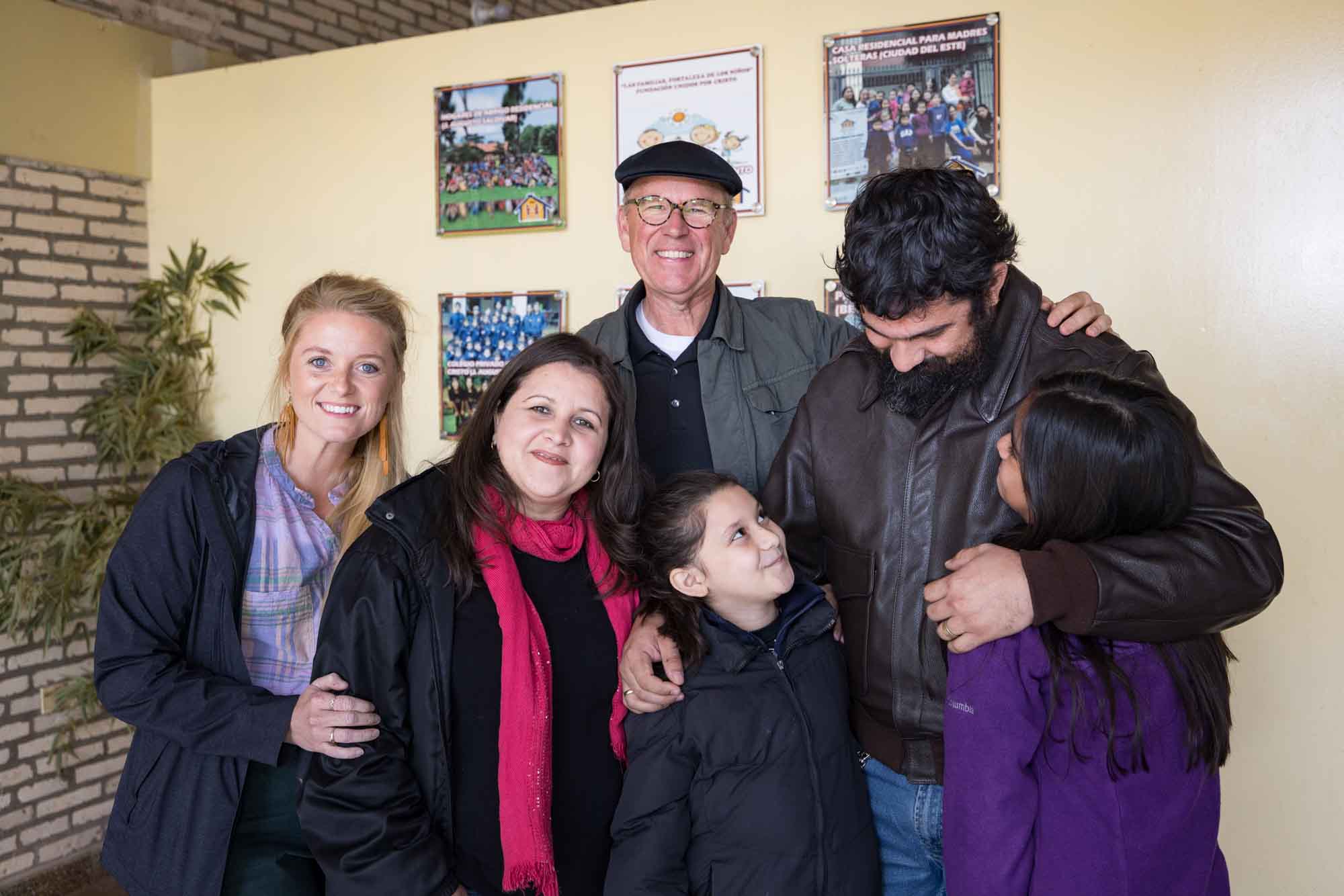 16 Mar

Daniel & Cynthia Caceres Salinas | I'm not paying attention, I'm serving God!
From my time in Paraguay – Capturing Grace for Paraguay Protects Families.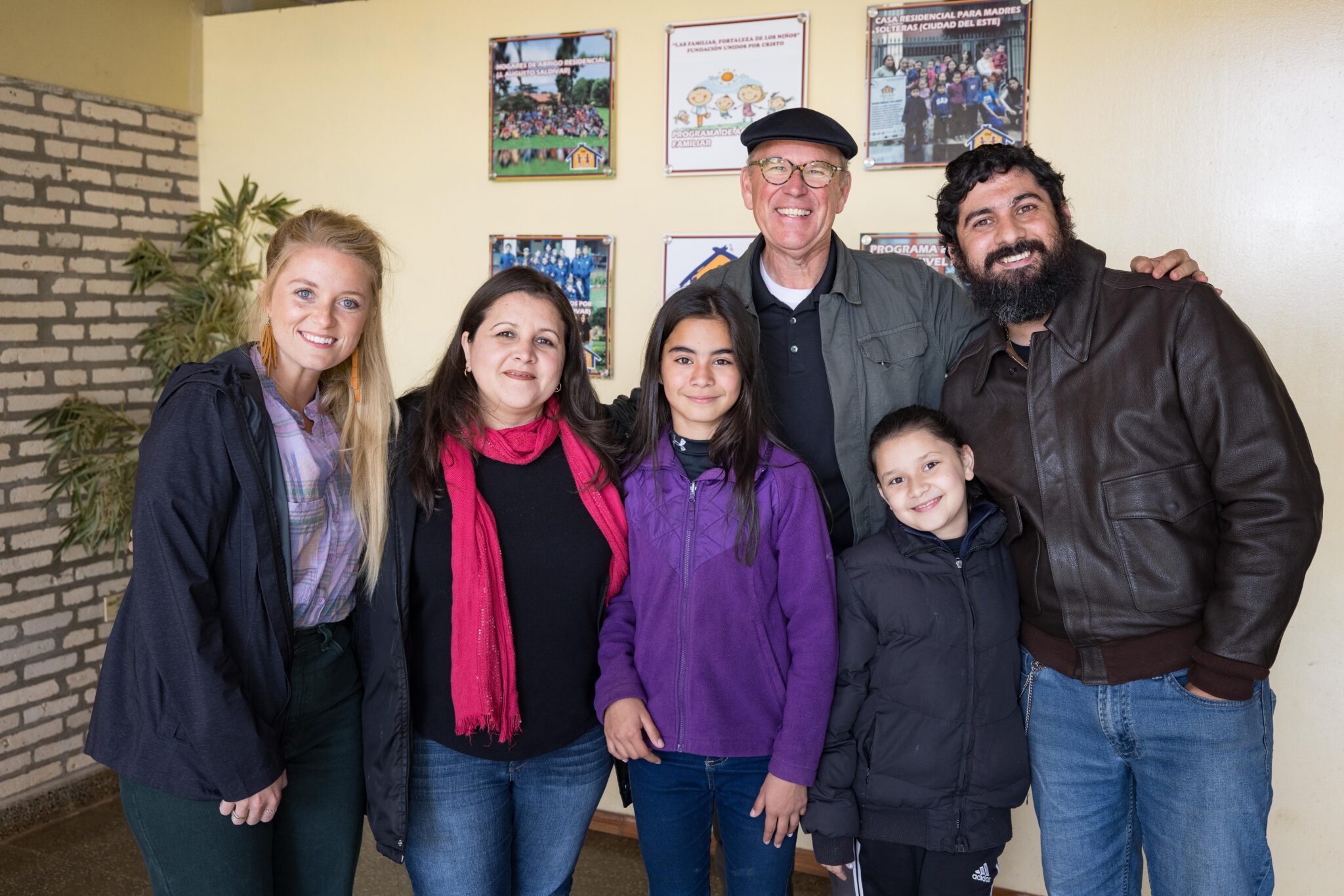 When Daniel was young, his mom knocked on the door one day. "I brought two children from the street; do you have room for them?" Daniel, shocked, didn't hesitate to respond. "Having been brought up in the faith, I said, 'yeah, sure, why not?' and I gave the children my bed."
"I slept in my sleeping bag on the floor for the next six years," Daniel remembers. Serving at the orphanage his mom later led, as so many more kids needed to be cared for, Daniel was passionate about helping young children. He built relationships with the 110 children at the orphanage, without thinking twice.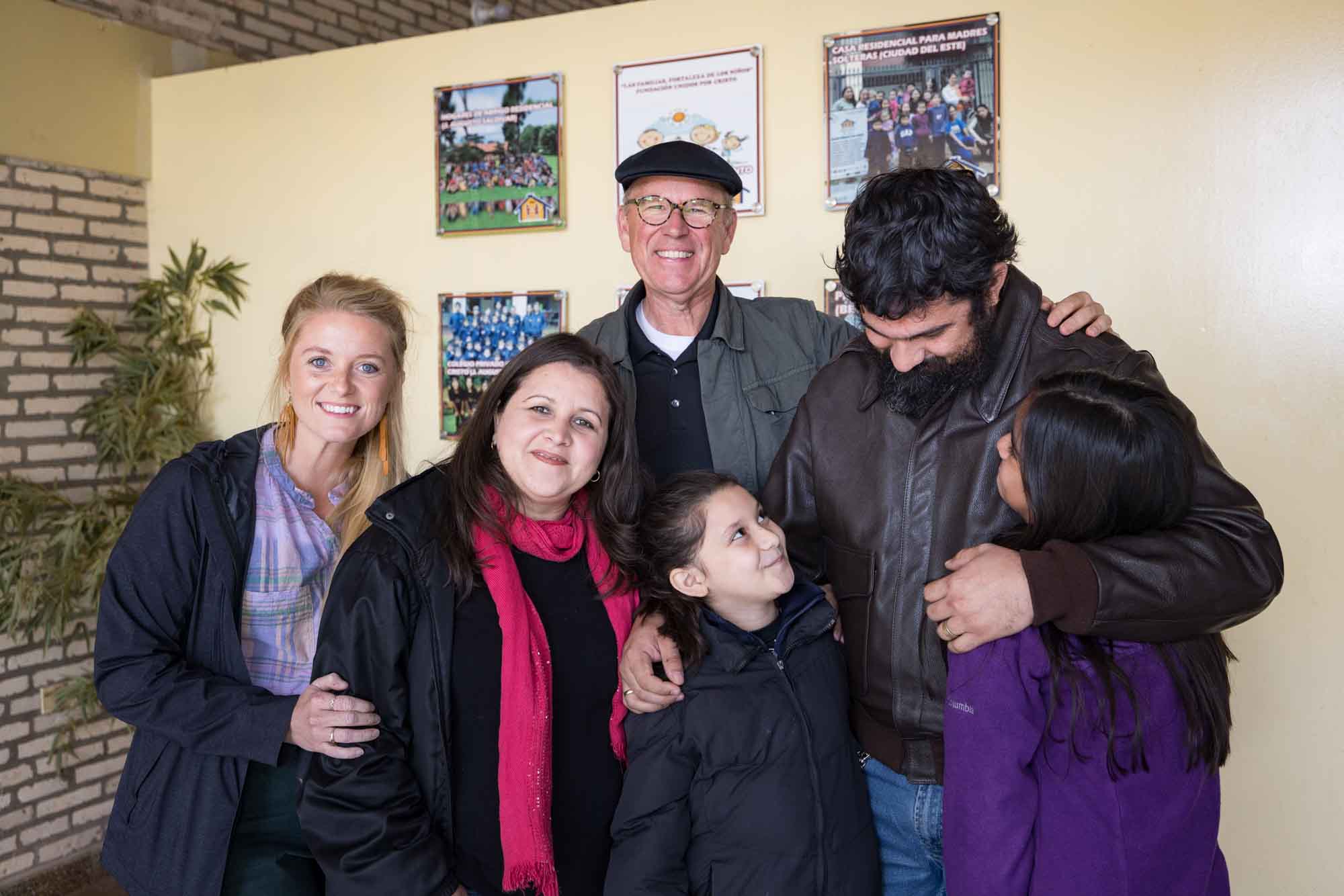 "From then on, I realized God is calling me to work with people and do everything possible for them," Daniel shared. God was stirring in Daniel's heart a passion for radically serving others, and this passion only began to be ignited.
After moving to a new town, Daniel started to get involved in a group home for the teens that were aging out of the orphanage.
As he led 17 adolescents, eight of which who dealt with drug addictions, he faced incredible challenges. Even so, Daniel used the opportunities to teach the children and was learning from them, too.
As Daniel developed a love for Christ, he began attending a different local church. It was there, worshiping God, that Daniel met Cynthia.
Daniel and Cynthia were strangers, two individuals with similar hearts, serving God and others in the same town.
As Cynthia and Daniel got to know each other more, Daniel couldn't shake this strong conviction. "If I could just have the power to adopt all of the children…" he felt God was calling him to something more, but it was unclear how this could ever be possible.
"From the age of seventeen and eighteen I already had kids calling me "dad!" Daniel shared. "Even though there's a law you can't make children call you 'dad,' it wasn't me, it was the children. It was coming out of their hearts to call me 'dad!" Daniel never turned the children away.
Daniel's heart was becoming more like the heart of Jesus. Matthew 19:14 tells of how Jesus loved the children, and continued to open his arms to them. Jesus said, "Let the little children come to me and do not hinder them, for to such belongs the kingdom of heaven" (Matthew 19:14 ESV). As Daniel's heart grew for the children, his heart also grew in love for Cynthia. 
But there was one caveat that Daniel often reminded Cynthia. "I'm not going to pay attention to you all the time," he told her often. "Because I'm going to be serving God."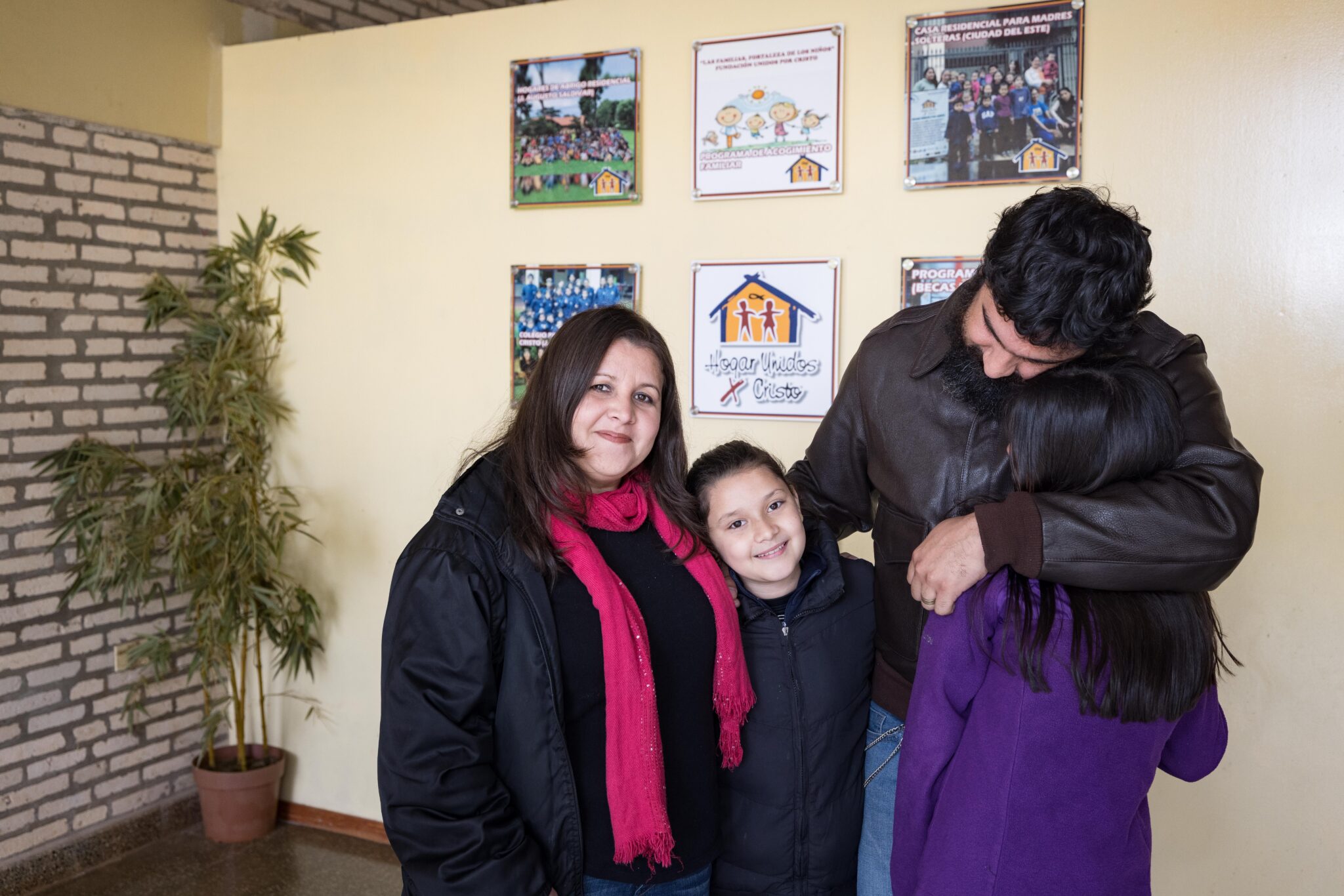 "I told her, if you want to marry me, [you have to understand,] you're marrying the children's home. That's where I work and that's the ministry I serve in," Daniel remembers telling Cynthia as their relationship grew.
Fast forward a few years, Daniel and Cynthia have built a beautiful life together. Together they have two daughters, ages eight and six. Meanwhile, the Children's Home they serve also began looking to slowly transform to a family-based model of care, and helped start Paraguay Protects Families movement in Paraguay. In fact, the Children's Home began running a registered foster care agency to prepare and support foster families as alternative to the orphanage, while waiting for the children's cases to be decided. Praying for an opportunity to love another child within the walls of their home, Cynthia and Daniel hoped to provide care for a girl who would be seven years old, right between their two daughters.
Not long after discussing this together, Cynthia and Daniel received a call from their organization's foster care agency team. A girl named Sonja* was rescued off the streets, near the marketplace at Asuncion. Sonja came to temporarily live with Cynthia and Daniel's family. The couple knew this was God's plan for their growing family, as the daughters birthdays were now all consecutive months, January, February and March.
After being abandoned for 2-3 days at a time, Sonja had lived in many different places, and was just trying to survive another day. "She had no clue what a family looked like," Cynthia recalled. "When she came to live with us, something was always hurting, something was always bothering her, and something was constantly wrong."c
Whenever the couple tried to talk to Sonja about her family, she would instantly become rebellious and quiet, for days on end. "I knew that this is all part of the process, it would take time" Daniel shared. But that didn't take away the hurt and heartache the couple felt, as they tried to love Sonja as their own.
Finally, the day came when Sonja said to Daniel, "I understand it now. Dad, my mom isn't OK. One day I will grow up and take care of her," she said. "But I want to be part of your family now."
After four years, Sonja has grown in feeling more and more comfortable with Daniel and Cynthia. As they pray for their daughters, Cynthia and Daniel often find joy, knowing they are able to love each of their daughters with the love of Christ.
As Daniel and Cynthia look to Jesus as their loving Father, they lead their daughters to also love and respect their earthly parents. One day Sonja asked Daniel, "dad, if it's possible, can you always be my dad?" and Daniel responded with an eager "yes," his heart was relieved.
As Sonja has changed as a result of the love and care from Daniel and Cynthia, Paraguay Protects Families works to connect other young girls like Sonja with safe and loving families. Learn more about how you can support Paraguay Protects Families or care for or support children with the love and care they deserve within the walls of your home.
*Sonja's name has been changed for privacy reasons.
ABOUT THIS SERIES OF STORIES FROM MY TIME IN PARAGUAY, PHOTOGRAPHING FOR PARAGUAY PROTECTS FAMILIES –
As the founder of Capturing Grace, my passion is to provide photographs and stories to ministries that are making a difference in a global orphan crisis that exceeds 150 million children worldwide. My heart beats for helping ministries share their story of "changing lives in Jesus name." 
Last year I accepted one of the most challenging assignments since starting Capturing Grace 8 years ago. 
For years I have longed to tell the story of the work that Anja Goertzen and her husband Rene are doing to help children and vulnerable families in Paraguay through their ministry of Paraguay Protects Families (PPF). PPF is connected with the global alliance of World Without Orphans. 
I am so grateful for the ringside seat that God provided my Capturing Grace team member Mallory Jones and I last August in Paraguay. Together we conducted over 30 interviews, creating stories that will assist Anja's ministry communicate the life-changing impact of PPF. 
Collectively, the ten stories I will be sharing on my Capturing Grace blog will provide a glimpse into a much bigger story that only God could write. Speaking into the life and heart of 10 year old Anja over twenty years ago, God created a spark that has evolved into a fire for orphan advocacy, a passion that has only grown stronger through the work of Paraguay Protects Families.
The stories I will be featuring on my blog over the next two weeks were written from interviews that were broad in scope, taken from our time at an orphanage where God has illuminated a vision for a better way, to a center who works tirelessly to find homes for orphans with Aids. Mallory and I sat in the home of a successful politician who has bravely fostered children into forever loving families, and then, the sweet family who resisted the darkness that sought to envelope them from the earthly loss of their first foster child into a motivation to change the lives of 14 children that have experienced a love that heals in their home. 
At the core of each story was the impossible made possible, it is my hope that these stories will inspire others to step out of their comfort zone and respond to the call of helping children and vulnerable families who are in need. 
I would like to thank Capturing Grace team members Mallory Jones, Vlad Shelashskiy, Emma Lown and Dasha Shastun for making these stories possible through their work of interviewing, transcribing, writing and social media. I am so grateful to work beside them. 
These photographs represent moments from Paraguay that I will always be grateful for.