17 Feb

Every Life is Precious, Every Life Has Purpose, Every Life is Worth Saving.

I struggle at how to photographically tell this story. Most of my photographs depict the after, not so much the before. Capturing Grace, I call it, telling stories with photographs and words of those who are the recipients of Gods grace, love and mercy.
Bear with me on this story, there is a happy ending. I want you to meet my Kenyan friends, Michael, Daniel, Jackson and Julius. Their lives have been radically transformed through the support of US based Count Me In and their support of Kenyon based ministry Joy Divine. But unless you see the lives they led, as I did, you cannot truly grasp the transformation.
I had heard of the infamous Mathare slums that sprawl in the shadows of Nairobi Kenya. Over 500,000 people inhabit Mathare's streets, dark corridors and shanty's. Mathare is as close to a hell on earth as I have witnessed. Children are born here with no birth certificates, most never knew their father. All to often when the mom dies of AIDS, contracted through rape or prostitution, a 6 year old boy or girl is left to survive on their own.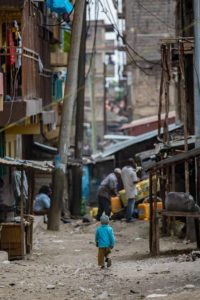 These children survive in groups, they learn to sniff glue and jet fuel to stay warm, the effects of thisbehavior compresses their intestines allowing them to survive on one meal every day or two, and it keeps them warm. These addictions make them fearless, allowing them to steal, and worse, to survive.
If you are like most, somewhere about now you start to disconnect, the life experiences of most middle to upperclass Americans and others around the world who are born into a comfortable life simply do not have the frame of reference to comprehend the realities of what I am writing.
Withdrawing was not an option for me at Mathare slums as I found myself in a fenced in cage, addicts grabbing at my cloths, camera equipment and body. For the first few minutes, my anxiety was off the charts and i could barely remember to breath, much less correctly operate the complex (and expensive) equipment that filled my photo vest.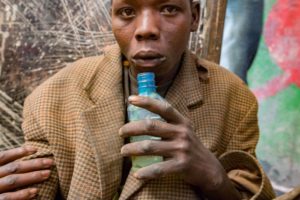 I desperately wanted to document what I was witnessing but the press of bodies crowding me, the stench that I smelled from the breath that I felt from behind as they begged for my attention was more than I could handle. With my left hand trying to secure my $2500 lens that rested in the back compartment of my vest, I wrestled with getting my breathing under control and shooting without shaking. I desperately wanting to provide evidence that would help tell the story of the young men whom I had now become friends with. Boys that lived this life of horror that I was now witnessing.
Within minutes, I realized I had to connect in some way with those who pulled at my clothes and wrestled for my attention. I breathed a silent prayer and then looked each one in the face, camera down at my side and without wavering, I repeated these words "God Loves you", I love you and he has sent me here to help you. In my first attempt at this sincere connection, I was overcome with emotion and tears streamed down my cheeks.
The man with the glazed over and haunting eyes, looked straight into mine, the hand that held the glue
rag to his nose dropped to his side. He put a finger from his other hand to his eyes and then pointed to my eyes, his eyes moist with tears, the connection was unmistakable between Peter and myself, he saw my pain and for a brief moment we entered into each others world. It was then that I asked his permission for a photograph and he quietly nodded. A photograph is something I never "take" it has to be given, it has to reflect in some way the relationship that we have formed, however brief that may be.
To put some context to this story, let me digress to it's origin a couple of years ago in the beautiful Fort Worth home of my good friend Jana Clark. Jana wanted to introduce me to Chris and Amber White who started a ministry in the U.S. called Count Me In. I heard the story about a man named Fred Maura, a Kenyon with a heart for rescuing children from slums like Mathare through his Joy Divine ministry. Chris and Amber told me about a boy named Michael Mauchi who lived in the slums with his little brother. Ten year old Michael started receiving meals through Fred's Joy Divine ministry in partnership with Count Me In's child sponsorship program. Twelve years later, little Michael is now twenty two and is on staff with Joy Divine, giving back and serving meals in the slums from which he came. Chris has a video of little Michael saying "I'm going to be a pilot someday". Amazingly, Michael has already solo'd and will receive his pilots license this May!
With stories like this, how could I resist. Child sponsorship stories have been my passion ever since taking over sponsorship of a young man in India whom my daughter Christina had sponsored for nine years. At the point of my daughters tragic passing at the age of twenty seven, my wife and I took over sponsorship of Sathish and learned of the difference she had made in his life. After traveling to India and seeing first hand the impact Christina had on this young man, by listening to her heart and taking action, I have a passion for telling the stories of God's grace, love and mercy at work through those who say yes to God's call to love our neighbor.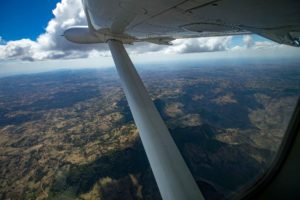 Flash forward to a few weeks days ago when my single engine plane touched down in Nairobi after working for a ministry that is dear to my heart in Bungoma. Fred Maura and Michael Mauchi greeted me outside of this small airport and immediately we became friends. In the few days that ensued we slept little and worked hard to photograph the Joy Divine Ministry and tell it's story.
Our first morning, Fred and Michael had me out of bed by 4am and we hurtled down Kenya's red dirt roads at a rate of speed that I would rather my wife never know, seldom were all four wheels in contact with the ground at the same time. We were heading to the countryside of Isinya where the Joy Divine ministry expansion will take place. In the early morning hours, we occasionally encountered a oncoming Matatoo, a customized bus with all manor of crazy body work, covered in what Michael calls disco lights, all flashing wildly in the dark. With my eyes not quite open and my brain still craving coffee I felt like I was in a scene from Mad Max.
Arriving to Isanya at sunrise was a beautiful experience, we walked the land that God has given Joy Divine for it's ministry expansion and it is here that I met Jackson, Duncan and Julius, photographing and hearing their stories.
Each story was unique but the common thread that wove them together was they had each lived as
children in the slums, a life that I witnessed only briefly, leaving shortly afterwards for a delicious meal and a comfortable bed. These guys lived it for years with no hope, they are open about the life of crime and drugs they were a part of since little boys. The life they now live after coming to know Christ, through the love shown by Joy Divine, is a dream come true. Here in the countryside of Africa where Zebras and Antelope run free, a much needed healing is taking place.
Everything that takes place here at Joy Divine is ministry. These guys are playing a role in digging latrines, construction and pouring concrete. They are learning trades and skills while healing from their former lives.
During my time of walking this land with Daniel, looking out over the acacia trees, watching zebra and antelope roaming wild, a huge smile broke out over his face as he slowly shook his head in disbelief "sometimes I just sit and watch the Antelope and I think that I am dreaming".
I invite you to learn more about how you can be a part of changing lives through Joy Divine and their unique ministry to the street children of Nairobi, Kenya at http://www.countmeinglobal.com