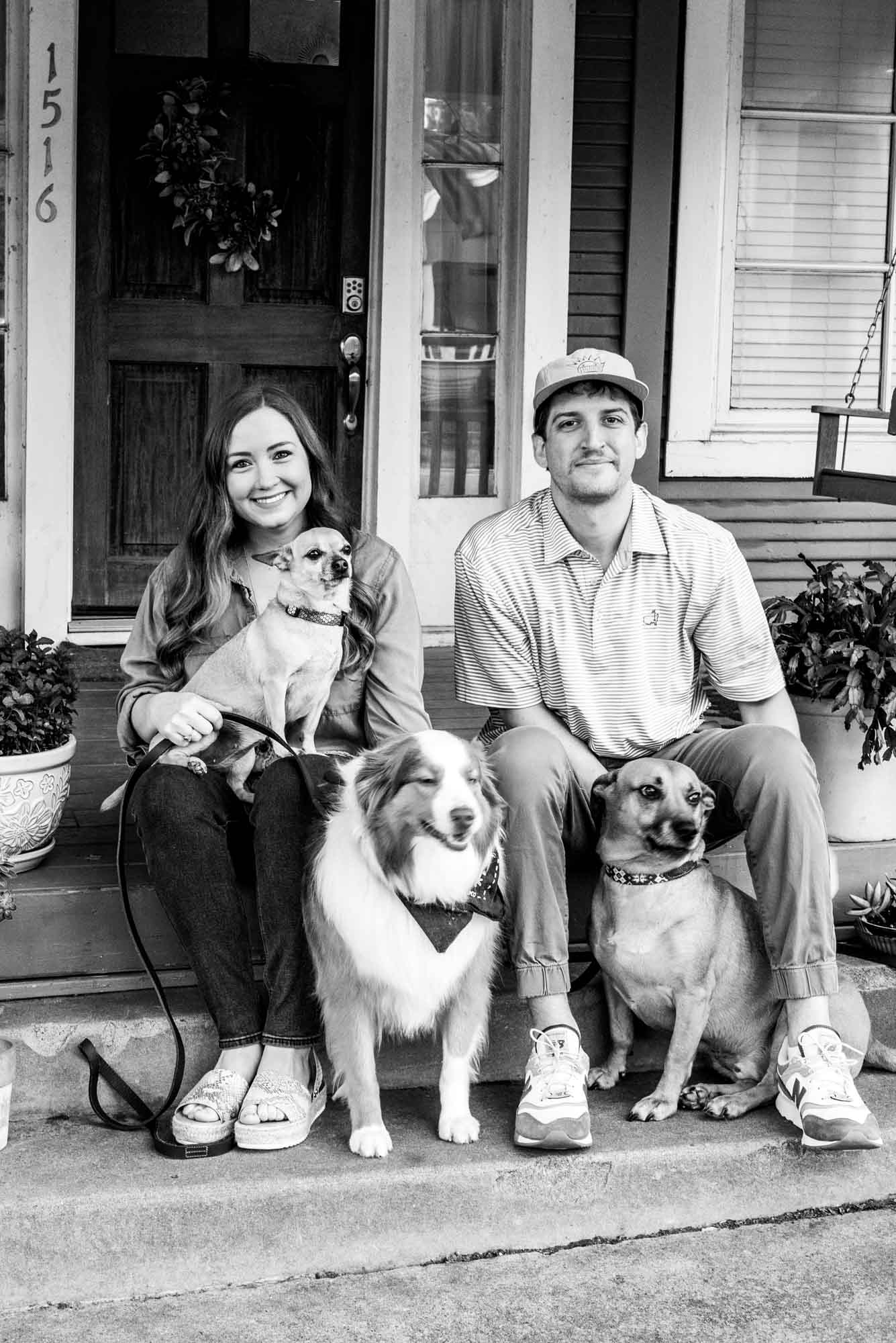 16 Apr

Life in The Fairmount – Our Porchtrait Project – over in the 1500 block of Washington Avenue!
Life in The Fairmount – Our Porchtrait Project
Meet the Bells (Laurent, Kyle, Mowgli, Arnie, and Taco) over in the 1500 block of Washington Avenue!
Up until "shelter in place" went into affect, I just knew that this home was where the dogs went crazy inside whenever Inchy (mine and Carols little doggy baby) and I would walk by. Now, I know it as the home of the sweetest neighbors in the world.
Just a block away from our house on College Ave, I instantly connected with these two during our Porchtrait. I learned that the cute little Chihuahua is named Taco, their last name is Bell… get it? We all laughed (a lot) during the Porchtrait.
After our time together sweet Lauren and Kyle brought my wife and I dinner…. oh my goodness, I am now addicted to her amazing ham and swiss sliders and salad with all kinds super secret and magical ingredients. I hid the brownies till Carol went to sleep. ???
When I asked Lauren my Porchtrait Project question's here is what she said….
We look forward to our daily walks through the neighborhood spotting all the good boys and girls. I have recently dusted off my camera and been sharing the "Creatures of Fairmount" that we spot daily on our walks. It's been a fun way to practice my skill and spread some laughter and positivity!
We have three dogs (Mowgli – Mini Australian Shepherd, Arnie – Heinz 57 mix, and Taco – Chihuahua) that we love to cuddle, play with, and write/rap songs to daily. So far, the quarantine has helped jumpstart our hobbies! Kyle and I have spent more time painting, coloring, creating, gardening, organizing, and relaxing than ever before. We are even going to try our hand at a backyard garden starting this coming week – any tips to keep the squirrels away please share.
It will be 3 years next month that we have lived in Fairmount. Our house turned 100 last year, so we will be throwing it a 101 year old birthday party when we can! It deserves a celebration to show off it's good bones and character. I am sure it has stories to tell from over the decades!
We chose Fairmount because of the location, active community, and history. We love being able to walk to Magnolia with ease and our current favorites include soup/curry at Spice, a big steaming bowl of ramen at Wabi House, tacos from Taqueria San Andres, and ice cream from Melt.
"Don't ask what the world needs. Ask what makes you come alive, and go do it. Because what the world needs is more people who have come alive." – Howard Thurman
"Above all, watch with glittering eyes the whole world around you because the greatest secrets are always hidden in the most unlikely places. Those who don't believe in magic will never find it." – Roald Dahl
To meet all your neighbors who have participated in the Fairmount Porchtrait Project go to https://capturinggrace.org/capturinggrace/tag/the-fairmount-porchtrait-project/
Shot on a Leica Q2
Message me if you'd like to be included in the Fairmount Porchrait Project! Everyone in the Fairmount has such loving hearts that they always ask how much it costs.
IT IS FREE!
This is a love gift from my heart to this amazing community that we live in. For those that persist, you can make a donation to the non profit that I donate my time too, Capturing Grace.
You can learn more about my work at www.capturinggrace.org
Why I started Capturing Grace – https://wp.me/P9Ktas-5
To Donate – https://capturinggrace.org/donate/
About the Photographer – I'm Ronnie Mosley, my wife Carol and I have lived in the Fairmount almost three years in the 1500 block of College Ave. My wife is the best neighbor anyone could hope for; I love people through the lens of my camera and Carol loves them with acts of kindness.
I have photographed in over 40 countries during the last five years, telling the stories of people who are making a difference in the lives of orphans, vulnerable children and people in poverty.
#MrRonniesNeigborhood #lifeinthefairmount #FairmountPorchraits #LeicaQ2 #Leica #summilux