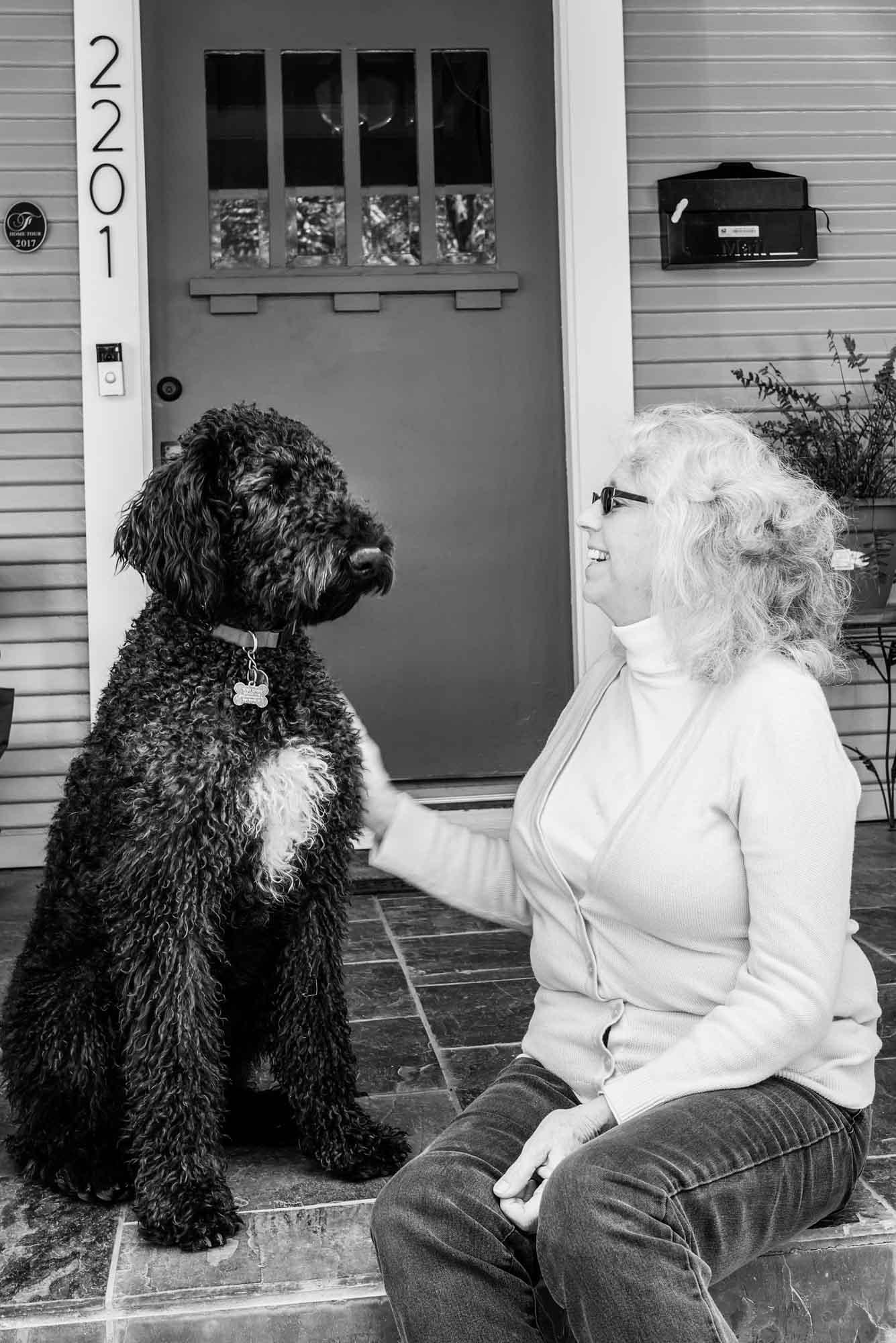 20 Apr

Life in The Fairmount – Our Porchtrait Project – Meet Barbara over in the 2200 block of Washington Avenue.
Life in The Fairmount – Our Porchtrait Project
Meet Barbara over in the 2200 block of Washington Avenue.
I loved meeting Barbara the other day and taking these Porchrait's of her and her sweet doggy!
When I asked Barbara my Porchtrait Project question's about life during Shelter In Place, here is what she had to say….
I moved here when you were when I retired from being a nurse in Houston in order to live near my son who teaches at TCU and his family.
For me the hard thing about social distancing is not being able to congregate and shake hands and socialize. I miss being able to get out of town and travel around. I can't say anything has been too difficult for me, I am very blessed. It's a little difficult getting groceries, but I haven't gone hungry yet!
But what I look forward to most when this is over is seeing everyone be able to get back to their businesses and incomes.
One of my favorite businesses in Fairmount is Stir Crazy baked goods. They donate goodies for our new residents and they make my favorite Ginger Snaps.
I am recently retired but my career has been as a mother- baby nurse, lactation consultant and childbirth educator. I am also a child passenger safety technician, i.e., carseat tech, in case anybody in the neighborhood is needing help with their baby's car seat installation.
To meet all your neighbors who have participated in the Fairmount Porchtrait Project go to https://capturinggrace.org/capturinggrace/tag/the-fairmount-porchtrait-project/
Shot on a Leica Q2
Message me if you'd like to be included in the Fairmount Porchrait Project!
Everyone in the Fairmount has such loving hearts that they always ask how much it costs.
IT IS FREE!
This is a love gift from my heart to this amazing community that we live in. For those that persist, you can make a donation to the non profit that I donate my time too, Capturing Grace.
You can learn more about my work at www.capturinggrace.org
Why I started Capturing Grace – https://wp.me/P9Ktas-5
To Donate – https://capturinggrace.org/donate/
About the Photographer – I'm Ronnie Mosley, my wife Carol and I have lived in the Fairmount almost three years in the 1500 block of College Ave. My wife is the best neighbor anyone could hope for; I love people through the lens of my camera and Carol loves them with acts of kindness.
I have photographed in over 40 countries during the last five years, telling the stories of people who are making a difference in the lives of orphans, vulnerable children and people in poverty.
#MrRonniesNeigborhood #lifeinthefairmount #FairmountPorchraits #LeicaQ2 #Leica #summilux