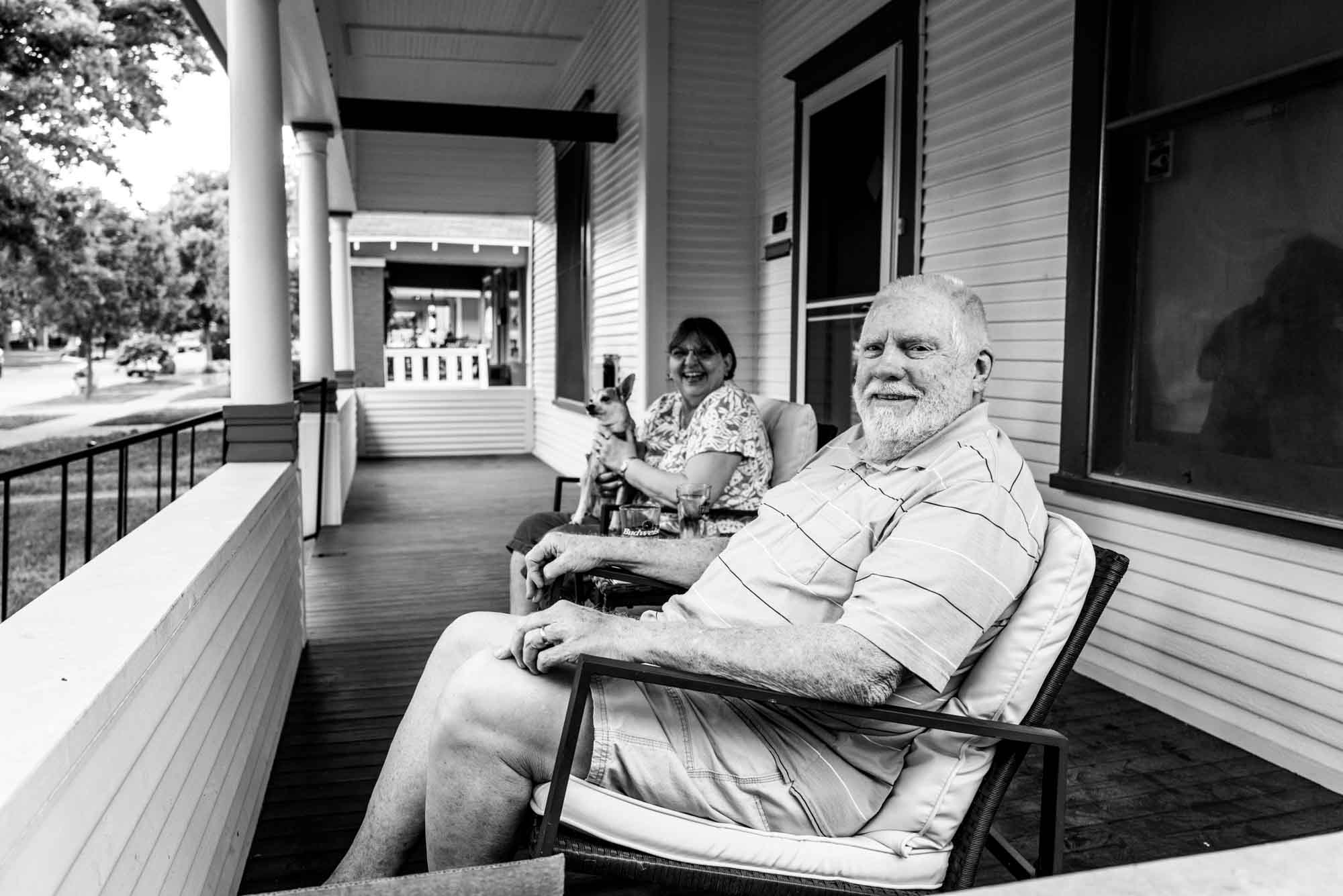 06 May

Life in The Fairmount – Our Porchtrait Project – Meet the Buckingham's over in the 1900 block of 6th Avenue
Life in The Fairmount – Our Porchtrait Project
Meet the Buckingham's over in the 1900 block of 6th Avenue, Linda, Raymond and little dog Frankie!
I loved visiting with these sweet people and hearing how Raymonds parents had purchased this home back in 1924 and how he has enjoyed this front porch since he was c child.
When I asked Linda my Porchtrait Project question's about life during Shelter In Place, here is what she had to say….
I am a social person so not being able to be around people has been hard. I do have my hubby, Raymond and pupdog Frankie, so that does help. I miss the socialization.
I look forward to seeing my family and friends. I also am looking forward to going back to work. I have been working from home, but I don't believe I was made to work from home.
We have lived in Fairmount for 35 years. We actually live in the house my husband grew up in.
I love how everyone helps everyone else in the neighborhood.
I love Neighborhood Grill. We have been going there for quite a while.
I am an Administrative Office Assistant for Tarrant County College.
Raymond works at the Fort Worth Zoo and hopefully will be back soon.
We adopted Frankie almost 4 years ago. He has been such a joy for us both.
Raymond's parents bought the house in 1947 and we moved in in 1985. The house is about 102 years old and we just had the porch redone to look like it was in 1947.
Thank you Ronnie. It was a pleasure meeting you. You were really great with Frankie. I can't believe you got him to look at you. I have such a hard time getting him to look at me when I want to take a picture of him.
Thanks again.
❤️❤️❤️
To meet all your neighbors who have participated in the Fairmount Porchtrait Project go to https://capturinggrace.org/capturinggrace/tag/the-fairmount-porchtrait-project/
Shot on a Leica Q2
Message me if you'd like to be included in the Fairmount Porchrait Project!
This is a love gift from my heart to this amazing community that we live in. For those who can, you can make a donation to the non profit that I donate my time too, Capturing Grace.
You can learn more about my work at www.capturinggrace.org
Why I started Capturing Grace – https://wp.me/P9Ktas-5
To Donate – https://capturinggrace.org/donate/
I will provide you with a link to your full resolution photographs within a week of our shoot.
☺️
About the Photographer – I'm Ronnie Mosley, my wife Carol and I have lived in the Fairmount almost three years in the 1500 block of College Ave. My wife is the best neighbor anyone could hope for; I love people through the lens of my camera and Carol loves them with acts of kindness.
I have photographed in over 40 countries during the last five years, telling the stories of people who are making a difference in the lives of orphans, vulnerable children and people in poverty.
#MrRonniesNeigborhood #lifeinthefairmount #FairmountPorchraits #LeicaQ2 #Leica #summilux