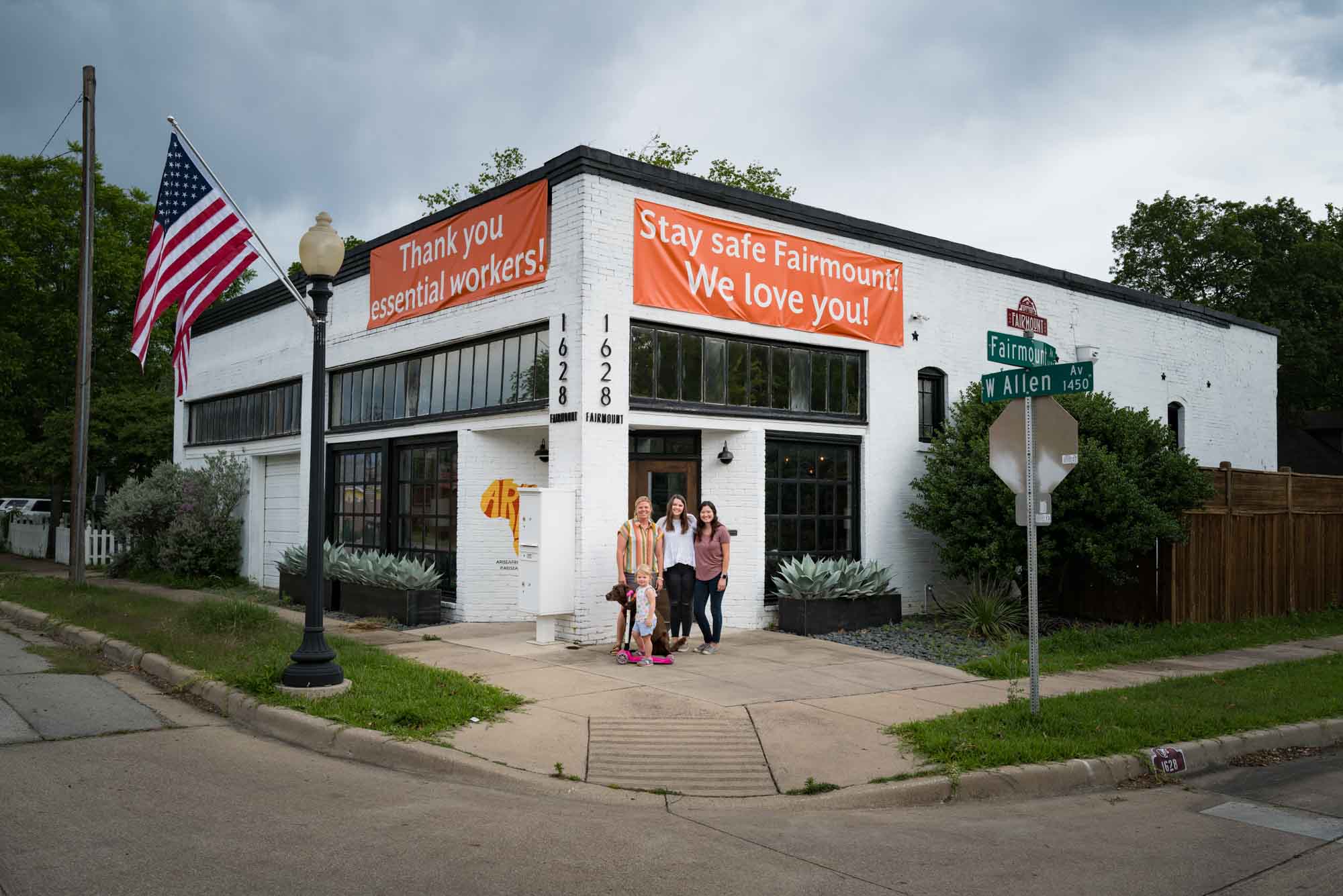 28 May

Life in The Fairmount – Our Porchtrait Project – Meet the folks who run Arise Africa over in the 1600 block of Fairmount Ave.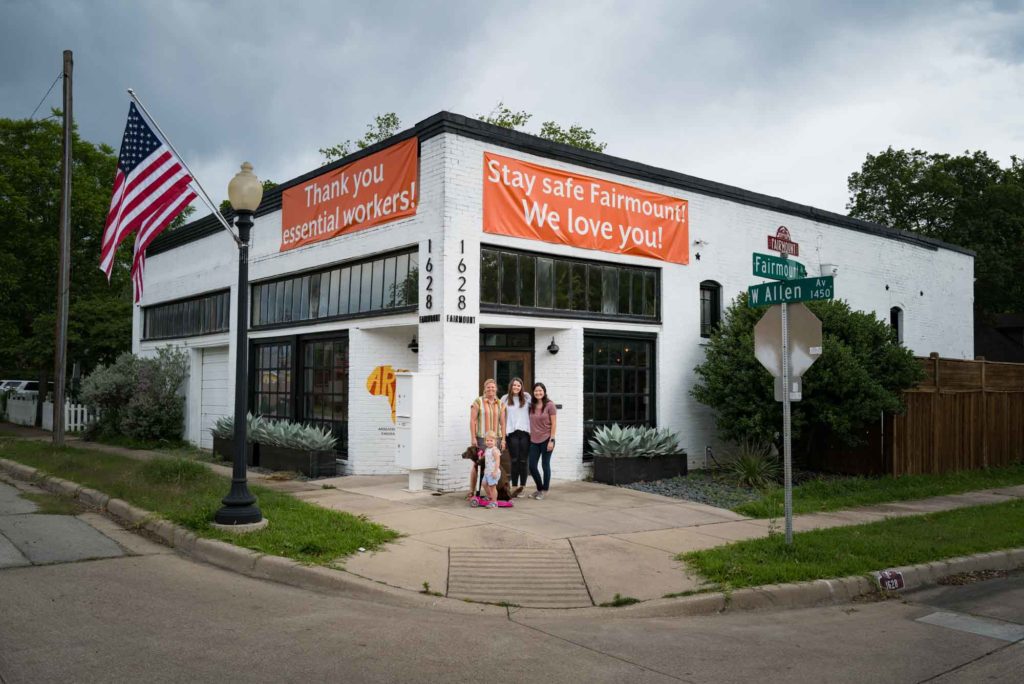 Life in The Fairmount – Our Porchtrait Project
Meet the folks who run Arise Africa over in the 1600 block of Fairmount Ave.
Have you ever wondered what goes on at the historical storefront at the corner of Allen and Fairmount?
Yesterday I paid them a visit and I loved the experience so much. I am delighted to share what I learned with you!
1628 Fairmount is home to Arise Africa's USA home office. Arise is a ministry that serves vulnerable children and families in Lusaka, Zambia and are committed to helping people live a life that God desires for all mankind.
Prior to Arise, this building was originally designed as a grocery store. It served many purposes over the years, from an auto repair shop, a recording studio, a photography studio, and a home. When Executive director Alissa Rosebrough found it, she knew there was something special about this building and that it would be the perfect space to allow Arise to further our work and mission.
Arise purchased the building in 2017 before it was renovated to fit their needs. Trying their best to update, but also keep the building true to its rich history, Arise kept things like the walk in cooler that they use as a 'cellphone room'! This building has been a huge blessing for Arise. They store donations and items that they send to Zambia. They run projects throughout the year that can sometimes take up a ton of space! Their Fairmount home has provided the space needed to operate and grow alongside
neighbors who are awesome!
Arise has 3 full time staff members that work out of the USA office, Alissa, Molly, and Amy. They typically have multiple interns that help out at the office through a program at TCU. Throughout the year, they have various projects where volunteers come in too!
You can frequently find Alissa's 2 (almost 3) year old daughter, Annie, and sweet chocolate lab, Ella, at the office! The office has definitely been her second home, especially during shelter in place. Arise is a family oriented ministry, and they couldn't imagine it any other way.
When I asked Amy my Porchtrait Project question's about life during Shelter In Place, here is what she had to say….
During this time, we've adopted afternoon walks as part of our routine. It's been a needed time to get everyone out of the office and in some fresh air! Our Lab, Ella looks just like the neighborhood favorite chocolate lab, Bill and many neighbors are very concerned that "Bill" is out on the loose when they see our Ella! In fact, she has been loaded up in a car once before we were able to yell to the friendly neighbor that they were not taking Bill "home" but stealing our dog!
Arise Office Family Names:
– Alissa Rosebrough, Executive Director
– Molly Bucknam, Sponsorship Director
– Amy Gracia, Marketing Director
– Annie Rosebrough, 2 almost 3! (Alissa's daughter)
– Ella, Alissa's and our sweet office dog
What has been the most difficult thing for you about Shelter in Place/social distancing?
As a business and nonprofit ministry, we've had to adjust, change, or even cancel our current and upcoming projects. We've had to say goodbye to our interns and volunteers, and for a short while, limited our time spent in the office. We have been working through the pandemic to allow our staff in Zambia to have the things needed to fight coronavirus and try to keep all of our children healthy. We feel so blessed that we work in America during this time, because trying to serve our children in the slums of Africa right now is so hard. When you live with many people and don't have running water it is difficult to stay healthy.
What do you miss the most during Shelter in Place?
We miss hanging out on Magnolia for lunch and meeting with other friends! We miss our interns so much!
What do you look forward to the most?
Getting back over to Africa to check in on our staff and children and HUG everyone!
How long have you lived in Fairmount?
Arise Africa has called Fairmount home for three years.
Share your favorite thing about living in Fairmount?
The loyalty and diversity.
What is your favorite business in Fairmount and why?
Arise Africa, of course!!! Ha ha we also love Salsa Limon and Lilis. Amy and Molly can be found at Avoca quite a bit.
What kind of work do you do?
Non profit work with orphaned and vulnerable children.
What's been the best activity you've done during social distancing?
During our work day we can sometimes be found sitting on our neighbors porch and using their trampoline for Annie. Thank you "Big Blue" at 1507 Fairmount!
What are you thankful for?
Our health and resources in America.
We are so thankful for this amazing space we've been blessed to work out of, and we love sharing it with our neighbors and community. So feel free to stop by just to say hey, chat, or enjoy a cup of coffee. We love visitors!
To meet all your neighbors who have participated in the Fairmount Porchtrait Project go to https://capturinggrace.org/…/the-fairmount-porchtrait-proj…/
Shot on a Leica Q2
Message me if you'd like to be included in the Fairmount Porchrait Project!
This is a love gift from my heart to this amazing community that we live in. For those who can, you can make a donation to the non profit that I donate my time too, Capturing Grace.
You can learn more about my work at www.capturinggrace.org
Why I started Capturing Grace – https://wp.me/P9Ktas-5
To Donate – https://capturinggrace.org/donate/
I will provide you with a link to your full resolution photographs within a week of our shoot.
☺️
About the Photographer – I'm Ronnie Mosley, my wife Carol and I have lived in the Fairmount almost three years in the 1500 block of College Ave. My wife is the best neighbor anyone could hope for; I love people through the lens of my camera and Carol loves them with acts of kindness.
I have photographed in over 40 countries during the last five years, telling the stories of people who are making a difference in the lives of orphans, vulnerable children and people in poverty.
#MrRonniesNeigborhood #lifeinthefairmount #FairmountPorchraits #LeicaQ2 #Leica #summilux