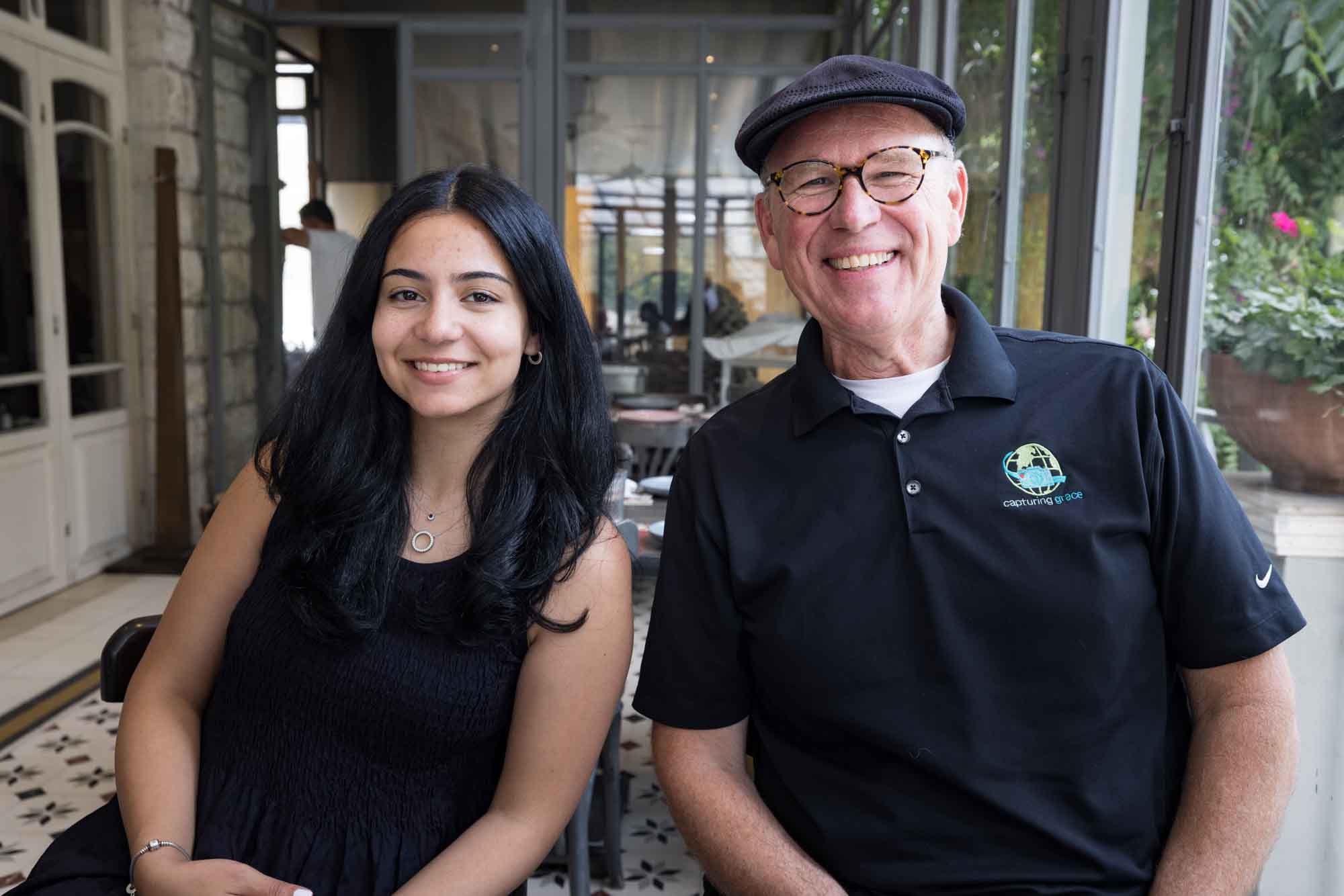 28 Oct

Introducing Capturing Grace team member Joy Mazahreh
A few months ago, I had the privilege of working with Joy Mazahreh in the country of Jordan, Joy conducted interviews with refugees while I photographed. I am so excited to share Joy's stories on my Capturing Grace blog, but first, I would like to share Joy's own story. I am so grateful to call Joy my Capturing Grace partner and I know that you will be inspired by her story as well as her writings. – Ronnie
Joy Mazahreh's Story
My name is Joy Mazahreh and I am a storyteller. I always tell the story of how I packed all my belonging in two suitcases and left Amman, Jordan, a home I have known all my life, to pursue my MA in English at the University of Vermont as a Fulbright scholar. I tell the story of how I arrived at my new home in Burlington, Vermont, and learned to navigate that space. Little did I know that my sense of being and belonging would become my point of entry into a scholarship of storytelling and solidarity. While I was trying to unpack the multiplicity of who I am: an Arab Christian woman, I was also asking myself: how can I carve out a space that not only fits me but also accommodates other people's identities and stories?
I also tell the story of how I started my BA in English at the University of Jordan while taking on a part-time job teaching English as a second language to female asylum seekers at AlHadaf. As a student, I was reading literature; as a teacher, I was listening to my students who were telling their stories of fleeing the combined aftermath of the US war in Iraq and ISIS. Upon graduation, I taught English to middle school students at an international school in Amman. In response to the pandemic, I was chosen to participate in a national initiative of the Ministry of Education. I offered English classes on Darsak TV channel and online platform and reached the homes of many Jordanian families' during lockdown. This is how my story began: amid times of uncertainty and loneliness, I found myself teaching language and literature, telling stories, and lending an ear, listening, and searching for other people's stories. My teaching experience bridged an unbreakable connection with all peoples in Jordan. After the lockdown, I started freelancing for The Jordan Times while continuing to teach. I became Joy the journalist, the storyteller, celebrating stories that might have remained unheard.
Although I left home, home could not leave me. Even at times when home seemed so far away, I found refuge in women's stories and storytelling. During my time at UVM, I have centered contemporary MENA [Middle Eastern and North African] women's writings as my main area of focus. I read "troubled" narratives written by women from MENA that tell stories of home and belonging usually as refugees fleeing war. Like my attempts of belonging, none of the narratives are whole, consistent, or ideal. They all shift and break into fragmented stories as a way of remembering things past, surviving in the present, and hoping for the future.
My time at AlHadaf did not only helped me create this unique perspective on the importance of stories but also gave me the chance to meet Ronnie. I met Ronnie during the World Without Orphans forum in Chiang Mai in 2019′ and we have been telling each other stories ever since.
Now, I am very happy to accompany him all across my home, Jordan, and tell the stories of all the women who are creating meanings of home wherever they are and will be. No story is untold but many are unheard. I pray that Ronnie's time in Jordan helps many of these stories find a lending ear.
I graduated with an MA in English from UVM in the spring of 2013. My time away from home has not only granted me all these opportunities to tell important stories and listen to new ones but has also prepared me for what is to come. In the near future, I plan to continue studying MENA women's writings while I pursue my PhD at the University of Minnesota. Then, I plan to return to Jordan and unpack the home I have created within these stories in a university classroom, where I can help my future students navigate their identities and be able to tell their own story too. Because I am a storyteller, I want people around me to become storytellers too.