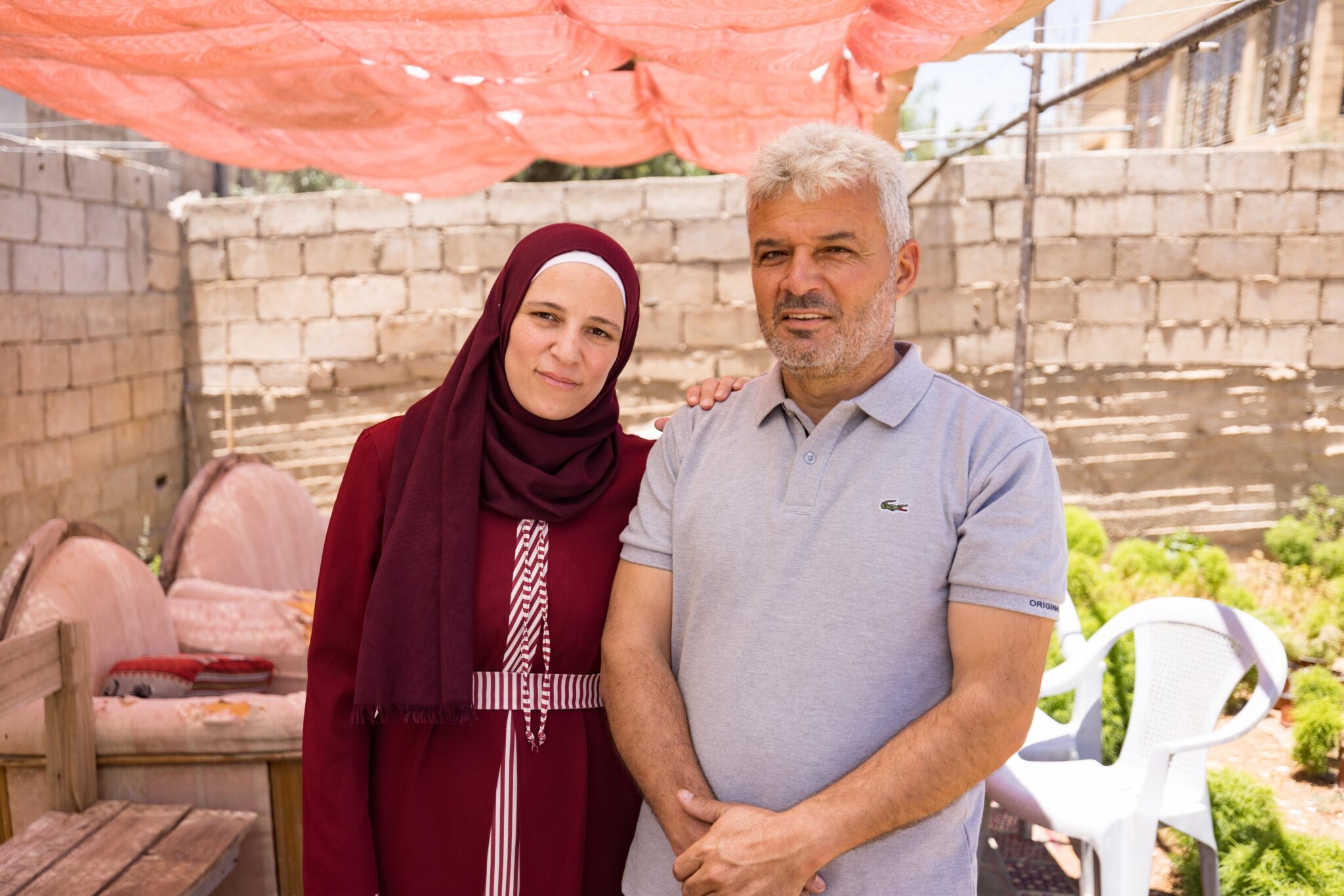 04 Nov

JIRA: planting seeds of belonging and weaving threads of home – By Joy Mazahreh
Photographing for JIRA – Capturing Grace on a  journey through Jordan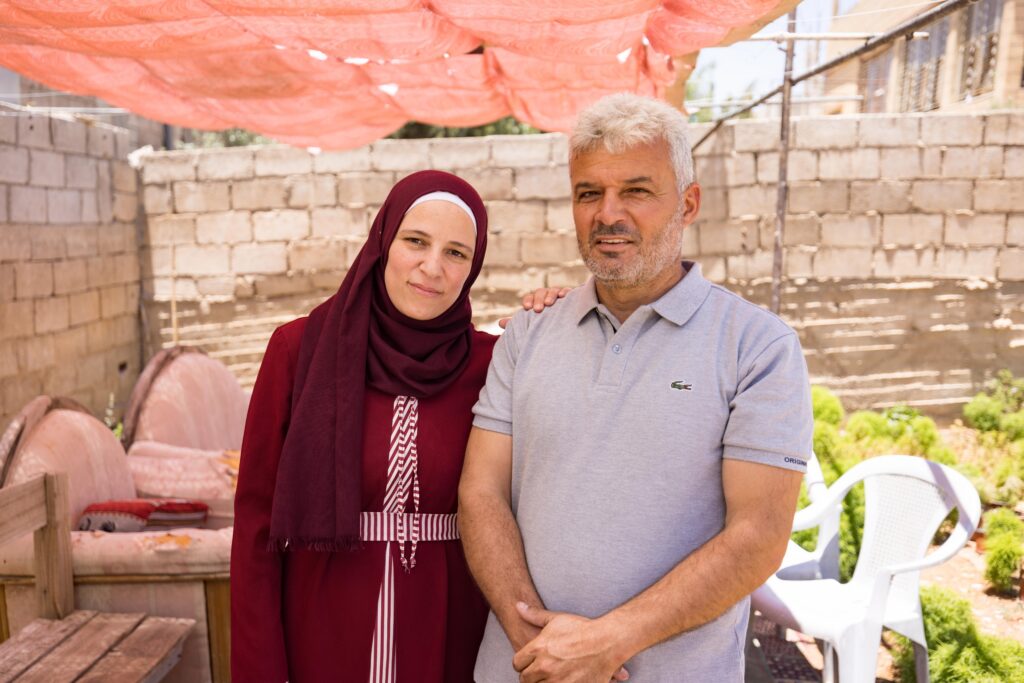 Recently I had the privilege of working with Joy Mazahreh in the country of Jordan. Joy conducted interviews with refugee families while I photographed. I am now so excited to share Joy's stories on my blog from our time with JIRA. I am so grateful to call Joy my Capturing Grace partner, and I know that you will be inspired by her story as well as her writings. – Ronnie
Um (mother) and Abu (father of) Muhanad are two very hard working, yet artistic people. The staircase leading to their apartment is full of flower pots, their living room is saturated with wall art, and every corner has a decorative piece that tells its own story of generations of traditions, customs, and family values.
Even what Um and Abu Muhanad do for a living is artsy and creative. While Um Muhanad weaves baskets for a living, her husband owns a plant nursery. It is on a small piece of land next to their apartment in a building that their father built for his own family when he was forced to leave his home in Palestine in 1967. The land his father bought in Rusaifa, a town just outside of Amman, has a big olive tree.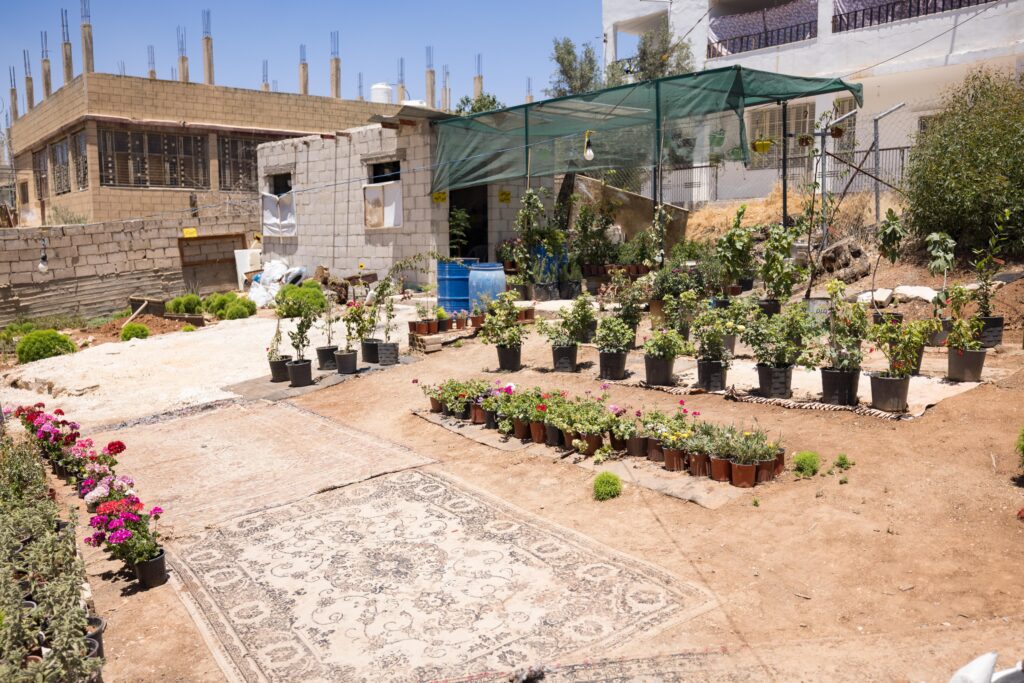 "When you are Palestinian, you have a connection with the land. We used to say that the best thing you can do in Palestine is plant a tree, and my father built our house here around the olive tree and never agreed to take it down," Abu Muhanad told us, sitting in his living room.
There is a deep connection between Abu Muhanad and the small piece of land he owns next to the house his father built. He walks slowly from one plant to another and explains their names, benefits, growing conditions, and many other details that were hard to keep up with. He told us that his love for nature passed from one generation to another. When his family lived in Al Khalil in Palestine, they took care of the land, and when his dad moved to Jordan, even when without a home, he always took care of every plant or tree he saw on the side of the road.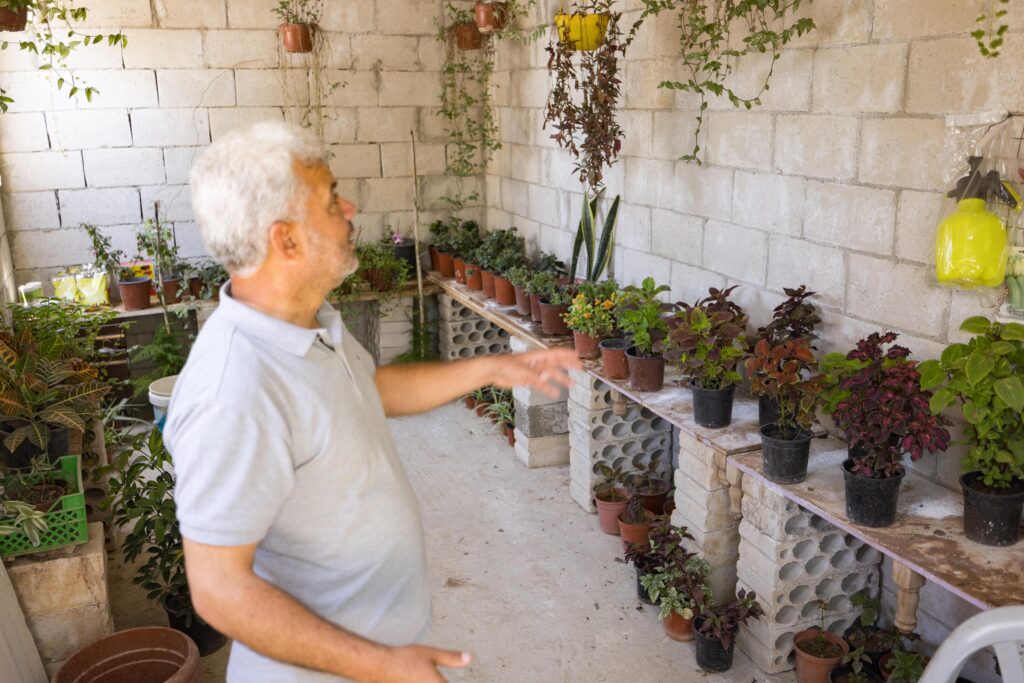 Little did Um Muhanad know when she joined a basket weaving workshop out of boredom that generations of art will pass through her in the same way. Although she was not impressed with the idea of basket weaving at first, she changed her mind when she saw her teacher complete her first basket and was thus so excited to see her first project reach a similarly beautiful result. Slowly, Um Muhanad started creating more baskets, and without knowing, also started incorporating parts of her culture and home, in Palestine, where her family still lives.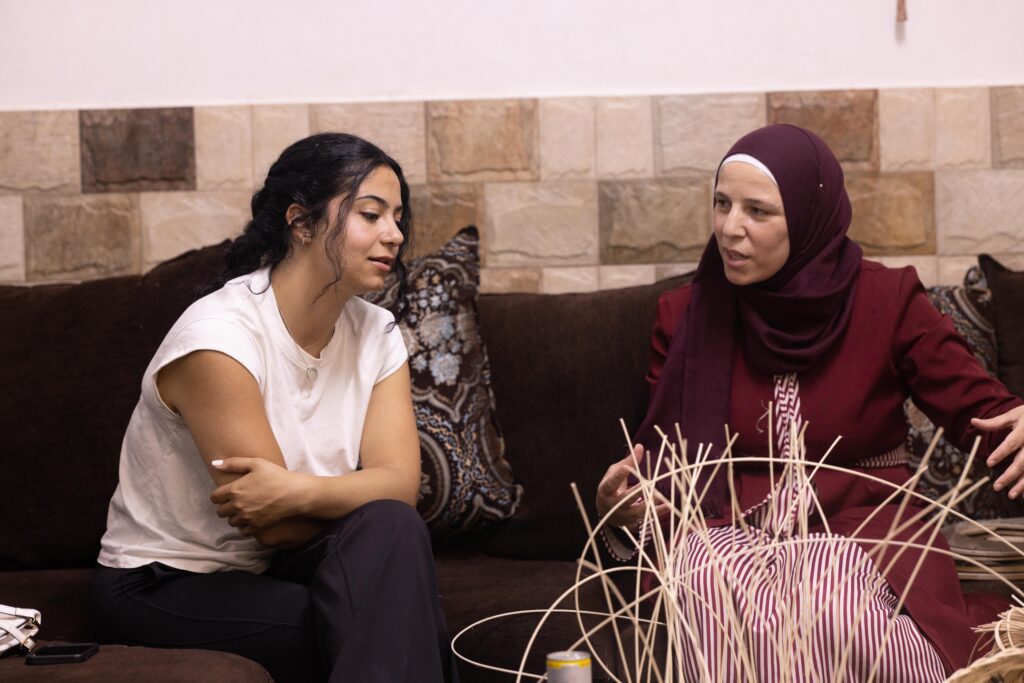 On a tray serving us tea, was a beautifully reserved Palestinian thobe as the base of the woven basket tray. I invite you, after finishing this story, to look up Palestinian thobes online. They are beautiful hand-made dark dresses or robes that are embroidered with colorful threads. Each embroidery pattern does not only belong to a certain Palestinian town or city, but also tells a story, and is made for different live events or milestones for women's life. For example, a bride from Al Khalil will have a Palestinian thobe made for her in a different pattern than a girl on her first day of school in Jaffa.
Rather than throwing away old thobes that are way more valuable than their age, Um Muhanad cuts out her favorite embroidered patterns and sets them on the base of her baskets, as a way of keeping memories of her home and family alive.
Her husband is very supportive of her work and is equally invested. He told us that everytime he looks at his wife's baskets and trays, he feels at home. He said, "The threads of the embroidery connect his heart with memories of home."
Abu Muhanad's emotional connection with basket weaving and embroidery might be linked to the fact that he is not allowed to go back to Palestine and is thus unable to grant his wife the chance to live close to her family. Um Muhanad feels the same way. She continues, "basket weaving for me is the piece I took from the home that was taken away from us."
This story would have not been possible without JIRA and their support to this family. JIRA dealt with the families' inheritance of loss due to war and gave them a future of hope by supporting their connection to home and doing what they love. What seemingly appears financial or educational in terms of JIRA's support actually is deeper and more meaningful in the way it allows many families like this one to be able to confront their memories and feelings through what they do. I am very thankful for JIRA, David Rihani, and Jude for what they have done for so many of these families in Rusaifeh, Hiteen Camp, and the Jordanian Desert. – By Joy Mazahreh
About JIRA
JIRA works to achieve its goals and objectives in cooperation with a group of public and private companies and with the efforts of individuals and volunteers. Together, we promote the values of positive change in society and plant seeds of peace and goodness — promoting the various components of Jordanian society to achieve sustainable development.
The company seeks to present creative ideas in society for social change and merging groups by spreading social peace and sparking the culture for dialogue in Jordanian society.
We aim to improve economic conditions, empower women, and market the product in the capital. In Amman, the capital of Jordan, we offer youth training and cultural projects and work specifically with equipping and empowering girls. We teach concepts of social responsibility and sustainable development and support for economic and political empowerment. We also work to refine and develop the skills and experiences of individuals in the local community through self-development programs. We aim to develop a mindful generation who is capable of participating in public life and making strategic decisions, thereby improving their own lives and the community as a whole.